Activist Vandana Shiva comes to campus to talk about food security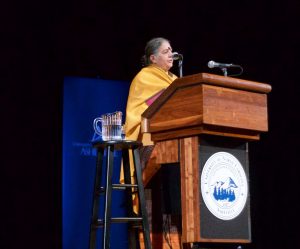 By Carrie Arnold
Sports staff writer
carnold1@unca.edu
Vandana Shiva fought for 30 years to raise international awareness about environmental and social issues. Recently spending a three day residency at UNC Asheville she spoke to an audience of students, faculty and community members.
Taking the stage in Lipinsky Auditorium, Shiva thanked the sponsors and faculty who made her residency possible and alluded to the hope she felt upon arriving at UNCA.
"It is an amazing campus and a wonderful city. It's very rarely you can enter a classroom welcomed by a zucchini," Shiva said. "It just shows you can create abundance anywhere."
Shiva holds a Ph.D. in philosophy and dedicated her life to activism promoting biodiversity and fair-trade organic farming. Shiva is on India's National Board of Organic Standards, a recipient of the Right Livelihood Award, known as the Alternative Nobel Prize and has written more than 20 books.
Throughout the lecture, Shiva brought attention to various issues within the current methods of global food production, starting with the very seeds farmers plant and the soil our food grows in.
Saving seeds and creating seed banks are important steps Shiva and her organization take to help return nutrients to soil, benefitting the crops, the earth and farmers. Seeds are often engineered and patented by large corporations, Shiva said, making it harder for farmers in India to succeed and survive.
"One of the reasons I'm so engaged in these subjects is because in the final analysis it is about our freedom," Shiva said. "How can a society be free if farmers aren't free to save their seeds? How can a society be free if people aren't free to grow their own food in open spaces?"
In addition to negatively impacting farmers, this use of genetically engineered seeds prevents the biodiversity soil needs to produce high quality crops. A fundamental of organic farming calls for the law of return, meaning any nutrients taken from the soil must be returned to keep crops growing successfully.
While some argue genetically modified crops provide a valuable tool in combating climate change, Shiva disagrees. According to Shiva, saving just one seed can lead to an abundance of seeds. While one crop seed can yield 50 new seeds, a different singular crop seed could produce 100 more seeds and in the case of millets, a single seed can result in up to a million new seeds.
"Plants, animals, including seeds are not inventions. Therefore, they cannot be patentable because you can only patent what you invent," Shiva said. "We don't invent our brothers and sisters and our kin and our relatives in the earth family. We need to take care of them, protect them, give them the space to multiply."
Shiva also connects the changes in farming practices with problems outside of the crops themselves, citing this forced seed modification as a factor in our planet's recent natural disasters as well as the ongoing problem of world hunger and malnutrition.
"The roots of climate havoc are the same roots that are causing hunger," Shiva said. "Solutions to hunger, malnutrition and food related disease are the same solutions that help us address the planetary crisis — that our plate and our planet have a deep, deep connection."
MaCio Teague, a sophomore who attended the lecture, said he was intrigued by the effect patenting seeds has on an economy as well as how these seeds affect the earth.
"I found it very interesting that the prospering governments feel that it is OK to patent seeds," Teague said. "These are seeds that people grow and sell to make a profit. They won't make a profit if the seeds are patented."
Teague said he also felt returning to traditional seeds and farming practices, as Shiva advocates for, would benefit both the food supply and planet we live on.
"If we take care of the soil and grow food the way it is supposed to be grown, then we will have enough food to feed the earth twice," Teague said.
Sonia Marcus, the director of sustainability at UNCA, helped coordinate Shiva's residency and lecture. Marcus invited Shiva to campus to share her message, serving as a reminder to students that this global issue deserves attention and action.
"Why do we need to hear Vandana Shiva now more than ever?" Marcus asked the auditorium. "Because she doesn't let us forget who the most vulnerable members of our society are — women, the poor, the citizens of the global south, the farmers, the keepers of indigenous knowledge and practices — and why we cannot indulge in the luxury of minding our own business while millions are being robbed of their livelihoods, their cultures and their food sovereignty."