Agriculture fair connects farms and community
Brooke Randle
News Writer
brandle@unca.edu
The eighth annual Community Supported Agriculture Fair kicked off earlier this month with more than 14 participating farms, indicating a growing interest in direct-to-consumer farming practices in and around Asheville.
Robin Lenner, events coordinator at Appalachian Sustainable Agriculture Project, said community-supported agriculture provides residents with a way to purchase directly from local and regional farmers, while supplying the initial capital to farmers to kick start the growing season.
"It's a pretty wonderful way to engage with a farm," Lenner said. "Unlike shopping at a farmer's market, which is still a fantastic way to directly purchase from a farm, community-supported agriculture is a membership where you basically buy a share of the farm at the beginning of a season and receive a box of produce or other products every week."
Farmers lined up in farmer's market style booths to discuss CSA options, such as share size and pickup locations, while answering questions from potential buyers.  Eggs, meats, fresh-cut flowers were among some of the many options provided by participating farms.
"It's just so exciting to see how many new farms have joined the fair. Because there's more and more farms that are offering CSAs, farms are figuring out ways to differentiate themselves," Lenner said.
According to a report released last year by the Department of Agriculture, more than 160,000 farms nationwide utilize CSAs and other direct marketing practices, such as farmer's markets, in 2015. The USDA said locally produced and marketed food also helps to strengthen the rural economy and provide greater food access.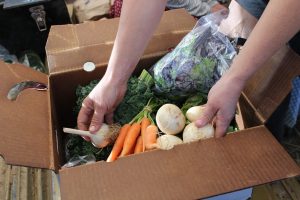 Despite an overall decrease in designated farmland throughout the country, Lenner said the local food market specifically has experienced some growth.
"Even though we've seen a decline in farmland for things like development, we're also starting to see some growth in some areas," Lenner said. "There's more acres in production than there were in the last AG Census and that shows that despite the decreases in overall farm acreage, there's an increase in acres in production."
Lenner said the agricultural heritage of Western North Carolina centers around tobacco farming. As demand for tobacco waned, many farmers scrambled to find a more sustainable farming industry. Lenner said her work with ASAP includes programs to educate farmers on marketing, distribution and connecting local growers and buyers. Food production became one of the ways in which farmers evolved to shifting demands.
"ASAP's work is really to kind of help farms transition after tobacco was no longer a subsidized industry," Lenner said. "We're in a region where commodity crops really aren't possible. We have mountain farms that grow on hillsides and the ability to do large tracks of corn or soy are really limited by our geography. So this idea of small farms growing food was looked at as a potentially viable option."
Zeke Filiss, owner of Long Valley Farm in Marshall, has seen the tobacco-food transition first-hand.
"I've been farming all my life. My parents grew tobacco when I was young and I've always had a big garden," Filiss said.
Filiss, a Madison County native, said CSAs provide a way for his farm to connect to people in the surrounding areas.
"There's not as much opportunity there. It's a small town. A lot of people have their own garden. CSAs give us a venue for our product and something to start with," Filiss said. "When we have more CSA customers, we're not worried about overproducing. It's kind of a drag when you put a lot of work into coming up with a nice product and you have no one to sell it to."
Carla Padvoiskis, a second year apprentice at Flying Cloud Farm in Fairview, said the benefits of a CSA may fit the needs of busy students.
"I work the UNCA market on Saturday and one thing that comes to mind right away is that it's very convenient. It's right there," Padvoiskis said.
Padvoiskis said she understands the desire many college students have for transparency from food suppliers and buying local is one way to make their voices heard.
"I think understanding your power as a consumer and the notion that every time you spend money, you're essentially voting on what you're choosing to spend money on," Padvoiskis said. "If the local small economy in the area you live in is something you value and the carbon footprint of the food you're eating is something you value, then shopping locally at your farmer's market and directly supporting farmers is a great way to do that."