Apple Fest rings in autumn, harvests community energy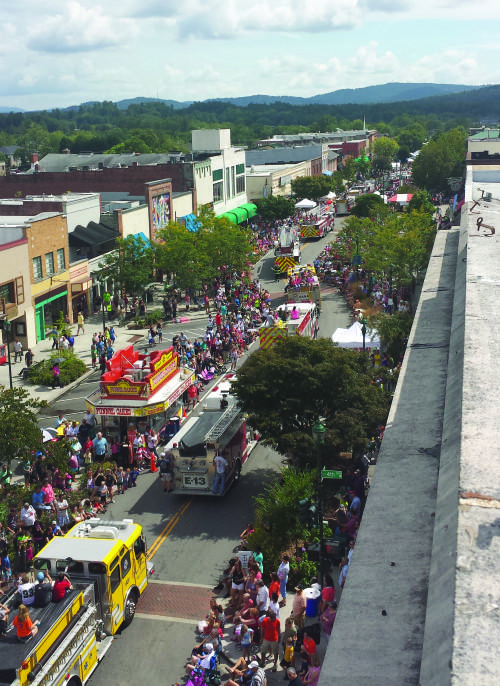 By Ashley Elder, News Staff Writer
aelder@unca.edu
9/10/2015
Hendersonville celebrated its local apple industry by offering food and festivities all weekend long, leading up to the King Apple Parade on Labor Day.
Carly Owenby, a 22-year-old Henderson County native, said the apple festival is an event that she looks forward to every year.
"I enjoy seeing family and friends as well as looking at all the different shops," Owenby said.
Owenby said her favorite part is trying all the different apple-flavored recipes. Locally-grown apples appeal to her as well.
"My family loves Honeycrisp apples, and it's definitely neat to know they were grown right down the road," she said.
She said she has always been a participant in the Apple Festival. This year Owenby helped sell candles at the Element Tree Essentials booth.
"I enjoyed getting to know various customers and enjoyed seeing the apple festival in a different light," she said.
Owned by the Cole family, Riverview Farms has been selling apples at the festival for the past 22 years, and Talley could be found in their tent every year.
Talley said it has been a great weekend with lots of sales.
"Our weather has held out. People are very happy this weekend," Talley said.
People are very interested in apple varieties for various recipes, she said. There are 25 different varieties on the street this weekend.
"People are going from farm to farm, trying different types and looking at what varieties they like," she said. "They are asking a lot of good questions about what kinds of different apples are good for different things such as eating, baking and cooking."
Talley said the apple that people ask for the most is Honeycrisp, but they have sold the most Galas.
She said most apple growers also have specialty foods that they make — jams, jellies, breads, cakes, pies, fritters and even apple ice cream, which is very popular.
"I like the hectic bustle. People on the street, asking lots of questions and kids everywhere," Talley said. "I love that kids can run up and down the street. There are lots of families. It's definitely a family event. You see absolutely all kinds of people here."
Cheryl Gudger-Thompson, North Carolina Apple Festival board member said Apple Fest is good for the entire community.
"It's a community event and we benefit a lot of local folks in many ways, from non-profits, to apple growers to the businesses on Main Street," Gudger-Thompson said.
Ten percent of the vendors have to be non-profit organizations, she said.
"We rotate them out every few years so that everybody gets a chance," Gudger-Thompson said.
All the orchards are invited to attend. There are 15 orchards at the festival this year, and Gudger-Thompson said there has to be a certain percentage of local apples at the festival.
"We have the board of directors and an executive board that work together so there is no one person who makes all the decisions," Gudger-Thompson said. "We are here for the benefit of the apple growers."
All the money stays local. The executive director is the only paid position and everyone else volunteers, Gudger-Thompson said.
"We also provide a scholarship for a rising senior at a local high school called the Apple Ambassador award," she said. "It can be male or female and they attend events for us in Raleigh."
Gudger-Thompson said people from all walks of life come to enjoy the festival.
"Vendors have been really pleased," she said, "and it looks like we've got people signing up to return next year already."