Artist Daniel Nevins captivates Asheville with bold, unique paintings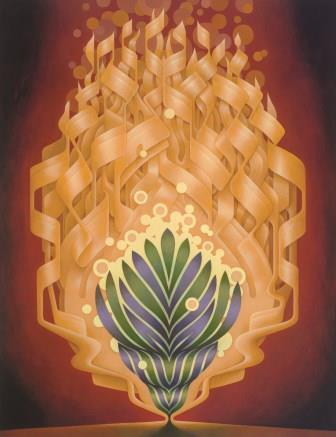 By Elizabeth Walker, contributor
10/21/2015
Daniel Nevins kept asking himself why he continuously made the trek back and forth from Florida after seeing the perfect studio space in Asheville.
"When I opened that door I could feel myself pulling out my checkbook, and I just wrote him a check. I didn't even live here. And I drove back to Florida going, I guess I'm moving," Nevins said.
Nevins said he still gets goosebumps when he remembers how he ended up in Asheville.
"I first came in 1993. A friend of mine was living here, someone I went to college with. He was living in Montford. I had just moved back to Florida from California, and he called me and he said, 'Hey, buddy, I think you should come up here, I think you'd really like this place,'" Nevins said. "When I drove over that Smoky Park bridge for the first time, I looked to my right and I almost heard a voice say, 'That's where your studio will be.'"
He soon packed up his things and made the last drive from Florida to Asheville, and has called the city home ever since.
Originally a graphic designer and illustrator, Nevins, a University of Florida graduate, said he slowly felt himself pulled into the fine arts.
After many years of creating figurative works, he switched to more abstract works within the past few years, excluding his Torah paintings for the book With A Mighty Hand.
Nevins said there's a unique tie between artist's influences and their own works.
"The product of your creativity is for someone else to enjoy. I heard someone say that Bob Dylan is the only person who lives in a world without Bob Dylan, because he doesn't get to experience himself. So what other people get from Bob Dylan, he has to get from Woody Guthrie or he has to get from somebody else," Nevins said.
Nevins said music is often where he draws his creativity from, listing The Beatles, Bob Dylan and The Band as some of his more musical influences, with more recent singer Glen Hansard being another favorite.
"I always talk about The Beatles. It's so great that they weren't of a time. They're still great. It's not just that they were lovable, it was that what they made was fantastic," Nevins said. "I think what I got from them was this feeling that life is magical, that there is something you can be involved in that is beyond this."
Marc Chagall and Pablo Picasso remain some of Nevins' more traditional artistic role models, but he said comics from the likes of MAD magazine and R. Crumb inspire him as well.
"I really liked With a Mighty Hand, because growing up in a Christian-centric community, we always had baby's first Bible, where it was all the illustrated pictures of the New Testament with Jesus, and I think it's really cool to see the Torah represented. I just love seeing things about my religion," said Claire Simons, a Jewish student at UNC Asheville.
Right around the same time that Rick Chess, professor of honors arts and sciences and director of the Center for Jewish Studies at UNCA, was approached to help sponsor the exhibition, Nevins himself dropped off a copy of With a Mighty Hand at Chess's office.
"The minute I opened that book and saw the reproductions of the paintings, I was completely blown away," Chess said. "I felt immediately that yes, we want to do whatever we can to support this exhibition and to help connect some people in the community to this exhibition, people in the Jewish community who might otherwise not have heard about the show."
Nevins' With a Mighty Hand: Torah Paintings + Abstractions from Daniel Nevins exhibit was unveiled on Sept. 24 in the S. Tucker Cooke Gallery in Owen Hall and will remain there until Oct. 30. Nevins' will be hosting a lecture Thursday at 6 p.m. in the Humanities Lecture Hall. Both events are free and open to the public.
After the past few years of working on abstract works, he said he plans on starting a series of paintings next year that will go back to his roots in figurative art.
"I got tired of telling stories," Nevins said. "I did that stuff and I was a graphic artist, and telling stories is great, but I think I got to a place where I kind of didn't even believe my own stories. It was like, why am I painting this again? Now, I've been doing abstract things for a number of years, and I can feel narrative things coming back up. I don't really control it."
While most artists have a certain message or feeling within their art that they wish to convey to their audience, Nevins said he has a different approach.
"That's what's great about it, is I don't have a feeling of what I want them to feel," Nevins said. "I don't have a point of view I'm trying to tell you about. I see my abstract paintings more as Rorschach tests. I would like it to be more like you look into a campfire and you know things come to you, but there's no content there," Nevins said. "So I think it's more about what someone brings to it. Instead of a story that creates an emotion, let's go straight to the emotion."