Bulldogs Optimistic After Sweeping Invitational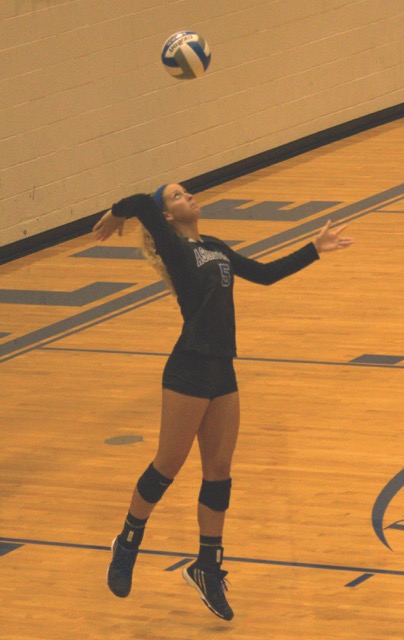 By Harrison Slaughter, Sports Editor
jslaught@unca.edu
9/16/2015
The UNC Asheville women's volleyball team extended their winning streak to five games after defeating South Carolina State three sets to one to close out the UNCA Invitational. Asheville went undefeated throughout the tournament.
"Coach told us this is our home. This is where we are comfortable and we came out on the aggressive side because we play here everyday. We know how to play here and honestly, I think that is what we did," said Catherine Fischer, junior UNCA volleyball player. "Some of the teams we played this weekend are really hard to play because we don't really know what is coming over the net. That just means we need to pay more attention to detail. He always preaches attention to detail but especially in these last two games today."
Frederico Santos, head coach, said they did not focus on one specific thing in practice heading up to the tournament. If he had to pick specifics, it would probably be serving and blocking, but overall, he said it is a holistic approach.
"I thought we stayed together a lot throughout the entire tournament. There were a lot of ups and downs but we didn't get stressed," Fischer said. "We went to four sets with a lot of teams, which is a scary thing because you can go to five sets and possibly lose. Staying together and calm under pressure was really important for us."
Santos said they played well as a team and that everyone has a job to do to make everything come together.
"I hate to pinpoint players. We really perform well as a unit. It's difficult to put emphasis on one or two players," Santos said. "We will pick an MVP and someone else who made the all-tournament team, but to me it is the ultimate team sport. You just can't do it by yourself."
Fischer was named to the All-Tournament team following the weekend, while Cameron Pryor, freshman UNCA volleyball player, was named the tournament's MVP.
According to Santos, the biggest takeaway from the tournament is that the team is improving. They aren't where they want to be yet, but they are definitely on an upward swing. It's a positive start, he said, and hopefully it can only go up from here.
The UNCA women's team heads to the Citadel this weekend for their next tournament.
"The next team we play is the Citadel so we are feeling pretty happy about playing them again. It's also a lot of confidence coming into the next tournament. I think we feel like big dogs right now and it's great," Fischer said. "We need to take that positive energy and pride to the next tournament. We can beat anyone we play in the next few tournaments."