Engineering department creates networking opportunities
By Becca Andrews, News staff writer
11/11/15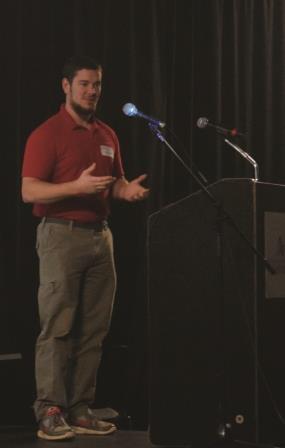 Close to 100 engineering students gathered for an engineering department Career Night on Friday. The event provided networking opportunities with UNC Asheville alumni and local companies.
Stephen Moyer and Robin Peeples teamed up with the student branch of Institute of Electrical and Electronics Engineers to organize the event.
"It's an attempt to bring engineers together across a lot of lives, students, young professionals, just-graduates, professionals who have been at it for a long time," Moyer said. "We've got IEEE members here, we've got companies here and we've got alumni here."
IEEE is an information organization for engineers, with 30,000 members and over 300 conferences every year, said Jim Corr, an IEEE representative.
"As an engineer or a scientist," Corr said, "IEEE is your professional home"
Four companies were present: BorgWarner, GE Aviation, Eaton and TMEIC. Each company had a table to present their internships to students. Alumni gave talks on how to be successful in an interview and in jobs after college.
"We just thought that those were really important topics for those who had already gone through that process. They could almost be like mentors to their fellow mechatronics students," Peeples said. "Especially with mechatronics because most people don't know it is. So people who know how to interact with the industry, it's good to hear them talk about it."
Jenny Kabat and Evan Loesser from Eaton were the first to speak about how to do well in an interview. Loesser, a UNCA alumnus, stressed the importance of researching the job description, the company and even the interviewer. He encouraged rehearsing your elevator speech, a sales pitch for yourself, as well as answers to typical interview questions. Eaton often bases their questions off the Lominger questions, he said.
"Focus on what you have to bring to the company," Loesser said, "as opposed to what this job can do for your career."
Josh Karpen, a sales application engineer for TMEIC, also weighed in on the subject of interviewing.
"The biggest problem is people not giving enough of an answer. I go into an interview with a list of questions, it's the same for everybody, it's about 14 pages," said Karpen, a 2008 alumnus. "You don't want me to get through all 14, some of them are really tough questions. If I give you an opening I want you to talk about yourself."
Following up after an interview is also important.
"If you don't follow up, most companies will forget about you. Because you didn't take the extra incentive to be out there," Peeples said. "When I interviewed for my job I was really persistent. I emailed them again, I talked to one of the guys in person and I really tried to get myself out there."
Hallie Sheaffer, another former UNCA student, advised being confident, even when feeling nervous.
"The way I do that is '80s music," Sheaffer said. "I put it on the car radio and I sing as loud as I can. It's important to go in feeling confident."
Sheaffer spoke about how to act when negotiating a job offer. She said she recommends waiting for them to offer a number first. Upon receiving the offer, don't immediately accept, she said, most places expect some negotiation and this can allow for a better deal. Once hired, she said not to become lazy.
"There is no such thing as job security, always do your best. You can assume your job will be there next year," Sheaffer said. "You need to work like somebody who if they don't do their best, might lose their job."
Patrick Herron, a 2012 alumnus, also spoke about life after getting a job. Being open to new things, relying on other people and balancing work and leisure are key to success, he said.
"You are going to have money you didn't have before, you're going to get a paycheck and you are going to say, 'That is awesome! I can spend it on whatever I want,'" Herron said. "But you need to be smart about how you use your money."
Herron said keeping paper files of all records and documents as well as budgeting carefully is important.
The event allowed current students to get advice from those in the industry as well as meet potential employers. The goal of future events similar to this one is more alumni involvement, as well as more company presence for networking, Karpen said.
"We are starting an engineering alumni advisory board, and I'm the chair, and also the only member. Although I have just recruited some people," Karpen said. "I want to bring more of the alumni back. There's definite huge chunks of alumni years that are not represented at all."