Fitbits: fad gadgets or fitness revolution?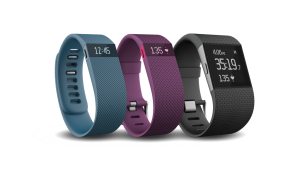 If you own a fitness tracker or smartwatch, chances are it is a Fitbit, whose third-quarter global sales in 2015 were nearly 5 million units, according to IDC Research.
"The first time I got one for non-athletic purposes must have been when I was working at Ithaca College, so right after graduate school," said Amy Lanou, department chair and associate professor of UNC Asheville's health and wellness department. "I was working in another health promotion department with a bunch of fitness people."
Lanou said fitness trackers started out as basic pedometers.
"The field has had them for a long time as step counters," Lanou said.
Fitbit, according to its website, currently offers eight different models of fitness trackers, all with varying levels of features across different price ranges.
Lanou, a former cross-country and track athlete, said runners constantly focus on distance goals. Distance tracking is a key feature of these devices.
"I used to run as a high school student and in college, so of course we're always interested in mileage," Lanou, 52, said.
Ellen Garrison, a full-time lecturer in the health and wellness department, became familiar with fitness trackers through their incorporation into university programs.
"There's been a pilot project using some technology and interfacing with Mission Hospital," Garrison said. "It's called a Pebble, and it's an accelerometer. It's part of my healthy life program."
Through using the Pebble smartwatch as an instructional tool, Garrison became more familiar with fitness trackers and began enjoying the novelty of it.
"So, I was using the Pebble and I kind of got used to it. I like seeing the steps, I like having a goal, and I didn't know I would like that," Garrison said. "I found it fun, and it can be a little bit of a competition among friends."
Lanou, also familiar with the Pebble tracker, prefers her Fitbit Charge wristband.
"This one has been a lot better for me than that one because that one I had to remember to move it from shoe-to-shoe. Or sometimes you can wear it on your bra and, whoops, it went in the washer," Lanou said.
Garrison, 61, is also a Fitbit user who purchased her first one, a Charge HR model, in 2015.
"It was last year, I remember because it was a basketball game and Verizon was handing out 20 percent discounts, which you almost never hear for a Fitbit," Garrison said. "We got the coupons, and we took off to Verizon."
Fitbit has a large portion of the fitness tracker market cornered, but they are not the only option available.
Kathryn Gambill, a sophomore student, wears a Polar FT7 fitness watch.
Gambill, who bought her first fitness watch this past year, said fitness trackers are relatively new to her.
"Yeah, this is my first one. I've been using it since December," Gambill said. "I do a specific workout program that a lot of other girls do, and so a lot of them wear this. Seeing them using it and finding out about how well it works and how cool it is to be able to track your progress in numbers made me want to get one too."
Gambill said she began working out consistently over the past year after becoming motivated by some of her friends who are UNCA athletes.
"A lot of my friends are on the track team," Gambill said. "Seeing them being really active and watching how that impacted their lives, it was just such an overall positive thing. There weren't any negatives to it."
Garrison said she agrees that fitness trackers encourage and enable users to maintain an active lifestyle.
"I think the studies do prove that some support and accountability helps increase more consistent, sustainable exercise," Garrison said.
Gambill also said that using a fitness watch has impacted her motivation to maintain consistency in her workouts.
"One thing I noticed is that I think last week I did maybe one or two less workouts than I normally do. It was kind of shocking to see how much that threw off my weekly summaries and see how fewer calories I burned," Gambill said.
Lanou, on the other hand, does not see her Fitbit as a motivational tool.
"For me it's not particularly motivational, it's more like I already have the motivation, and this helps me figure out if I am meeting my goals," Lanou said.
Gambill said she plans to continue maintaining a healthy, active lifestyle and eventually wants to run a marathon.
"Just to continue getting in shape and being healthy and making it even more of a habit, I'd like to tell myself I'll run a marathon someday," Gambill said. "It looks kind of painful so I don't really know, but we'll see."