Greensky Bluegrass plays packed Asheville Music Hall
by Maeve Callahan – Staff Writer – mecallah@unca.edu
The amount of people crammed inside The Asheville Music Hall on Saturday night watching Greensky Bluegrass perform illustrates the growing success the Michigan-based quintet found by falling into a musical genre.
"I was scared coming to play bluegrass in North Carolina at first, being from Michigan," said Anders Beck, who plays the dobra in Greensky Bluegrass. "Here it's in the hills, it's a real thing."
Greensky Bluegrass formed approximately 11 years ago when the three founding members, Mike Bont on banjo, Dave Bruzza on guitar and Paul Hoffman on mandolin, joined together to learn bluegrass. Bont and Bruzza met at a picking party and then discovered Hoffman, who Bont described as "the Mr. T of hippie bling," during an open mic night. Beck and Mike Devol, who plays upright bass, later joined the trio.
The band took the stage shortly after 10 p.m., while the doorman continued to turn people away from the already full venue.
For the next few hours, Greensky entertained their diverse audience of dreadlocks, overalls and North Face Polar Tec vests with sounds Hoffman describes as "rock 'n' roll with bluegrass instruments."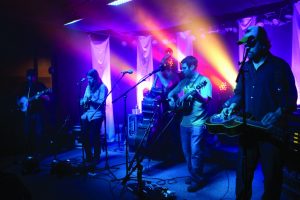 During the extended instrumental segments, the band seemed to be engaged in a conversation with one another via the sounds produced by their instruments. The room of bobbing heads and watchful eyes erupted with excitement when the lyrics began, as though they were invited into the private conversation of the band.
"We get the hippie kids, to the middle-aged Deadheads, doctors and lawyers," Bont said. "It's an interesting, diverse crowd."
The scene at The Asheville Music Hall was a fine portal of Bont's description, a room filled by people with musical tastes ranging from Tupac to The Avett Brothers.
Even Hoffman, who plays mandolin and writes many of the lyrics for Greensky, admits to not being a huge fan of bluegrass.
"I really like playing bluegrass a lot. I don't really listen to it much," Hoffman said. "Not at all."
It may be the variety of music influencing the band, from punk rock to Jerry Garcia, which gives them the fresh perspective on bluegrass that is drawing the attention of a growing number of fans. Their fourth studio album, Handguns, reached No. 3 on the Billboard's Bluegrass chart in October 2011.
Sam Katz, the talent buyer and promoter for Geniass Products, booked Greensky for the Saturday night show knowing the band would fill The Asheville Music Hall's 360 person capacity.
"They played here last year, and it was one of the best shows we've done," Katz said.
Greensky will begin recording their fifth album within the month. The band members said the unexpected life of professional bluegrass musicians is a fulfilling career path for the members of the band.
"The bottom line is that I hope to make people smile," said Beck. "If you can transport someone for just a little while with a song, that's an amazingly powerful thing."