Asheville to expand greenways throughout city
Brooke Randle
News writer
brandle@unca.edu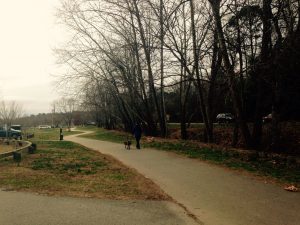 The city of Asheville and the surrounding areas continue to expand a network of greenways, providing a safe way to commute for bikers and pedestrians.
Derek Turno, board member for the Asheville Parks and Greenways Foundation, said the expansion utilizes existing sections of greenway to fill in as the missing links to connect the city.
"There's kind of a spider web that's happening to the greenway down on the river," Turno said. "It's kind of the main greenway and then, through little pieces of city property, the connecting greenways are being developed."
For UNC Asheville students, the proposed greenway expansion near the Asheville Botanical Gardens will provide easy access to the French Broad River.
"If you get on Broadway and go down to that Riverside intersection, that's where the new greenway is going to start," Turno said. "It's going to go five miles downriver, so you can easily run or ride your bike from the school down to the river."
According to information from the city of Asheville, greenways are pathways specifically designed for bikes, pedestrians and any other non-motorized vehicles. Greenways provide residents with a safe transportation alternative to driving, as well as opportunities to enjoy the natural landscape Asheville offers.
Lucy Crown, a UNCA alumni and greenways coordinator for the city of Asheville, said although residents often use Asheville's greenways for exercise and leisure, one of the main goals of the expansion is to provide a system of pathways to connect different areas of town.
"Most of the time you'll see people out there recreating and part of that is because they're really fun to go out and experience on your own or with family and friends on great days," Crown said. "You'll be able to travel throughout this greenway network more easily."
Crown said the pet-friendly greenways allow for a safe place for residents to walk or bike.
"All of them are made to get around without a car," Crown said. "You can use a stroller, you can take your dog. They're open to everyone."
The city of Asheville's website reports 4.3 miles of greenways peppered throughout the city. The greenway expansion plans to add more greenways and connectors to the surrounding area, creating a total of 15 interconnected miles.
Most of Asheville's greenways can be found along existing parks, such as the French Broad River Park. Crown said the proposed expansion aims to develop other areas of town including Woodfin and Beaucatcher Mountain.
"We have six different projects going on right now, most of them are in the River Arts District. We're going from the River Arts District into downtown," Crown said. "When it's finished, you'll be able to go from New Belgium all the way to Hominy Creek River park on the west side of the river."
The expansion project, known as the River to Ridge Greenway and Trail network, will also include the South Slope Greenway Connector, Beaucatcher Greenway and the Urban Trail, linking together many vital areas of town.
According to Crown, the proposed expansion begins construction this year with an estimated budget of $22 million. The greenways are funded in part by several different grants, including a federal grant known as The Transportation Investment Generating Economic Recovery, or TIGER Discretionary Grant.
According to the US Department of Transportation, TIGER grants provide funding for transportation related projects in various cities throughout the country.
Executive Director Garrett Artz of RiverLink, a local environmental nonprofit, said while the greenway system is not unique to Asheville, the demand for such amenities appears to be steadily growing.
"It's been very popular over the last 20 years and has really accelerated over the last five to 10," Artz said. "I would say that Asheville is a little behind compared to major cities but they've made some serious investments."
Artz said greenways are expanding all over North Carolina including Charlotte, The Research Triangle and Greenville.
"People are seeing them as an amenity that they want,"Artz said. "There's statistics out there that support that the millennial generation and younger are seeking places where they can walk or bike to restaurants, entertainment and grocery stores."
Artz said the beauty and accessibility greenways provide to a city appeals to a wide range of people, including business owners, which in turn boosts the local economy.
"I think anytime you make a place nice to live, that can attract business and could attract higher educated and motivated employees that want to live in those kind of areas," Artz said. "It's just great for families."
Crown said the greenways, expected to be completed by 2020, will enhance the natural beauty of the city as well as provide a necessary function for residents.
"They definitely help to make places more beautiful," Crown said. "We can enjoy more of our natural assets and protect them at the same time."