Grove Tenants Move in to Disappointment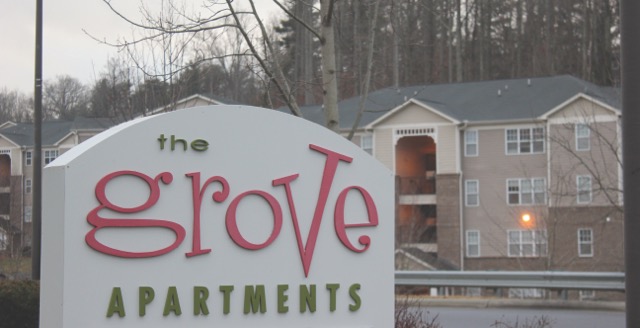 By Lee Elliott, contributor
9/16/2015
This fall, new tenants of The Grove at Asheville moved in to stained furniture, leaking appliances and prolific pests, among other unpleasant surprises.
"The carpet turned my feet black and the vents had mold growing on them," said Gabby Fitts, a UNC Asheville student. "The windows had mold growing on them, there was standing water in my dishwasher and there was white powder in the stove."
Other Grove residents said they moved into disheveled apartments with serious plumbing and cosmetic issues.
"The sink was leaking. There were holes in my roommate's floor, and there were scratches all over the furniture from pets," said Audrey Nelson, new Grove tenant from Myrtle Beach, South Carolina.
She said the apartment she moved into looked nothing like the room she viewed before signing her lease.
"I expected more from seeing the model unit," Nelson said.
Several Grove residents say they had similar negative experiences moving into The Grove this semester.
"We had to get somebody to come and clean our couches because they were so nasty," said Andrew Atisa,  a UNCA student from Chapel Hill. "Our carpets had burn holes and stains."
The Grove staff respond slowly to maintenance requests, if at all, according to residents.
Both the staff and Campus Crest, the property management firm that owns and operates The Grove franchise and 81 other such student housing complexes, did not respond to requests for comment.
Other Grove residents reported problems with pests like ants, cockroaches and rats.
"When we were walking home from class, there was a rat in the middle of the road. It looked like it had been there all day," said John Mallow Jr., a junior at UNCA.
Fitts said she saw cockroaches in a neighbor's apartment.
"We have ants in our foyer. The last person to live here left trash in the hall and now there is a colony of them," said Brandon Schuler, Grove tenant and local business owner.
Schuler lived at the Grove for three years, but says he saw pictures prior to moving in that led him to believe the apartment complex had more amenities than it did.
"I expected more from the demo apartment, and when I looked online they had photos of fire pits and pools, which don't exist," Schuler said.
Other Grove residents said they saw photographs on the Grove's website, depicting apartment dwellers laughing around fire pits and playing in a pool. Some residents said the terms of their lease were unclear.
"When I moved into the apartment originally, I thought I was going to be living with my friend and another guy," said Grove tenant John O'Connell.
Instead, O'Connell ended up living with four other people in a three-bedroom apartment, none of which was mentioned in his lease agreement.
The Grove management caught flak in the past for not providing a safe environment, according to city records.
According to information from the Asheville Fire Department, in February, a water main burst under building 900 causing the first floor to flood. During the subsequent repair, electrical generators were used to power drying fans in the first floor apartments, releasing poisonous carbon monoxide into surrounding apartments. The whole building had to be evacuated and a woman was briefly hospitalized.
"Despite evidence to the contrary, it's not as terrible as people make it out to be," said Mallow. "But it's not the best place to live."