Ink of the Week: Student wears tattoos in memory of loved ones
As a form of expression, tattoos have been celebrated for millennia across the globe. Whether for religious, traditional or personal reasons, people have chosen to decorate their bodies with ink.
Logan Todd
Multimedia Staff
etodd@unca.edu
When birds fly in a 'V' formation, it's a mystery why one side is always longer.
That is the set-up for a joke Taylor Wilson's grandfather used to tell her, and is one source of inspiration for her tattoos, all of which reflect someone she loves.
The answer to the joke is, simply: "There are more birds on that side."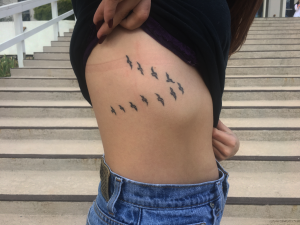 Wilson, a sophomore new media and management student at UNC Asheville, hails from Hickory, and got her first tattoo exactly a week after her 18th birthday.
The tattoo features 11 seagulls flying in a 'V' formation, a homage to her grandfather.
When he passed away she told the preacher his joke, who then opened the funeral service with the same joke.
Wilson's tattoo features one bird in the front and 10 in the back, representing her grandfather's Oct. 1 birthday.
Wilson said she completely changed her mind the night before her first tattoo, when the idea of the birds in a 'V' shape came to her.
Despite knowing rib cage tattoos apparently rank as one of the most painful to get, Wilson decided to get hers there anyway.
"It was the worst 30 minutes of my life," Wilson said with a laugh.
Her second tattoo was a Celtic symbol representing mother and daughter; with hers on the back of her neck and her mother's on her wrist.  The mother-daughter duo inked themselves a week before Wilson started at UNCA.
Her next tattoo depicts a vintage-style picture of a rose from her great-grandmother's house in Hickory — the house she now lives in. It was from the year her great-grandmother passed away. Her grandmother told Wilson something before she passed.
"Keep my roses for me," Wilson said.
Wilson chose the tattoo so she would always have one of her great-grandmother's roses with her.
Wilson's great-grandmother passed away a week before her 100th birthday, where the family planned to have 100 balloons in the house for the celebration. Instead, they had 100 balloons at her funeral.
Wilson said she is already planning her next tattoo, this one in honor of her grandmother who has Alzheimer's. She plans to get a forget-me-not flower. Wilson said she wants the closing of a letter her grandmother sent her under the flower: "Love you, MeeMaw."