Lady Parts Justice League brings reproductive comedy to The Grey Eagle
Karrigan Monk
A&F Staff Writer
kmonk@unca.edu
It is a Sunday night, but the parking lot of The Grey Eagle is packed. Inside people are gathered around the bar. A few are seated in the hall where a projection announces the night's performance: Lady Parts Justice League.
The organization was founded by Lizz Winstead, co-creator of The Daily Show. In an interview before the show, Winstead explained the concept came to her as a result of seeing injustice surrounding reproductive rights and access. She contacted several of her friends in the entertainment industry to get together to travel around the country doing benefit shows as well as helping out clinics in any way they needed.
Sunday night's show titled "You Should Smile More and Other Man-Spirational Things!" starred Winstead in addition to comics Helen Hong and Joyelle Johnson with the skit comics Buzz Off, Lucille! The show is part of a three city North Carolina mini-tour that will visit Charlotte and Carrboro after Asheville.
"It was really important for me to come down with a team of people who I know are going to love North Carolina and to perform for people who are working really hard in cities trying to make change," Winstead said. "It's nice to come and be fun and funny and say, 'Hey, we're with you and we know that your politicians don't represent you and we want to be here to support any way we can.'"
The show begins with a video introducing LPJL with clips of various benefits and videos they have created. After the video, a local clinic worker takes the stage to introduce LPLJ with Winstead coming up to do her opening monologue after, giving a comedic history of the organization.
Winstead tells the tale of driving from New York to Minnesota in a van with her two dogs to finish her book and seeing the atrocities that are the nations clinics. After she finished her book she was making her way back to New York when she decided it was time to help.
"I called Planned Parenthood and was like, 'Hey I'm driving in a van with my two dogs' and they were like 'Who are you?' and I said, 'No, it's a great idea,'" Winstead said. "Now people are like what do you do and I'm like, 'I don't know. I'm just telling jokes. I'm just a comedian pointing out bullshit.'"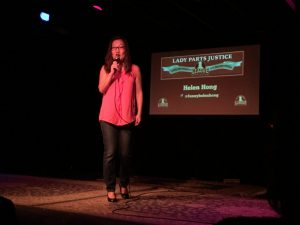 Winstead cites a visit to a clinic where a worker thanked her for coming when no one else does as the experience that set her on the path of continuing this full time. When inviting her friends to join her, she reminded them that many of them had used the services and have successful careers because of it. She told them they were being too privileged and it was time to give back.
After explaining the organization, Winstead spends most of her opening monologue on Mike Pence, Republican vice presidential candidate, describing his past week in which he has had several botched interviews and photo shoots as a great metaphor for the Trump campaign. Moving past recent events, she went back to his time as a local politician during the time marriage equality was being passed.
"You know it's bad when NASCAR is like, 'Hey, fucking calm down,'" Winstead said. "Even NASCAR was more psyched about marriage equality than Mike Pence."
Winstead then went on to argue that politicians should be forced to dress like NASCAR drivers and display their sponsors.
Her monologue continued to talk about conspiracy theorists who believe voter rigging is happening. She points out that these people are the same ones who believe events like 9/11, the Sandy Hook shooting and the Boston bombing were all government hoaxes. She offered a solution to those who are concerned about voter rigging.
"Some women aren't allowed to vote because their maiden name is on their license and it doesn't match the name they go by. Which is ridiculous, but I think I've found a way to prove someone is who they say they are. You take a woman and you tie a brick to her ankle and throw her into a river. If she floats she can vote. We can call it the Voter Floater Bill," Winstead tells a howling audience. "More women have accused Cosby of rape than there have been instances of voter fraud."
Winstead said she is afraid that not enough people will show up to vote, resulting in what she calls horrible people with horrible policies being elected.
Before wrapping up her portion of the show, Winstead manages to slip in comparing Newt Gingrich to an escaped Macy's balloon and called Trump's supporters orcs.
The next act to come up was Buzz Off, Lucille! a skit comedy group who were dressed as cast members of Grease to call out sexist lines in the musical such as, "Did she put up a fight?" The group came back twice during the show after each comedian to present a different skit. The second portraying an Abstinence Only Club, and the last It Gets Better campaign for white straight cis-gendered men.
The second comic to perform is Helen Hong who is introduced with a video she made for LPJL called "Sober History" in which she tells the story of a Tennessee congressman who passed anti-abortion laws yet forced his wife and mistresses to get multiple abortions.
"This is my first time in Asheville," Hong opened. "I had no idea I would be doubling the Asian population here. You're welcome."
Hong spends most of her set talking about her parents. She described being raised by them as similar to being raised by wolves but with less compassion and understandings.
To explain things Planned Parenthood does other than abortions, Hong told the story of her first period. She did not tell her mother about it until two days in at which point her mother told her she now has to be careful around men. Hong was told nothing else and turned to sources like Planned Parenthood to learn about things like periods and sex.
After talking about her parents, Hong turns to the election. She said she misses the primary elections because the world seemed less apocalyptic for her.
"I was feeling the Bern all over the place and then they gave me some Clinton cream. I miss the Bern. I'm voting for Hillary Clinton because I don't want to vote to open the seventh gate of hell," Hong said closing her segment. "Donald Trump is terrible but Mike Pence looks normal until he opens his mouth and bats fly out. Guys, let's vote and get these assholes out!"
Winstead comes back to the stage to introduce Buzz Off, Lucille! once more before showing a video that shows the abysmal state of Louisiana clinics using a rewritten version of Beyoncé's "Formation." The producer of this video, Joyelle Johnson is the next comic to take the stage.
Johnson's set consisted of family drama ranging from her cousin owing her $30 to finding her father on sugardaddy.com to being raised by a nurse who is now caring for an elderly racist woman in Georgia.
"Nurses are nice people. I'm a comedian. We're assholes," Johnson said. "She's a 90-year-old racist who doesn't remember anything. I'd mess with her every day. She forgot her own family but remember she was a racist. That's dedication."
After Johnson's set, Winstead comes back for a final joke criticizing North Carolina's HB2 law.
"It's not just Pat McCrory, who I don't think is going to be re-elected by the way," Winstead said. "Thom Tillis is also obsessed with bathrooms. Did you know he said it was too much government intervention to require restaurant workers to wash their hands after going to the bathroom. Is there this weird libertarian E.coli club that I don't know about?"
The show closes with two more videos and a final performance by Buzz Off, Lucille! before all the performers come back on stage for a final bow.
As an organization, LPJL receives a lot of support but also a lot of criticism who think that comedy should not be used to tackle issues like abortion. Winstead said while these people exist, there are also people who are excited about a new and exciting way to talk about these topics.
In addition to touring, producing videos and helping clinics, LPJL also hosts the Golden Probe Awards, which took place in early October. The event calls attention to politicians who put laws in place restricting reproductive healthcare with categories such as "Best Original Science." According to Winstead, this year's event drew in 22,000 viewers.
Winstead said her favorite part of LPJL is working with people who are passionate in trying to make a difference any way they can and proving to people who think that women are not funny that they are completely wrong.
"What's really amazing is to be surrounded by people who wake up every day and give a shit and use their creative talents to try to make a difference," Winstead said. "Often times it's not really end goals as much as it is knowing and being energized by the people that you're with every day who are working as part of a team to try to make change."