Local artist avoids death, finds success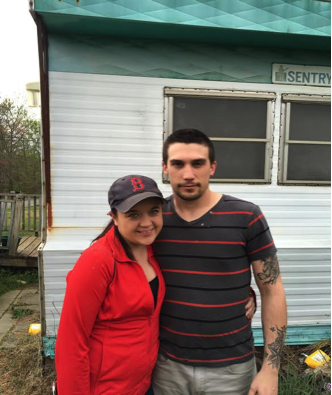 By Benjamin Cohn
Cameron Miller grabbed a shotgun and trudged out the back of his house, headed for the woods.
He walked three miles, dazed. Miller found a peaceful spot, seated himself, took a deep breath. He knew it had to be done.
The cold, unfeeling metal of the double-barrel, pump-action bird killer felt refreshing against his cheek.
"Nothing to live for," the 23-year-old thought to himself.
Minutes earlier, he had walked in on his girlfriend cheating — in his own bed.  His most recent band, like those before it, fell apart. Years of physical labor left Miller feeling depleted and weak. He lost touch with his family. He felt utterly alone and helpless.
Agonizing seconds passed.
Miller considered his life, realized ending it was not the right choice. He gathered his thoughts, brushed himself off and stood up, shotgun in hand.
As he turned to exit the woods, his foot caught on a disguised root. He panicked, accidentally discharging the shotgun millimeters away from his cheek.
He nearly killed himself moments after deciding not to.
Miller has lived through more peaks and valleys than any one man ought to endure. He never felt lower than he did that day in the woods.
The young musician tried to kill himself three years ago. His most recent band, Sonic Praise, dissolved only weeks before its four-year anniversary.
Miller works now as a paid songwriter.
The son of Kevin Miller, an accomplished country music artist, Miller devoted his life to music at an early age.
He received his first drum set at three years old.
"Two toms, a snare, a shitty cymbal and two plastic sticks. It was awesome," Miller said.
By eighth grade, the multi-instrumentalist wrote his first piece of music, an untitled pop song. He showed it to his band director, Jamey Walker, and impressed him enough to commission a piece for a full orchestral ensemble.
"The process took at least a month," Miller said.
He wrote parts for every instrument in the band: trumpet, flute, clarinet, saxophone, tuba and the rest. Miller would sing or play a melody on piano. Walker transposed musical lines into a traditional format and the two eventually crafted a fully-realized piece.
The best part of all this, from Miller's perspective, was having the opportunity to conduct the band as they played his signature song, "Cambird March."
Less than two years later, Miller formed his first band, Proof of Purchase. He defines the group's musical style as a little pop, punk and reminiscent of Green Day.
Proof of Purchase lasted less than a year. Band members started dropping out; people drifted apart.
More than a decade ago, at age 15, Miller started his next and nearly longest-lasting band, The Nameless.
The group's sound had a heavy, angst-laden tone reminiscent of Stone Sour or Down.
The Nameless went on to record, perform and tour for the next three years. The group played locally at venues in Raleigh, Asheville and cities in South Carolina.
Matthew Hancock, 28, played with Miller for almost half his life. Born in New Hampshire, he moved to Rutherfordton, meeting Miller in middle school.
He, too, entered the world with a musical silver spoon in his mouth.
"My grandfather, he lives in Texas," Hancock said. "I don't really know him that well, but he used to play lead guitar for LeAnn Rimes."
Like Miller, Hancock involved himself deeply in the music scene during the course of his public education. The two participated in marching band competitions, Miller in the drum line and Hancock just in front of him, playing mellophone.
The pair recount an amusing story involving Hancock, a muddy field and a brand-new instrument. Hancock ran afoul in a mud patch and collapsed, sullying his white uniform and nearly smashing his new horn.
Miller recalls his initiation into the drum line, made more painful by the fact that he won a spot as a freshman, the first at his school to do so.
"They duct taped my wrists, ankles and mouth and locked me in the color guard room," Miller said.
He yelled and screamed, but to no avail. Hours passed, and he remained trapped until the band director tried to access the room after practice.
Late last year, while working as a subcontractor at a local Facebook office, a professional producer discovered Miller's music. This producer happened to be married to his boss.
The producer, Mitch Chandler, had connections to a few big-name personalities — three former members of The Marshall Tucker Band.
Miller was soon introduced to Tim Lawter, Rusty Milner and Paul Riddle – the bassist, guitarist and drummer.
Chandler contributed more than just personality to the group, however. He laid down many guitar tracks for the band and engineered much of the group's sound.
This new group, still unnamed, offered Miller the job of writing and performing lyrics and vocals over tracks they had already laid down.
Utilizing his compact yet efficient home studio, Miller, with assistance from Hancock, wrote, recorded, mixed and compressed audio tracks for Chandler and the guys.
Miller receives enough pay to keep the lights on, but just barely.
Another positive change in Miller's life takes the form of his fiancée, Haley Collins.
Like Hancock and Miller, Collins has a surprisingly famous background. Her great-uncle, now deceased, gained fame as legendary country-Western artist George Jones, a contemporary of Johnny Cash.
She recalls growing up in Nashville and being babysat by uncle George, or as she used to call him, Paw Paw.
"My uncle used to name all his guitars," Collins remarked wistfully.
The story of how these lovers found each other resembles a modern classic — they met on Tinder.
Collins made the first move.
"Hey, what's up," she said, followed by a smiley face.
Tinder messaging soon gave way to texting and, before long, the two could not be torn from each other electronically.
Meeting in person, though, would prove more challenging.
"He kept blowing me off," Collins said. Eventually, though, the two found their rhythm.
"I walked into Food Lion one time and I saw him," Collins said, remembering the first time she laid eyes on Miller's face. "But I didn't know he was there. I knew he worked there, but didn't expect to see him. It scared me so I walked to the back. I left really fast so he wouldn't notice me," she said.
The two exchanged a brief text about the incident and she met him back inside the store. Once they met, they felt attraction immediately.
"We were both really nervous," Collins said, but their chemistry could not be denied.
The two started dating almost a year ago. He popped the question in late October. They, along with Hancock, reside in a humble trailer in Forest City, about an hour west of Asheville.
Though Miller endured some undeniably challenging events, his spirit remains buoyant.
His brush with death gave him clarity; nothing in this world is worth killing yourself over. His music and his loved ones inspire him constantly. He could never give them up.
Miller doesn't get hung up on petty things anymore. He's content with his intimate studio, his guitar collection, his fiancee and the musical fraternity he's cultivated.
The young producer adopted a resilient, adaptable model for overcoming life's struggles. He understands that "If you change the way you look at things, the things you look at change."
04/19/16