Local entrepreneur empowers minorities through brewing
Nick Haseloff
Photography Editor
nhaselof@unca.edu
A resilient, black 2nd grader protests with classmates and staff in the lunchroom of Ring Factory Elementary in Bel Air, Maryland. The sit-in takes place during Black History Month in the early '90s at a predominantly white and middle-class school as the protester lays out a series of demands for better pay for the lunch staff and janitors and more reasonable accommodations for the students during recess.
That young protester, now a lifelong activist, continues the fight by opening a brewery this month in downtown Hendersonville, which promises to help build the community by empowering minority peoples.
"From a very early age I was active in organizing activism," said L.A. McCrae, chief values officer, founder and brew creative for Black Star Line Brewing Co. "I've been doing this for what feels like forever."
McCrae, who goes by they/them pronouns, said they will work their whole life to enact change in the communities they are a part of. Through the experiences in life, they are developing social and business models for a brewery that changes people's lives.
"At this point, I'm really focussing on what could be considered creating pathways out of poverty for my people," 31-year-old McCrae said. "Whoever the 'my people' are. You know, black folks, queer folks, women, etc. And I'm looking at the ways that we can use our skills and our knowledge and our heritage to really solidify liberation in a world that often does not want to see us as liberated."
McCrae said the best way they can think to enact change involves disrupting the traditional beer industry and bringing to life a brewery which does more than just brew beer, but also rattles the normal approach to community activism.
"There are ways the brewing industry is exclusive both by design and just de facto," McCrae said. "So when I think about going into a brewery, I have to be prepared for white conversations. Someone there is going to be talking about Donald Trump. There's generally white music, white beer. It's mostly bitter. So for me, thinking about what it means to create a brewery of the people, by the people. That, to me, is living, acting and embodying what I feel like are at times bullshit principles."
McCrae is not happy with how the current brewing industry moves forward, they said. They intend to disrupt the industry by producing a series of beers that cater to a wider variety of people.
"It's about being reflective of us; having sweet beers," McCrae said. "It's unapologetically asserting our worth, asserting our value and helping us to feel really grounded in an industry that's often exploitative."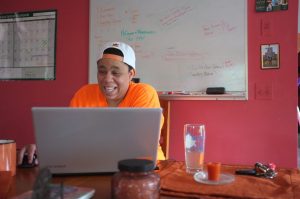 People currently recognize the brand and McCrae as the same entity, they said. But they hope that people can separate that image over time.
"For any entrepreneur that's a start-up, you are the brand at first," McCrae said. "But, I really hope that people take a look and peel layers to the onion and get to know and understand Black Star Line."
They want people to understand the meaning behind the brewery, they said. They want the community to grasp the idea and run with it, so that it becomes bigger than what it started out as.
"Arriving at this moment with Black Star Line Brewing, it's definitely for me, a pathway of ministry, as crazy as that sounds," McCrae said. "But really connecting people and having the ability to do something awesome that people on the ground are really excited about. This is the people's brewery and I'm really just a reflection of that."
McCrae relies heavily on the support from their friends in their community as they venture into opening their own brewery. Ekua Adisa, a healing artist, ritual performer and liberationist from Atlanta, said she feels confident McCrae will succeed because of the many positive facets of their personality.
"L.A. is extremely persistent in pursuing their dreams and has a magical ability to navigate setbacks better than anyone I have ever met," Adisa said. "They might just be the most resilient person on the planet."
Despite the positive points of McCrae's personality, they still have some setbacks to get through. They said they emphasize the importance of self-care in stressful times.
"We all have these shadow sides," McCrae said. "Being able to be real enough and be honest enough and transparent enough and authentic enough with the folks who are in your support network and centering self-care and healing. And there's no deadline, no beer that's more important than me being well."
McCrae said the pressure of time acts as the most abundant issue for the brewery. Their brewery opens in two weeks and McCrae said they are scrambling to get everything done in time.
"This clock has started ticking. The brewery is going to open in a matter of weeks and I have no clue how that's going to happen but it's going to happen," McCrae said. "And then I'm going to be in it and behind a bar."
McCrae's worries while opening a brewery were felt by many other brewers in the past. Oscar Wong founded the first brewery in the area, Highland Brewing, in 1994 and said the things he learned from starting a brewery over 20 years ago still apply today.
"When we started out, we were trying to sell the idea of craft beer. What we have now is a whole culture that is accepting," 77-year-old Wong said. "The advice I would give smaller breweries is no different from how we started. They need to have quality, consistency and to find something that's specialized."
McCrae said they found speciality in creating sweet beers that cater more toward an African palette. McCrae met Wong and they said they can draw many parallels from how they both got their start.
"I would not have been able to be opening Black Star Line had it not been for Oscar," McCrae said. "I think there's a certain sense of dogged perseverance in the face of oppression and the face of discrimination that I assume I share with Oscar and really holding his sense of integrity and values core and building something that his family could be a part of."
McCrae spent most of their life in resistance, going against the majority head-on and dealing with the consequences. They want the climate surrounding Black Star Line to be different.
"I no longer want to be in resistance. I don't know what your political beliefs are, I don't care to know. Can we share a beer together? Can we talk and connect as people?" McCrae said. "So if we can sit down and talk one beer at a time and change people's hearts, that's making a difference for me. And that's the place of ministry."