Master dancer shares life-long experience
By Linda Cummins
lcummins@unca.edu
Multimedia Staff
Her first dance class taught her how to invent movement. She invented a life out of it. Ruth Barnes, professor and dance program coordinator at Missouri State University, shared the story of her journey through dance Oct. 17 at the Sherrill Center.
"All children dance. I started at the time with what was called creative dance for children. I have been told that is backward as far as training. Whatever. There is no forward or backward in training. You start with whatever you start with and expand," Barnes said.
Barnes was one of the speakers brought in on residency to help broaden dance students' understanding of what dance is, nationally and internationally, said Celia Bambara, assistant professor and dance program director.
"I've known Ruth a long time and I believe she has an amazing range of things she could bring to the student population," Bambara said.
Barnes said her early training was not marked by technique so much as improvisation. She took her foundational dancing lessons at the 92nd Street Y in New York City whose dance center was directed by Doris Humphrey. Humphrey was one of the first innovators of modern dance choreography and studied the theory of movement to create her pieces. Formed in 1935, the 92nd St. Y Dance Center hired leaders of the modern dance movement to teach, including Martha Graham, Bonnie Bird and Humphrey.
           "My mother had very strong opinions about what was healthy for young children and Humphrey's ideas were about, 'How does a child develop? What are we trying to encourage in very young children?'" Barnes said.
           At that time, ballet schools would not accept a child below the age of 8 for a conventional ballet class because their bones aren't knitted properly, the joints aren't ready, Barnes said.
           "So we did a lot of dancing to music, a lot of making up our own thing and we would watch each other and and clap. It was very lovely," she said.
Barnes did not know it but the mere fact her mother enrolled her in a dancing class that was more about fun than technique put her on the road to a lifetime of dancing with the founders of the modern dance movement.
When Barnes started her training, the 92nd St. Y of New York City was becoming the center for dance. The downtown dance scene started in the '40s and continued in the '50s and '60s with people performing in lofts. One of her teachers, Bonnie Bird, was internationally known and a protegee of Martha Graham, whose work explored spiritual and emotional journeys. Bird's students included Merce Cunningham, the "father of modern dance" as Barnes called him.
"My teaching technique comes from Merce's work still," Barnes said. "There was one piece where he rode a bicycle around stage while there were other things going on. He was very much, if you see it in the world, why not include it in your art?"
Barnes said she was in her early 20s when she went to Cunningham's studio to continue her dance education. Before that, she earned her degree in English and general literature as her parents told her college is not the place to study dance.
At the time, only Juilliard and two of the most expensive colleges in the country offered degrees in dance, Barnes said.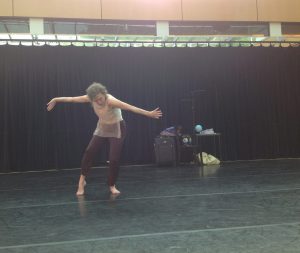 "So I went back to New York City and started taking three classes a day at the Manhattan School of Ballet. I was 20 and for the first time in my life taking ballet lessons," Barnes said.
Barnes soon found herself disillusioned with dance for the first time in her life.
"After a month I felt like I was in a straight jacket. There were all these rigorous rules," Barnes said. "I was used to seeing and imitating as opposed to hearing words in a language I did understand, but the words didn't make any sense to me."
It was at this time in her life Barnes once again came in contact with a person within Cunningham's world.
Viola Farber, a founding member of the Merce Cunningham Dance Company, was teaching dance twice a week in the New Dance Group studio. Barnes said she decided to go check it out.
"It was amazing. It was like, 'I have come home.' She was a musician as well as a dancer," Barnes said.
Farber taught in a way that seemed unpredictable, according to Barnes.
"I enjoyed that because I had to remember. I had to pay attention. I had to be absolutely present," she said.
Within a few years, Barnes was dancing at the Cunningham Studio in New York City.
She was one of 12 dancers to receive working scholarships from Cunningham. Since then, Barnes has spent her life performing, teaching and choreographing dance across America and Europe.
"For the pioneers of modern dance, my professional ancestors, their thing was, you make it. You do this. You explore movement invention," Barnes said. "It's all about movement invention."