Militant Vegans on the Rise in Asheville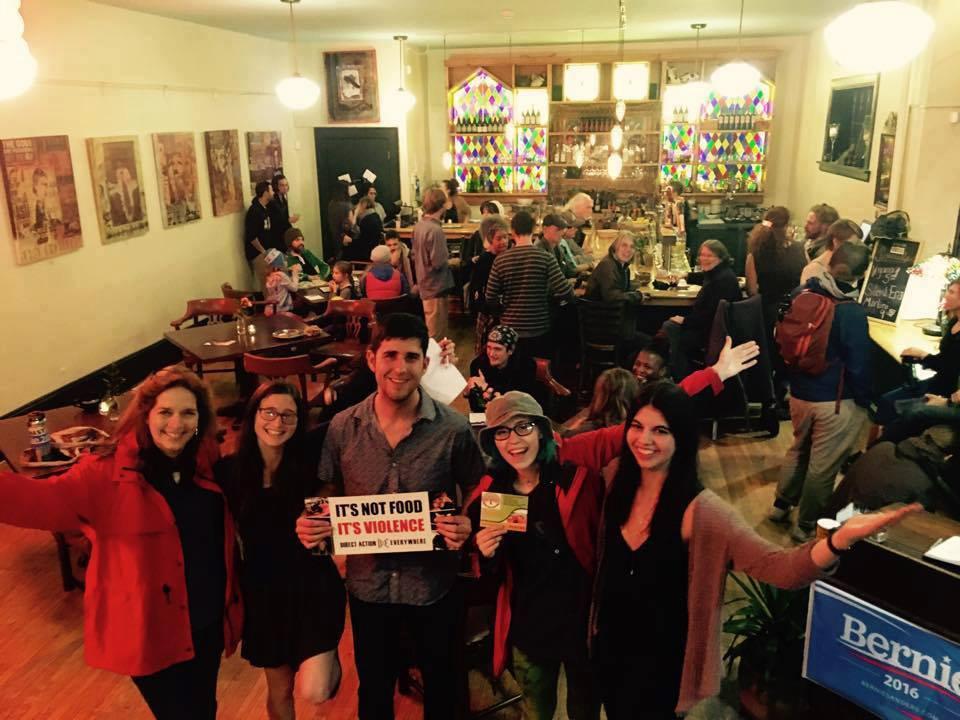 UNC Asheville alumnus Gabe Smiley's journey as a vegan began just 18 months ago. He'd previously dabbled in the lifestyle, but would ultimately cave in and eat an entire Domino's pizza by himself.
When he gradually began to learn the negative impacts caused by the agriculture industry, Smiley said he then stopped eating animal products altogether.
"I learned about the inside details of the meat and dairy industry and that inspired me to make the transition," Smiley said.
Smiley said a friend, a regional organizer for Direct Action Everywhere, visited him in November and pushed him to become militant in his animal rights advocacy.
Direct Action Everywhere is a vegan animal rights activist group whose model calls for disruptive protests in grocery stores, restaurants, farms, places that sell furs and other outlets for animal products.
"He told me it's all well and good to withdraw your support from these industries, but they're still going to continue to exist unless we actively fight and oppose them," Smiley said.
Smiley said he became motivated and organized an Asheville chapter of Direction Action Everywhere while still a student.
Smiley graduated from UNCA last December, and said he is now able to devote his full effort to the organization.
Since its inception last year, Direct Action Everywhere Asheville held disruptive protests at Whole Foods, Ingles in South Asheville, the Asheville Mall food court, Farm Burger and Starbucks.
"Our protest in Ingles was only about three minutes, but the video has 28,000 views on YouTube," Smiley said.
According to Smiley, In addition to its protests, Direct Action Everywhere Asheville holds a free monthly vegan meal at THE BLOCK Off Biltmore, a local establishment that bills itself as vegan-friendly.
Despite its efforts, there is some controversy surrounding Direct Action Everywhere and their tactics in the North American vegan community. Many vegans feel disrupting protests are off-putting and damaging to the movement, according to local vegan activist Rowdy Keelor.
According to Keelor, that's where Asheville Vegan Outreach comes in.
Started by Keelor and other activists in the area, Asheville Vegan Outreach seeks to inform the public about the health benefits of vegan lifestyle, as well as the negative environmental impacts of industrial animal agriculture, Keelor said.
"Asheville Vegan Outreach will do more leafleting and pay-per-view screenings on college campuses, where we pay college students to watch a four minute video on factory farming," Keelor said.
Asheville Vegan Outreach also focuses their efforts on building awareness through chalk art with a message around the city and through monthly pro-vegan documentary screenings.
Nina Hendrickson, a UNCA freshman, is newly vegan, having fully converted in January after contemplating the switch for months. Hendrickson said she connected with Direct Action Everywhere Asheville during their last free meal at THE BLOCK. She said she feels emboldened by the actions of Asheville's vegan activists and plans on becoming involved.
"Morally, I can't justify taking the life of another creature to sustain myself," Hendrickson said. "There are also huge environmental impacts associated with the raising of animals for agriculture."
As the vegan message spreads around town, Smiley said he hoped citizens will rise up and become more vocal in their advocacy.
"Once you learn of the unfathomable scale in which animals are violated and the environmental impacts of animal agriculture," Smiley said, "once you realize just how bad things are, you become compelled to do more than just 'go vegan.'"