Musician Vanessa Silberman brings her experimental sound to Asheville
Sarah Shadburne
Arts & Features
sshadbur@unca.edu
DIY rock 'n' roll takes a certain level of heart. One must book and promote themselves while also being flexible to last minute changes, even if that means little to no rehearsal time. Luckily for musician Vanessa Silberman, she brings her heart to each performance and rocks it out. This March, she is bringing her heart to Asheville for the first time.
"I put all my stuff in storage and said 'fuck it, I'm just gonna do it,'" Silberman said. "A lot of people were like, 'Oh my god you're a woman touring alone,' and fear holds people back. I love music and I love touring so much that any fear that was ever there was not gonna get in the way of that."
After touring for more than 12 years with her alt-rock band Diamonds Under Fire, Silberman set out on her own to do something different and experiment with her sound.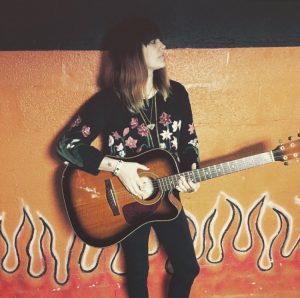 "I spent some time listening to more hip-hop artists, old country blues and classical music," Silberman said. "I really wanted to dive into those influences more. I just released a song called 'Hide My Love Away' and it was purely influenced by old country blues from the 60s."
She reminisces about growing up in Hawaii without a TV or radio and discovering music through various avenues, such as Colombia House's 10 CDs for a penny promotion via backorder from Rolling Stone or Spin magazine, and the records of her friends and their parents.
"One of the first bands I heard was Nirvana," Silberman said, her voice mirroring what nirvana must feel like for some. "When I heard it, I was like 'Oh my god that's what I want to do. I want to play music'."
Silberman said she always wanted a perfect band for herself which she sought to have via Diamonds Under Fire, but after years of trying musicians and finally finding two she adored, she was ready to try something new.
"I let go of that identity and started over with my solo music. Instead of having this need for the perfect band, I've just let go," Silberman said. "I'm gonna approach this completely different. I'm just gonna do this on my own. I want to tour and I'm gonna tour."
Vanessa Silberman is an identity she can wear as a solo artist while also being herself and collaborating with friends and artists in different bands and genres.
"The way I do things now, it's kind of just being open and trying new stuff," Silberman said. "It's more interesting and creative. It makes things very fun and makes me remember why I got into music in the first place."
Mikel Ross, a 47-year-old bass-playing producer and engineer, first met Silberman while recording the Teenage Time Killers Greatest Hits Vol. One at Studio 606 where she was an engineer. Ross will join Silberman on her East Coast tour to play bass at her shows.
"I called Lou, the studio manager down at 606, one day to talk about something and told him to give my regards to Vanessa, and he said Vanessa was taking leave to go on tour with her own music," Ross said. "That's really an amazing thing to do when you have one of the best studio jobs on the planet. To be that committed to your craft and your dream to actually go out on your own stuck out in my mind."
Ross details following Silberman's progress through Facebook and going to one of her shows as she came through town.
"We hadn't spoken since we'd worked together, so we didn't really know each other that well, so I just hung out," Ross said. "She has this song 'American Folk Rock' that captures this essence of my favorite feeling in the whole world, which is to ride around and listen to the radio."
Ross loves the feeling of excitement he gets from highway driving anthems that come on the radio such as "American Pie" and "Freebird because of the unique American experience it gives to the rock world; a feeling he was pleasantly caught off guard to have that night during Silberman's "American Folk Rock."
"It's been so long since someone has reached in and tapped on your heartstrings and been as thoughtful as she has about describing this experience," Ross said.  
At the time, Silberman was only playing with a drummer, according to Ross, so he took it upon himself to learn her songs in order to support her on bass for a few shows along the coast of California.
Ross brought along his friend Reed Mullin, the drummer for metal band Corrosion of Conformity, to hear he and Silberman play together, to which Ross said Mullin was equally blown away by.
"This new Vanessa is exposed to us," Ross said. "He knew her before, too, but we knew Vanessa the engineer and now this is Vanessa the rockstar."
Mullin then asked Silberman if he could play, too, Ross stated, and thus the idea of their East Coast tour was born.
"Everyone in the world deserves to meet Vanessa Silberman," Ross said. "There's a quote, 'All you need is three chords and the truth, and your song will be a success,' and Vanessa's songs contain that authenticity you can't fake."
Silberman will make her debut in Asheville March 15 at 9 p.m. at Catawba Brewing Co. with Ross and Mullin.
"Music keeps me going," Silberman said. "I played one festival with 30,000 people coming through that weekend and then I've played for two people at a bar. I'm attached to music as my life. I'm gonna give the best performance and do the best absolute job that I can."