New SGA administration focuses on student empowerment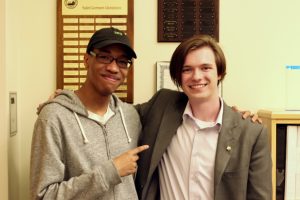 Laura Browne
News Editor
lbrowne@unca.edu
The newest Student Government Association administration is endeavoring to boost the student voice on campus through student involvement in faculty committees and increasing SGA support and involvement with student organizations. 
"That's a really exciting thing that we haven't been a part of in a long time because getting the student voice into things that the administration is doing is really crucial," SGA Vice President Corey Smith said following the semester's inaugural SGA meeting. "And that's kind of one of the reasons why sometimes I think things fall through the cracks, and it's because we haven't always had that student representation to know things ahead of time."
SGA President Isaiah Green began working to achieve this student representation through collaboration with Bill Haggard, vice chancellor for student affairs, Jill Moffitt, associate vice chancellor for student affairs and Robert Straub, SGA advisor. Green appointed students to each faculty organization on campus to ensure the student voice could reach the faculty, he said.
"I worked with Dr. Haggard last summer in July to make sure students were a part of pretty much every committee the administration has their hands in just for student voice," Green said. 
Faculty organizations aren't the only groups the Green-Smith Administration as an eye toward affecting. According to Smith, SGA will no longer be spending their budget on their own events, but rather explicitly using it to team up with student organizations to empower them, promote them and keep their events accessible.
"We are looking very heavily into doing more outreach and more collaboration with people not for the sake of just saying 'sponsored by SGA,' but honestly honestly getting our senators involved through the committees that they're currently in linked to the student orgs that fall under that umbrella," Smith said. 
During Wednesday's SGA meeting, senators and executives were met with an outline for how future meetings would run in addition to discussing the duties of SGA members and their three committees. 
During the meeting Sophomore Sen. London Newton discussed her efforts so far to provide free menstrual products in each bathroom on campus. According to Newton, an official count of all bathrooms including a count of those already equipped with pad and tampon dispensers is required before further action on the plan can be taken. Newton invited SGA members to aid her in counting restrooms while also discussing a potential pilot program of the initiative while it remains in its preliminary stages.
"So I want to do a pilot program and then figure out where to go from there, but it's kind of hard to figure out," Newton said. 
The meeting also covered an upcoming retreat for senators and executives that would include team building activities and quality time. The goal of the retreat is to build rapport between senators and executives in addition to allowing SGA members to get to know each other better while forming stronger relationships. 
According to Smith, next week's meeting will involve senators voting on a bill setting the SGA's yearly budget and the appointment of Will Lovett to the senate. 
Looking ahead into the rest of the school year, Green said he will work to ensure students get the quality education experience they deserve while Smith additionally dedicated himself to empowering students through their on-campus organizations. 
"It's really just about empowerment honestly because so many students on this campus have the ability to be student leaders who just haven't tapped into it yet and you have absolutely no idea about knowing if you can be a leader or not until you've taken a step toward it, but that first step is the most difficult step," Smith said, later adding, "Student orgs, small student orgs will be my priority empowering those who haven't yet been able to expand yet or don't even know how to."