Philip Cooper serves as inspiration according to locals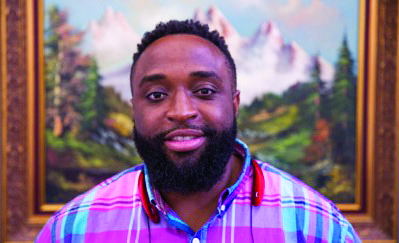 By Brandon Priester
A series of poor choices led Philip Cooper to become the leader he is today. Childhood wasn't easy, Cooper said. He said his father left him at a young age and his mother suffered from mental health issues.
"Honestly, it was love and chaos, but there was more chaos than love," Cooper said. "My mom and dad split up when I was in the fourth grade, then my mom and I moved to the projects in Hickory."
Cooper's mother remarried soon after. He recalls growing up in an impoverished neighborhood and recognizing drug dealers as the exception. Choosing the wrong role models contributed to Cooper's poor choices.
"I idolized the drug-dealers," Cooper said. "They would give us money and let us wear their hats to school. They had the respect. I'd see my stepdaddy; he didn't have respect because he was a user."
New behavior accompanied new life circumstances, Cooper said. He became fascinated by this new culture that had been thrust upon him at such a young age. Gangs appealed to Cooper; in them he could quickly climb the ranks, earning respect among the members.
"I always had a problem with self-esteem," Cooper said. "I was in search of an identity, trying to always fit in and prove myself, never feeling like I was good enough, missing my dad, having my stepdad around, who was on drugs. It was really rough."
Over time, Cooper built a relationship with the dealers in the neighborhood. By the time he was 16 years old, he grew tired of observing his new friends make money while he was broke. This led Cooper to begin dealing.
In the beginning, things went well, Cooper said. Money was coming in and he was able to do things he'd never been able to do before. He dressed in expensive clothes and was known for his clean sneakers and generosity in the school's lunch line.
"I would buy snacks for classmates," Cooper said. "That made me cool."
Others gave him more attention, and he liked it. But dealing led to using, Cooper said.
"When I had an illegal income, I eventually started using what I was selling," Cooper said. "When I started using drugs, more issues came."
Cooper's first drug charge came in 12th grade on the way to basketball practice, he said. A police task force had been observing the community's drug activity and saw Cooper and many others exchanging narcotics that day. Police coordinated a sting operation in Catawba County that ended with Cooper's arrest, among others.
"It was a sweep," Cooper said. "We were in the car and the narcotics police pulled up and arrested around 30 of us. That ended all my scholarship opportunities."
Many scholarship programs will not award felons. Applicants must list, describe and explain all prior charges and convictions. Those policies would prevent him from receiving the sports scholarships he had been offered to play basketball. Luckily, federal aid was still an option.
Drug abuse caused him to commit crime, Cooper said.
"It was what my lawyer called cocaine-induced paranoia," Cooper said. "I ended up shooting somebody because I thought they were going to rob me. I don't remember much. I was just really paranoid and I ended up doing time for it."
Upon release from prison, Cooper said he knew he needed to get back in school. Rock Doddridge and his Lead the Way scholarship made it possible.
Doddridge and his wife founded the Lead the Way scholarship to help troubled African-American men go to college.
Doddridge appears overwhelmed with emotion while describing circumstances dealt to African-Americans by way of systematic racism. He created the scholarship to fight for people like Cooper who have paid their debt to society and deserve a second chance.
Cooper overcame tremendous adversity to become a valuable leader in the community, according to Doddridge, psychology professor at Asheville-Buncombe Technical Community College.
"I just see him as being a real leader that we all will be looking up to and will all be depending upon," Doddridge said. "It's good to spend time with him. He's very open. He acts upon his values. He's set up goals. He's kind of an overachiever."
Cooper's story inspires him, the 66-year-old Dodderidge said.
"I find his story staggeringly compelling," Doddridge said. "When he spoke this past year at the scholarship banquet, he starts off and he says, 'I got out of prison in 2011.'"
Cooper's willingness to share his past grants him admiration, according to Doddridge.
"When you hear something like that, you realize this is somebody who has taken a different path," Doddridge said. "This is a person who was incarcerated and yet we are
looking up to him. How's he done this; how has he changed?"
Cooper's transformation in such a short time mystifies, Doddridge said.
"I found myself stunned to hear him talk, realizing that it was just five or six years ago that Cooper was getting out of prison," Doddridge said. "Not knowing where he was going and how he was going to get there."
Cooper received the 2042 ASCORE award for leadership, Doddridge said. The award is named for the year minorities are projected to become the majority in America.
"The fact that he won recognition as a leader in the community, as someone who is changing the community, as a young black leader that was already rising and establishing himself doing things for others," Doddridge said, "that is powerful."
Cooper seeks success in education, according to Phyllis Utley, co-facilitator of the minority student leadership academy at A-B Tech.
"When he came through the door, he told me he had just gotten out of prison and needed to go to school," Utley said. "I appreciated his authenticity, his openness, his focus and determination right away. You felt that when he came, and I was delighted to see him go through the process so that he could achieve his goals."
Cooper's success touches many, Utley said.
"To see him receive scholarships to continue was such a beautiful thing for me," Utley said. "Now to see him everyday as an employee and colleague at the college, he helps with the academy and helps share information with other students. It's such a beautiful thing; it just makes my day."
Many relate to Cooper's struggle, Utley said. Many families in Asheville live below the poverty line like Cooper and his family. Cooper has been in many of the same situations and can offer valuable advice.
"It's difficult for people to relate to those who haven't gone through similar experiences," Utley said. "To see him talking to students who know they are talking to someone who has experienced the same things is such an amazing gift. I couldn't speak on that level; he is a living, walking testimony."
Prison proved beneficial, according to Cooper. He was able to reconnect with his Christian faith. Talking to the inmates who were serving long prison sentences gave Cooper an idea of what it would be like to remain in prison forever.
"When I went to prison, I sobered up," Cooper said. "I didn't know what it felt like to be sober. I hadn't been since I was 13 when we were sneaking to get high."
Prison sobriety was an emotional experience, Cooper said. Before incarceration, he depended on illicit drugs to numb his emotions.
"When I got in prison, I felt pain," Cooper said. "Pain of the ex-wife leaving, pain of my girlfriend getting pregnant by somebody else, the pain of being in there and being told what to do everyday and feeling less-than."
For three and a half years, Cooper sat in prison. The people who once played such a big role in his life began to move on. Letters came less frequently, as did family visits. His children were growing up with the struggles of not knowing or having their father. The pain of powerlessness and hopelessness brought him to a fragile place mentally.
Inside, he struggled with self-esteem, while on the outside he remained tough and resilient. He said finding God was a turning point in his life that gave him the strength he needed to continue.
"My faith got stronger," Cooper said. "When I was at the end of the road and had no other option, I couldn't smoke the pain away, I couldn't snort the pain away, I couldn't run from it, I had to be there and experience it. I had to lay on that bunk every night and think about everything I had done in life."
His family contributes greatly to his drive and success, Cooper said.
Cooper's girlfriend, Leslie Armstrong, mother of Cooper's three-year-old daughter, fulfills the role of being the backbone of the family. Philip's face glows with joy when describing Leslie and their daughter. He said she accepts him for who he is and has been his main source of support on his journey in creating a better life. They have even begun attending college together.
"I have a woman that really has my back now," Cooper said. "We ended up having a child. The relationship I have with my daughter is an accomplishment in itself because I'm a real father now."
Education and employment can do amazing things for those who come from low-income families. It has changed Cooper's life and in turn, he has caused a ripple effect in leadership and opportunity in his community.
Cooper's mentorship proves beneficial, for Dekari Davidson, an art student at A-B Tech.
"He put me on with a work-study job," Davidson said. "I just started hanging out with him after class, I'd come down and talk with him; we got close after that."
Cooper's background enhanced their relationship, Davidson said, and now  Cooper watches over him. He keeps up with his studies and ensures Davidson stays out of trouble. Cooper knows how difficult it can be growing up in public housing. Cooper's mother continues to live in public housing and has since Cooper was in the fourth grade.
"We come from the same place," Davidson said. "We have the same motivation; he came from the 'hood and he's doing good. He may have messed up but he corrected it. There are a lot of people who don't correct what they mess up and that's something to look up to."
04/19/16