'Poemumbles' fills Black Mountain College Museum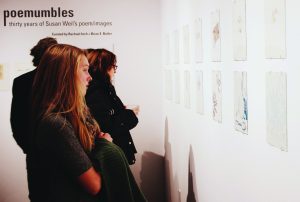 By Timbi Shepherd – jshephe3@unca.edu – Asst. Arts & Features Editor | Feb. 4, 2015 |
The Black Mountain College Museum + Arts Center saw one of its largest opening receptions Friday night at the unveiling of its new exhibition "poemumbles: 30 years of Susan Weil's poem/images."
The event celebrated the reopening of the BMCM+AC gallery space at 56 Broadway, where the organization recently completed the first phase of its plan for renovation and expansion downtown.
According to BMCM+AC's website, its mission is "to preserve and continue the unique legacy of educational and artistic innovation of Black Mountain College for public study and enjoyment."
A New York native, Susan Weil is one of the many influential experimental artists who emerged from the Black Mountain College scene. Her aptly-titled "poemumbles" illustrates the college's understated, but sweeping, legacy.
"I hope this show is representative of that big, big story, which is a poem a day, every day for the past 30 years," said Rachael Inch, Susan Weil Studio archivist and administrator and 2011 UNC Asheville alumna.
Inch co-curated the exhibition with Brian Butler, founding editor of The Journal of Black Mountain College Studies and Thomas Howerton Distinguished Professor of Humanities at UNCA. Butler said he couldn't lavish enough praise on Inch, his recent student and current colleague.
"There are two people listed as curators of the show," Butler said. "One flew to New York because he really loved (Weil's) work, realized the person who should curate it was sitting there in the studio, and therefore got half credit for doing only the easiest little flight, enjoying New York, getting to see an ex-student again, being thrilled about that and stepping back so that a really talented person could curate an amazing show."
At Butler's invitation, Inch traveled from New York to Asheville for the project. Weil could not be physically present at the opening reception, but joined in the celebration via Skype. A laptop floated around the gallery space, allowing Weil to witness spectators interacting with her work.
Among those in attendance was UNCA Chancellor Mary Grant, who has one of Weil's poemumbles hanging in her office. Entitled "A Pair of Pants," the poemumble is a collage of different slips of paper pieced together, with individual words written on each slip. BMCM+AC loaned the piece to Grant as a welcome gift upon her recent arrival in Asheville.
According to BMCM+AC, "Weil's poemumbles are a unique form of poetic expression that explore the limitless potential and fluidity of her thoughts in visual and verbal form."
The collection grew out of a correspondence between Weil and her Swedish art dealer, Anders Tornberg. Colleagues and close friends, Weil and Tornberg exchanged drawings, paintings and writings off and on from 1977 to 1984.
Inch recounted the story of how, on May 11, 1984, as Weil drank a cup of coffee in her Chinatown apartment, she wrote to Tornberg to tell him of her intention to sit down and create a poem-image each morning for the rest of her life.
Since then, Weil has amassed more than 10,000 poemumbles. Until a couple of months ago, however, she kept most of these in folders in the privacy of her home. They became her diary.
"Musings on studio life, her life at large, great joys, deep sorrows, sleepless nights, jokes, anything," Inch described Weil's subjects. "Nothing is too grand or too small for a poemumble."
These moments coalesce into a life story, a personal history. Inch said when she and Butler approached Weil about the possibility of an exhibition at BMCM+AC, the time and place felt right to share her story with the public.
"What you see on the wall is a very small, but hopefully very good glimpse into an amazing practice," Inch said.
Likewise, Weil's story is a glimpse of a larger tapestry encompassing the history and legacy of Black Mountain College. Dave Peifer, member of the BMCM+AC Board of Directors and UNCA chair of mathematics, said BMCM+AC hopes, through ongoing renovation and expansion, to keep the spirit of Black Mountain alive and well in its kindred communities of Asheville and UNCA.
UNCA is at the center of Black Mountain College studies, Peifer explained. Ramsey Library maintains an archive of Black Mountain College administrative materials and interviews with alumni about their careers and their experiences at the college.
In addition, UNCA hosts the annual ReVIEWING Black Mountain College conference, the aim of which, Peifer said, is to spread awareness and appreciation of the college's influence on the arts and on liberal arts education.
"Brian (Butler), in particular, has been very involved," Peifer said. "The campus has, through Brian, done a lot to support the conference. Our chancellors and provosts, too, have been very encouraging of this connection."
The relationship between Black Mountain College and UNCA goes beyond logistical matters to a matter of philosophy of education, Peifer suggested.
He spoke of renowned Black Mountain College professor Josef Albers, who believed learning is an end in itself – that it is about the process, not the product. Peifer then pointed to a quote of Albers' inscribed on the front door of the gallery.
It reads: "To open eyes."