Residents outraged by Duke Energy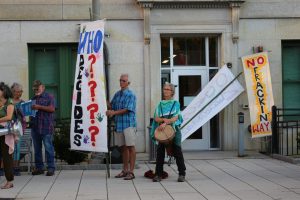 By Bridgette Perrot
Opinion staff writer
bperrott@unca.edu
The roar of the crowd echoed across the streets of downtown Asheville — booing, cheering and singing — as the people of Western North Carolina spoke against Duke Energy's recent plans to raise resident's bills nearly 17 percent to cover the costs of a coal ash spill in Eden.
On Wednesday, multiple organizations, including the North Carolina Sierra Club, rallied in Pack Square before attending a public forum with the North Carolina Utilities Commission, speaking out against Duke's plans. Blue streamers attached to umbrellas blew in the wind as the crowd chanted, "Water is sacred. Water is life."
Ken Brame, political chair of the NCSC, said the rally tried to get people excited about speaking to the NCUC on the rate increase.
"They want us to pay for their management mistakes and picking up the coal ash that they should've dealt with years ago," Brame said.
According to the United States Environmental Protection Agency, the spill occurred in 2014. Now, three years later, Duke is finally cleaning up the site of the spill — the Dan River. The EPA also reported the coal ash will never be fully removed from the river.
Susan Bean, an Asheville local, said she is unnerved to say the least.
"I think it's disturbing that Duke Energy can so negatively impact residents all across the  state through their negligence and irresponsibility, but then charge residents and ratepayers to then clean up their spills. It's a scary precedent," Bean said. "It's disturbing to know that's possible."
According to the NCUC's website, Chairman Edward Finley worked for Hunton & Williams for nearly 30 years. Hunton & Williams is a law firm that assisted Duke Energy in winning a Supreme Court case in 2015 over contaminated groundwater.
Dan Simpson, who recently moved to WNC from Key West, said he is not surprised by this fact at all.
"It's standard that the lobbyists and the people who should be regulated themselves are being put in office. I mean it's the standard merry-go-round, that's how they make their money," Simpson said.
Charging the average ratepayer impacts individuals more severely than the shareholders, greatly affecting low-income consumers.
Joe Dawson, a local farmer, said he feels like he is being violated.
"The idea that they have been able to make a ridiculous amount of money while putting coal in unlined pits and expecting us to pay for the disposal of it is a little bit crazy," Dawson said. "I don't want to pay for any of it. It's ridiculous."
Many of the ralliers said it is not only the coal ash spill they are worried about, but the investment in nonrenewable resources rather than renewable resources.
"They want us to pay for building more fossil fuel, fracking and gas power plants which again we feel like we should be transitioning to renewable energy and using conservation," Brame said.
According to the United States Energy Information Administration, renewable energy only accounts for 10 percent of U.S. energy consumption and about 15 percent of electricity generation.
Dawson said he feels the U.S. has enough pipelines and needs to turn its attention to using other forms of energy.
"We need to focus on having other forms of energy. Land, solar, tidal," Dawson said. "But they're going to handle it the same way, especially with Trump in charge."