Sex talks break awkward silence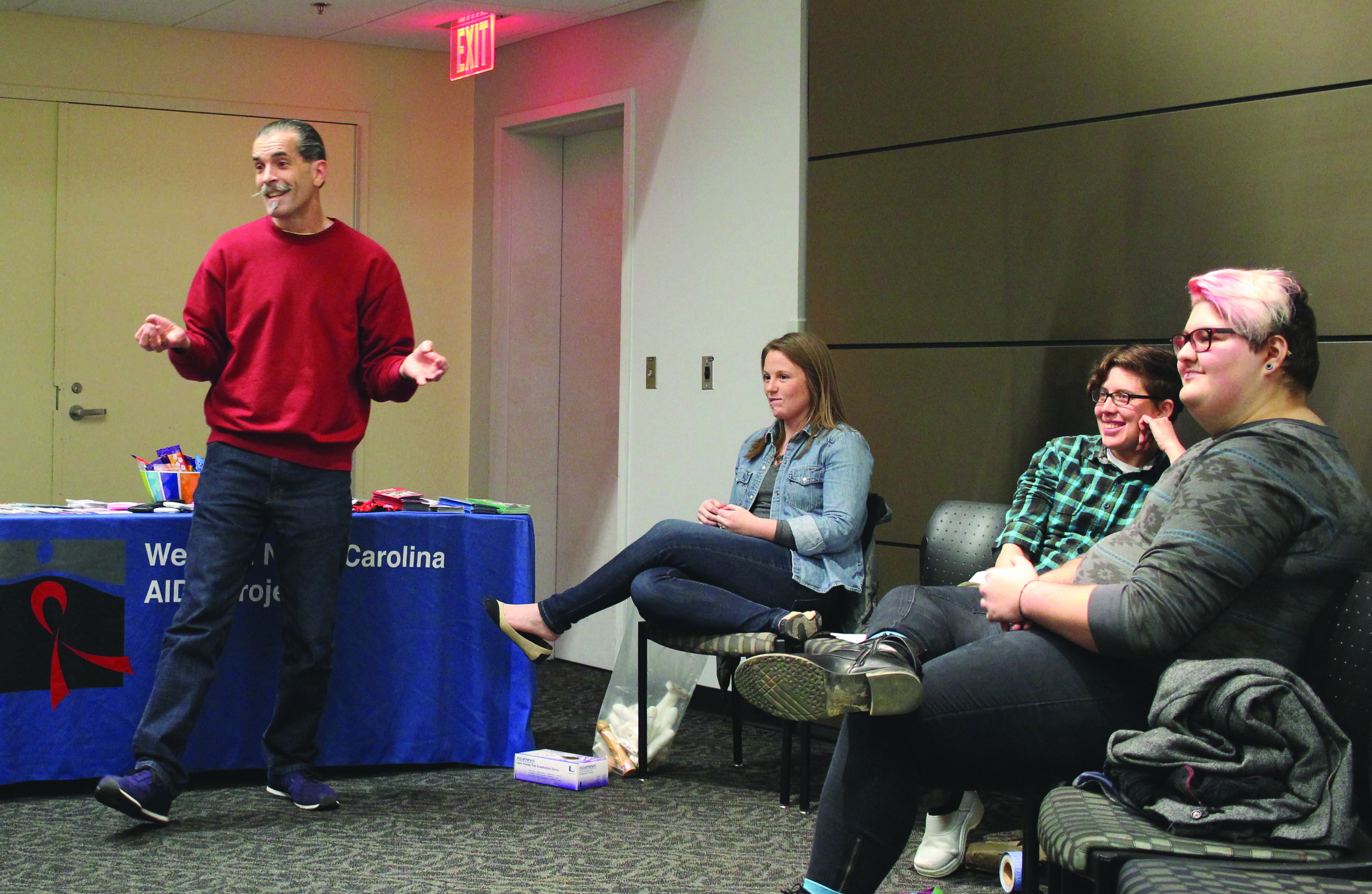 By Timbi Shepherd – jshephe3@unca.edu – Asst. A & F Editor | Feb. 25, 2015 |
Attendees kept mostly quiet as Michael Harney, prevention educator at the Western North Carolina AIDS Project, opened the floor for group discussion at Queer Sex Ed.
The event, hosted by Alliance Feb. 10, was the first of two sex talks at UNC Asheville this month.
Harney noted the importance of conversations such as these in a culture that, he said, does not foster openness and awareness when it comes to the subject of sex. He said he understood people's reticence, but encouraged audience members to speak up, share experiences and ask questions.
"It really is about the fact that we are human beings, we have bodily fluids, and we can transmit things through these bodily fluids no matter what you do," Harney said. "I don't care how vanilla it is. I don't care how kinky it is. I don't care how rough it is. All those kinds of things – people are into different things. They don't always want to admit it. They don't always like to be open about things like that, and that's OK as long as you're making informed decisions."
People must accept the responsibility to seek out and share information so that they may fulfill another responsibility – protecting themselves and their partners – Harney said.

Renée Blatchley, an audience member from Asheville, urged the group to practice communication skills. She said learning how to break the ice and make talking about sex fun can allow the conversation to flow much more easily and productively.
"It's hard for us to raise our questions, even here, where sex is what we're talking about. We've been made to feel like it's shameful, like our bodies are things we shouldn't talk about, like sex is just not something we talk about," Blatchley said. "So if we can learn communication skills, that, I think, would be a great place to start."
The next night, Kelley Wolfe, clinical sexologist at Mountain Sexology in Asheville, continued this message of sex positivity in front of a large audience in the Grotto. "An Evening with a Sexologist," part of UNCA Lovefest, was a collaboration between the Student Government Association and the Health and Counseling Center.
Wolfe began by saying sex should be a beautiful experience. Fostering a sex-positive culture, she argued, would allow people to experience their sexuality in healthier and safer, as well as physically and emotionally fulfilling, ways. Americans live in a sex-negative culture, she warned.
"We don't encourage people to embrace their sexuality, and we don't encourage people to honor their bodies," Wolfe said.
Too often parents instill an oppressive, stigmatized vision of sexuality in their children, and this can lead to fear and false expectations, Wolfe pointed out. Even before adolescence, people have the urge to masturbate, but may not know how to make sense of their sexual feelings, because parents do not give their children permission to masturbate, she added.
"It is step number one in understanding your sexuality," Wolfe said. "We need to know what turns us on. What do we touch, how do we touch, how's the pressure, what else is going on in other parts of the body. I really encourage folks to explore their own bodies, determine what it is they like and then communicate that to their partners."
Wolfe also said people's hesitancy to talk about sex allows media to dictate dangerous and unrealistic approaches to sex.
"I think this idea that sex is supposed to be spontaneous and like we see it in the movies creates a lot of expectations that are hard to live up to, because that's not how sex works most of the time," she explained. In reality, an amazing sex life involves consent and communication, Wolfe said.
"What I hope for my own children is that they have great sex with people that they really dig and that really dig them, and that they do it safely, they enjoy themselves, and they know I've got their back. If they need my help, I'm here," Wolfe concluded. "I think that's what a sex-positive society looks like."