Student artist provides a unique perspective on art
Madelyn Depodesta
Arts & Features Staff Writer
mdepodes@unca.edu
Artist Charlie Beech, a senior at UNC Asheville, uses elements of geometry, bright colors and welding in his artwork to produce bold, unique sculptures and other pieces of art.
"I started out doing a lot of paintings when I was little, tried to make sculptures when I was little, but it looked like a child made it," Beech said. "I got more serious into sculptures when I came to UNCA. I'm into welding, that's what I'm trying to do as my job, I'm a hands-on kind of guy."
Beech's art can be described as colorful and fun. It can be enjoyed by everyone, no matter their art expertise.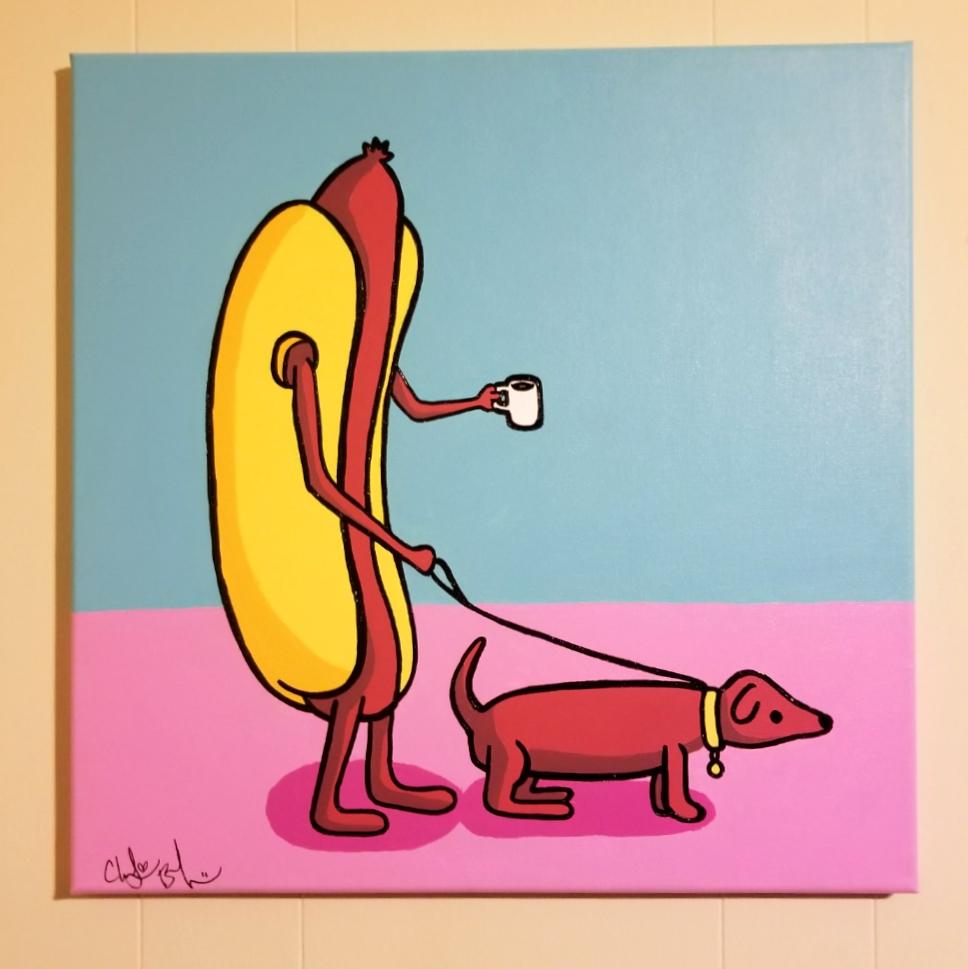 "My favorite thing to paint is goofy stuff," Beech said. "Just fun, cartoony images. I feel like people take art too seriously. It's just art, it's just fun stuff. No one's gonna want to put something in their house if they don't understand it. So, I like painting donuts and hot-dogs and fun stuff like that. It's cool, fun, keep it casual."
With an economics major and an art minor with a sculpture concentration, Beech hopes to eventually own and operate his own metal fabrication shop.
"My favorite thing to sculpt is definitely geometry — metal geometry," Beech said. "You can play with balance and visual weight, that's cool. Being able to manipulate that and ratios, I love ratios. People that don't understand art, or are afraid to look at art, understand that it's cool."
The unique combination of an economics and art is prevalent in Beech's art through his use of patterns and mathematical elements.
"I really like geometric stuff, a lot of my sculptures come from the five platonic solids, like the five regular shapes," Beech said. "Sculptures come from geometric stuff and mirrors and light, I do a lot of 2-D art and 3-D art so I try to make sculptures to find the space between them. I do a lot of stuff with mirrors because it's crazy to me that you can make space in a little box but it goes on for infinity. I don't know. That's nuts."
Jackson Martin, assistant professor of art at UNCA, has been a mentor for Beech throughout his art career at UNCA.  
"He creates both functional and non-functional works of art, utilizing bright colors and light," Martin said. "His interest in geometry and math often invade his artwork through golden ratios and engaging repetition."
Aside from his use of ratios and intriguing sequences, several artists inspired Beech's work growing up.
"The first painter I really got into was Andy Davis," Beech said. "He had a collection called "Ando and Friends" which was all just cartoony, surf art. I really like the abstract expressionist movement, like Clyfford Still and Mark Rothko. Bright colors and cartoons, I've always been a cartoony guy. Bright colors really get me going."
Other members of the sculpture department at UNCA inspire him as well.
"Being in a room with people that are able to talk about what they're making is really cool," Beech said. "To hold a conversation with someone that can talk about the space, colors, balance and contrast —that's awesome."
Beech even had some of his art displayed on campus, including his metal sculptures titled "Nerves of Steel" in the spring.
Displayed at the University Heights intersection, the geometric metal sculptures were a part of the site-specific curriculum for Sculpture II.
"I have known Charlie since the Fall 2016 semester and he is a wonderful student to have around," Martin said. "He has an excellent work ethic, which is not an easy thing to teach students."
Beech takes pride in the work he creates, regardless of what he believes the outcome to be.
"If I do a painting and it sucks, it's because I made it suck," Beech said. "Or, if it's awesome, I'm like sweet because I did that shit."
Religious studies student Wyatt Manlove, who has lived with Beech for three years now, has seen Beech's art evolve over the course of their friendship.
"Charlie Beech explores the psychedelic imagination," Manlove said. "Showing that even the most mundane objects adhere to the golden ratio."