Students create a hub of mindfulness in the Asheville community
Virginia Taylor
Arts & Features Staff Writer
vtaylor@unca.edu
As the sun begins to set behind the mountains, people begin to pour into the Celebration house, slack lining on the front porch, strumming away at guitars and sharing cups of tea around the table. For the students behind Celebration, this community aspect is exactly what they hoped to achieve.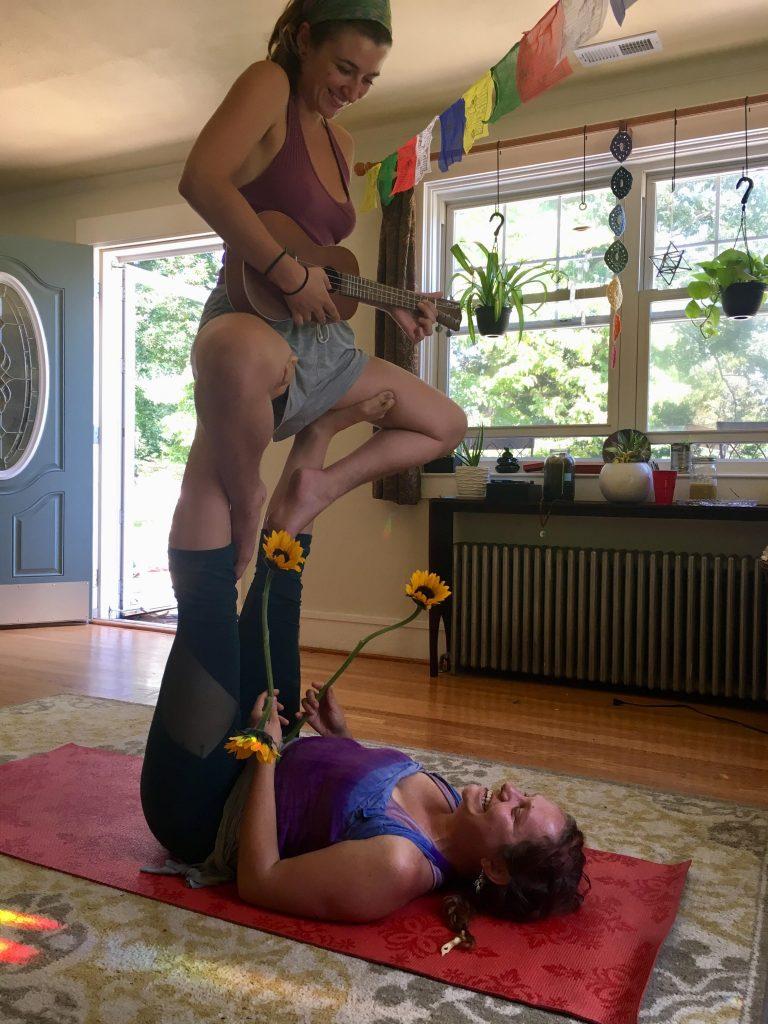 The Celebration Commune is a not-for-profit organization created by a handful of UNC Asheville students. The organization seeks to create a gathering space for people in the Asheville community to come and practice mindful living.
"Mindfulness looks different for everyone and I think really what we're trying to provide here is a space for anyone to come and just express that however they want to," said Zach Brubaker, a UNCA student and a live-in member of the Celebration Commune.
Brubaker, alongside five other current and graduated UNCA students, helped establish and now live in the community house, located less than 10 minutes from the UNCA campus.
To emphasize mindful community living, Celebration hosts a variety of events throughout the year. From poetry nights to slack lining workshops to acroyoga classes, the Celebration Commune hopes to be a hub of creation expression. Most recently, the commune hosted a Celebration Day, an event that combined many of the elements they wish to bring to the community.
"We just had a celebration day; we offered things from yoga to poetry to slack lining to a talk on non-violent communication, all kinds of things! We'd love to keep doing that monthly, weekly, daily, just as much as possible," said Lindsay Boheler, another live-in student at the commune. "That will be a big thing, just this culmination of interests."
Bringing together a group of students to create a mindful commune is no easy task. After meeting in mindfulness club on the UNCA campus, the students behind the Celebration Commune were inspired to create their own community following a silent retreat at Prama Institute in Marshall county.
"It was a weekend retreat and you were silent for two full days. They provided activities for you to do and really just guided you the whole time you were there," said Hunter Ball, a recent graduate of UNCA and live-in community member. "When we experienced that weekend we just recognized, why couldn't we just live like that? Why couldn't we do that in our everyday lives?"
Ball explained that following the retreat, he felt called to make a change and alongside fellow student Sebastian Herranz, began to lay the framework for what would ultimately become the Celebration Commune.
"We all go to the mindfulness club meeting here on campus, we're huge advocates for that and I remember one day I just said, 'I really want to start doing instead of just talking about change, I want to start doing something,'" Ball said. "I was feeling the urge with just everything going on in our nation and our society and I just wanted to start making change and then Sebastian spoke up and resonated with that and we just started meeting after that and figured we could start something."
As the idea behind the Celebration Commune began to take shape, more students started to become involved with the project. Completely student-led and student-run, they tackled everything from finding a house for the commune to creating a mission statement.
"The fact that we could get to many people to come together and work toward this common goal even though it wasn't for school and we weren't seeing the immediate results of what was happening was amazing, we were a force to be reckoned with honestly," said Alice Cleary, another UNCA student living at the commune. "It was a leap of faith but everyone was very dedicated and we were putting a lot of time into everything, we wanted to make sure this was representing everything we wanted it to be."
Now that Celebration officially established themselves in the Asheville area, they hope to set an example of community living to people all over the area, inviting anyone who wishes to take part in their mindful living.
"We see ourselves as a matrix to nurture people and empower individuals that have a certain gift, that have a certain intention to bring about something beautiful to the world and we want to provide the space for that," Herranz said. "We want to provide them with the support they need to bring about this beautiful gift and that's how we're going to be of service to the community."
Even beyond bringing the greater community in, the students behind Celebration see the commune as an opportunity to better understand and experiment with community living. With constantly rising population growth, the members of the commune view the ability to coexist sustainably and peacefully as vital and hope to explore this idea with the live-in members of the commune.
"We're very open about how we communicate and the importance of that because it's not a choice it's a necessity to learn how to coexist," said Lydia Senghas, the sixth UNCA student living in the community house. "We're learning how to overcome those conflicts and those feelings and emotions that are very intense and end up creating barriers for people."
Ultimately, the members of Celebration have big plans for the future of the commune.
"To become a 501C3 nonprofit is a big milestone that we're looking forward to reaching and it's definitely going to happen," Cleary said. "I think that will allow the word to get out so much more about this, Asheville's going to know about Celebration!"
In the future, Celebration would like to expand their community to a bigger compound in order to home more live-in members and create more access to the activities they offer. Beyond concrete goals, Celebration hopes to simply provide a safe, welcoming space for anyone that needs it.
"I think I prefer the word intentions to goals and I think our intentions have to do with where our world is right now and where our society is," Senghas said. "I think we see that these practices are potentially like an antidote to some of these things that are causing depression and anxiety and existential crises and also pragmatic things like environmental issues and relationship issues and it's just such a holistic approach we're taking."
With sustainability and mindfulness at the center of it all, Celebration hopes to provide a space where people feel comfortable sharing in their talents and interests with the community.
"Our long term goal is just to raise awareness within people around us by just having space for anyone that wants to come in and share something, come do it!" Ball said. "Whatever your passion is we want to empower that."
With its mission in mind and roots now established in Asheville, the members of the Celebration Commune now hope to expand their community by continuing to get people involved.
"We're a hub of exploration and play and creativity," Cleary said. "We have intentions and a plan for what this can be and everything but it's also an experiment. We're kind of just having fun along the way and getting people involved as much as possible."