The Nearly Naked Mile kicks off UNCA Homecoming
By Virginia Taylor
Contributor
vtaylor@unca.edu
UNC Asheville students gathered late in the Student Recreation Center to stripdown, donate their clothes to hurricane relief and run a mile in their underwear.
"We're streaking the campus for a cause," said Morgan Bradley, a senior economics student and president of the Student Alumni Association.
Students came to the sixth annual Nearly Naked Mile on Sept. 21 wearing clothes they planned to donate to Hurricane Harvey and Irma victims.
"It's kind of like saying, 'We have enough,'" said Kayla Dunn, a senior new media student and university events intern. "It's just a fun way for us to promote philanthropy and have a fun experience."
In the past, the Nearly Naked Mile was a tradition maintained by SAA, but was postponed in recent years due to inclement weather. Re-established this year as part of the homecoming festivities, the Student Alumni Association said the run will continue as tradition from now on.
"The idea (of the Student Alumni Association) is, 'Students today, alumni tomorrow,'"  Bradley said. "We're trying to keep this tradition alive so that when you do become an alumni you look back at the things you did as a student, and those are the things that make you want to come back. So doing this around homecoming 10 years from now peop
le will be like, 'Yeah, I did this Nearly Naked Mile, I want to come back for homecoming and see if they're still doing that.'"
As students gathered, UNCA spirit was evident. In addition to their underwear, many students wore Asheville beanies and carried glow sticks. Outfits ranged from colorful tutus to patterned boxer shorts.
"I wish I'd worn tighty whities," said Kedar McGill, sophomore mechatronics student. McGill and his friend Jacob Rosier, a sophomore new media student, ran in matching black tights.
For many students, the run served as not only an opportunity to support victims of the recent hurricanes but also to get involved on campus, some for the first time.
"This is my first campus event," said Tess McCaleb, freshman international studies student.
McCaleb said she was drawn by the philanthropy and an opportunity to help those affected by the recent hurricanes, as well as the less fortunate within the Asheville community.
"This is the best example for freshmen about how united and awesome UNCA is," said Braulio Martinez, a senior studying management and marketing. "There's no judging, no body shaming."
The route of the Nearly Naked Mile ran along University Heights, beginning and ending by the Bulldog statue. Campus police, as well as student patrolmen, came out to ensure runners had a clear course.
"It's a legit mile race because there's no one at University Heights, it's empty, there are no cars, so it's perfect and I think it's awesome," said Delaydia Frink, a sophomore health and wellness student and captain of the UNCA running club. Frink won the Nearly Naked Mile with a time of 5:03, a personal record.
"I was like, 'I'll go for the cause,'" Frink said. "I got here and I'm like, 'It's a cause but I've got to bring my A-game.'"
As the f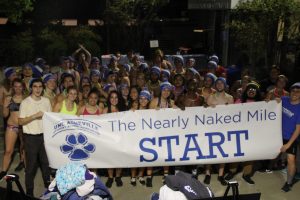 inal runners crossed the finish line, the Student Recreation Center filled with excitement as students placed their final donations in the collection bins and congratulated one another. Seniors and freshmen alike enjoyed refreshments as they prepared for homecoming weekend.
"You know, at the end of the day, whether you're on the court, you're in the stands, you're in the art classroom or you're in the chem lab, we're all Bulldogs and putting on events like this shows that," Bradley said. "It brings people from all those groups on campus together, and that's where school spirit comes from."