The Truth about Thanksgiving shares Native American perspectives
Sarah Shadburne 
Assistant A&F Editor
sshadbur@unca.edu 
The definition of being a Native American continues to evolve, particularly for students like Cara Forbes.
Forbes, a junior student, describes herself as "Urban Indian" due to the fact she grew up mostly off the reservation.
"It's always useful for non-native people to see native people be their true honest selves," Forbes said. "We create our own representations so there's less question as to what it means to be native."
The Truth About Thanksgiving program organized by Forbes and the Native American Student Association in tangent with Transition Student Programs and Multicultural Affairs, offered a Native American perspective on the holiday.
The event featured several pans of homemade fry bread by Forbes, drinks, Cherokee language Twister and a lecture by Juan Sánchez Martinez, assistant professor of Spanish. Martinez's talk centered around representations of the event in mainstream society.
Forbes chose to serve fry bread to honor the resilience of Native American culture as it was first made inside the camps created on the Trail of Tears using the basic rations given by the United States government.
"Frybread has been a really big staple food item across Indian Country," Forbes said. "When I serve frybread, I see it as a symbol of what it means to be a Native American today, to rise above tough circumstances and turn our experiences positive."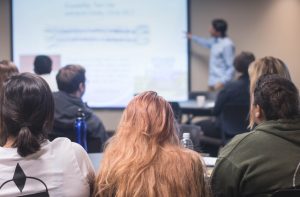 As Heritage Month Programing Supervisor and Program Assistant for Transition and Parent Programs, Forbes said she developed the idea for this event in 2015 shortly after she transferred to UNC Asheville.
"I would always share articles from Indian Country Media Network on the actual history of Thanksgiving on my social media pages around the time of the holiday," Forbes said. "But after a time it didn't feel productive."
The cheerful story of the first Thanksgiving in 1621 in which Pilgrims and Native Americans enjoyed the spoils of a bountiful harvest largely ignores the truth, according to the Indian Country Media Network. The relationship between the Wampanoag tribe and the European colonists was fraught with violence.
Forbes said she became frustrated by the single story often portrayed in mainstream culture about her people and created the event as a way to engage people in a conversation about misrepresentation of Native people.
"This event really started from that passion of sharing knowledge and trying to share it in a way that people would be receptive to it," Forbes said. "And calling people in versus calling people out."
Many of the points Martinez outlined in his talk revolved around the justifications used by settlers to take the lands of native peoples that were later perpetuated into truth over time. This argument, he notes, is still being used today by mining companies.
"The official history of the nation-state has been written by the people in power," Martinez said, quoting the work of the late novelist Michael Dorris, who frequently wrote about topics relating to Native American representation and politics. "Indigenous peoples are welcome when they are cultural, but they are not welcome when they are political."
Lacey Arch, a  sophomore pursuing the arts and entrepreneurship program, is from Cherokee and owns her design company Qualla Boiz. She said for her, Thanksgiving is just another holiday.
"We kind of get onto appropriation, we bring to light how we feel," Arch said. "This is giving us a chance to show that some of us aren't thinking too deep into things as people may think."
Devyn Smith, 22-year-old admissions and financial aid counselor for UNCA, said he does not see Thanksgiving as a tradition so much as he sees it being a repetition.
"It's not really a tradition because at least tradition has a meaning," Smith said. "People think, 'Oh it's that time of the year again we need to make a lot of food and I guess kind of be thankful for it?'"  
Nevertheless, for Smith the truth of Thanksgiving is deeply complicated, but he believes in the importance of having a conversation about it.
"It's especially pertinent for organizations like the Native American Student Association to be involved because such a critical part to that history is minimized because they represent a small portion of the population," Smith said. "Having people traditionally excluded from that conversation involved is always beneficial."
Forbes keeps in mind that her perspective should not be the only one.
"I am a native person but it's not the only thing I am," Forbes said. "To the core, I am an American as well as a Native American."