Topless women fight for their rights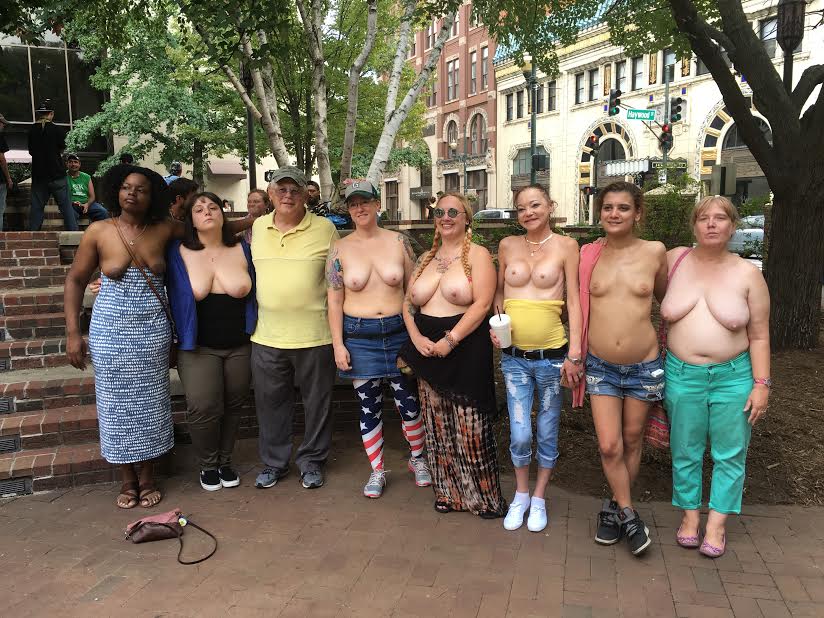 Karrigan Monk
A&F Staff Writer
kmonk@unca.edu
Seven women took off their tops at Pritchard Park in downtown Asheville as part of a topless rally on Sunday.
Jeff Johnson, the organizer of the rally, opened the event with a speech of politics and why it is important for women to be able to bare their chests in public.
"We want to keep the law equal, we want to keep the law vigilant. If the city council or legislature wants to change it, we have our say," Johnson said to a cheering crowd. "We need to recognize the political power females have, especially with their breasts."
Johnson, a retired clown of 40 years and stockbroker of 31 years, cites a vacation to Jamaica ten years ago as the starting point of his political career. While in Jamaica, he noticed the local women rarely wore tops on the beach and many of them were nude. He also noticed they had their families with them and no one seemed to mind. Johnson said this was mind blowing.
When he returned from vacation, he took it upon himself to find information to prevent this from happening in his home. Instead, he found himself as an advocate for women's right to appear topless in public.
Almost overnight he was in contact with gotopless.org, a national group organizing topless rallies. Soon, Johnson was not only an organizer for these rallies, but also a legal advisor.
"I can lead a woman's group just as well as a woman could," Johnson said. "Do you think women are better than men? I don't think so. I don't think they're worse either. I got the job because I'm not afraid to stand my ground and I have the money to take 'em to court."
While Johnson found awareness through a cultural experience, the women participating in the rally had personal reasons.
Sandra Meares, a cancer survivor and the first to join Sunday's event, has participated in topless rallies for seven years in Asheville in addition to traveling around the country.
"I fight for women's rights, I think I ought to be able to judge what I should wear and what I should not wear," Meares said, "and not men in suits and ties."
Meares said she wants to be able to make her own choices and to keep her rights. For others, like first-time participant Lily Suba, the cause is more specific.
"I'm just doing this for breastfeeding, honestly. Social media tells me women are being shamed to feed a child. It's just boobs. It's just milk," Suba said. "We were given breasts to feed children. It's the point of these."
Suba also makes the point a large number of the bystanders at the rally are men, something that makes her feel uncomfortable.
According to ashvegas.com, the topless rallies are controversial. The first official rally in Asheville was held in 2011 where a few dozen participants were watched by a few thousand onlookers, some of which were in vehicles causing a traffic jam. Sunday's rally was much smaller with only seven participants, but groups of men were still settled around the park watching and taking pictures both of and with the women.
Ashvegas also reports participation decreases over the years, something LaDonna Allison, another long-time participant, has not noticed.
"The participation is about the same, year to year. However, I have noticed throughout the years and I do want to make this very well-known, over the years I have noticed it is more accepted," Allison said. "We have less people hackling or jeering us or coming out to stand out against what we're doing. It's more accepting. There's a lot less gawking."
Like Lily Suba, Allison also cites breastfeeding as one of the main causes of her participation. She said she would never want to eat undercover or in a bathroom and she doesn't feel as if children should be made to do so either.
Allison also wishes to be treated equally to men in that they can take their shirts off in public. She said both men and women get hot and sweaty and they should both be able to exercise their right to take off their shirts.
"I want people who do come out here to know that it's okay," Allison said. "They don't have to feel ashamed of the way God made them."
Jeff Johnson, organizer of this rally, said shame is learned and not taught. One of his first experiences with topless women involved walking down the street by children. The children, Johnson remembered, either did not pay any attention or they simply did not care. He said kids are in their own world and it does not matter to them who wears a shirt or does not wear a shirt.
Although the official rally was Sunday, the group was in Asheville for about a week prior and were in Pritchard Park on a Friday evening when a group of small children and their parents came by. Johnson said while the kids were enjoying the drum circle, the parents were complaining the topless women were hurting their children.
"You can Google until your fingers are bloody," Johnson said. "You cannot find anything about a breast harming a child or anybody."