UNCA students create their own record label
Taylor Sexton
A&F Staff Writer
tsexton@unca.edu
As a senior music technology student, William Hinson knows how tough it is to make it in the music industry.
After independently releasing two volumes of his own Elevator Music series, he joined forces with a few of his friends to create a record label of their own to get his music — and other artists' music — out into the world.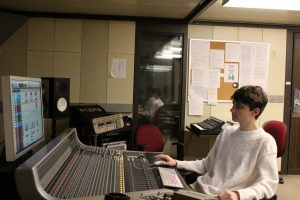 Hinson described the label, Something Out Of Nothing Records, as the brain child of himself and Blaine Pugh, a political science student at UNC Chapel Hill, who now acts as the manager.
"William and I started talking seriously about the prospect of a record label during the fall of 2017," Pugh said. "Our group of friends was already approaching music and promotion in a calculated way, much like a record label would, so we figured putting a name on it was the logical next best step."
Pugh started out as Hinson's manager back in 2014, their senior year of high school. From there, the two started making connections and Pugh began to see everything coming together piece by piece.
"The first step, for us at least, was finding a very motivated and diverse pool of talent," Pugh said. "The second was paying attention to how some of our inspirations did it. Two big names that come to mind are Dirty Hit Records, home to The 1975 and other great acts, along with Lyrical Lemonade."
Hinson elaborated on how the team was taken with The 1975's process of creation with their company, Dirty Hit Records, which they created so the artists could use the connections they had while also maintaining their creative freedom.
SOON Records currently consists of three artists: William Hinson, Grace Christian X and Sonny Miles. The team also includes Josh Garrett as the creative director and UNCA alumni Holden Mesk for marketing and artist development.
Hinson has released two albums, Elevator Music Volume I and Volume II with the third volume expected to be released by March 2. He said he would not have been able to do these projects on his own without the support from those who comprise SOON Records.
"It's difficult to really do anything if you don't have support from somewhere," Hinson said. "We really wanted to be a collective, you know? Because it goes back to what makes all this stuff happen, it takes people to make that happen."
Hinson explained how difficult it is to do anything from booking gigs to making ideas a reality without the support system that SOON Records established.
Grace Christian, also known as Grace Christian X, makes jazz and contemporary music. She released an album titled Haunted Hall in 2016 which boasted a raw, acoustic sound. She plans to release a project this year with more of a pop influence.
"In general, it's just about a combination of resources mostly. Everyone on SOON Records brings something very different to the table," Christian said.
All three artists have a very different sound. Hinson's sound has an indie pop singer-songwriter feel, while Miles has a soulful R&B sound and Christian brings dreamy feminine pop to the table.
Hinson said he sees a promising future ahead for SOON Records. He believes at least one artist will be playing Jimmy Fallon or even attending the Grammys.
"We can't not do those things, we can't not be successful whenever we're all together and we're all focused and we're all making good music," Hinson said. "The more that we release good music on a constant basis, the more people will notice. We're going to accomplish the things that we want to."
He also expressed an interest in adding more artists to the label in the future.
Pugh explained how big labels have begun repositioning themselves in the music industry since artists are able to make music and cultivate a fanbase on their own thanks to the age of digital distribution.  
"North Carolina is home to Jamla and Dreamville, both of which work closely with Roc Nation and distribute through the likes of Interscope and EMPIRE," Pugh said. "I see SOON working alongside these entities in the near future as our artists become more popular and our process is fine-tuned."
Pugh said to expect single releases every other Friday throughout the summer. SOON Records are currently working on projects for both Sonny Miles and Grace Christian X. The next major visual release will be for Hinson's "Why Won't You Be My Girl?" He also said video productions will be ramping up as well.
"I know for a fact each of these artists will be successful, both because of their musical ability and, more importantly, their work ethic," Pugh said. "Hard work beats talent — they all happen to have each of these qualities in spades."