Undocumented student overcomes academic adversity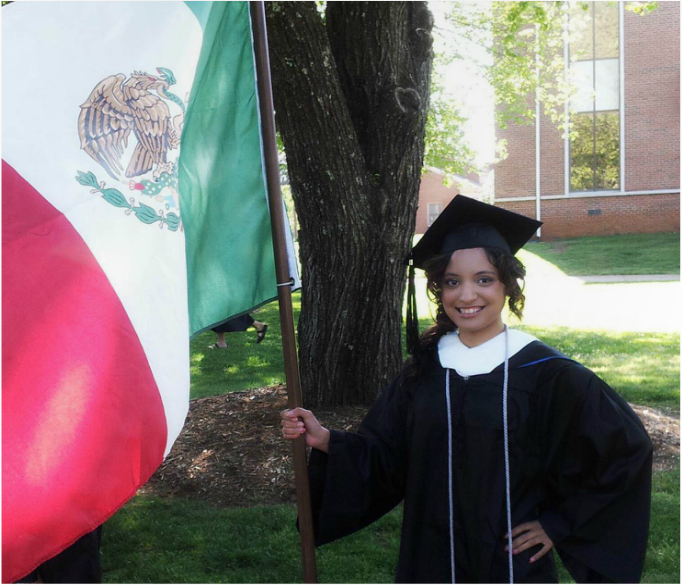 Karen Lopez
News Staff Writer
mlopez3@unca.edu
Paying out of state tuition, driving back and forth 45 minutes to school daily, receiving tickets for driving to school without a license and working 50 hours a week with little sleep and poor nutrition, an undocumented student struggles throughout her college journey.
Carolina Perez, a Brevard College alumna of 2014, exemplifies the struggles many undocumented students face to achieve college goals and dreams.
"It was 2008, I remember the newspaper coming out with an article and overhearing a lot of undocumented upperclassmen talking and expressing concern about the legislation that had passed banning undocumented students from the community college system," said the 24-year-old. "It hit me because it meant that I was no longer going to be able to go to college."
During this time, Perez's parents were going through a divorce. She decided to move in with her agricultural working family and live the student migrant life moving back and forth between Florida and North Carolina.
After graduating in 2010 from Immokalee High School in Florida, Perez felt the need to continue her education and obtain a degree.
"I had no idea where I was going to go to college, how I was going to go to college and much less how I was going to pay for college," Perez said.
Despite the situation, Perez was determined to reach her college dream. She applied to five colleges and was accepted to all of them, but she later received letters in the mail requesting a financial affidavit.
"That's when I realized the schools were going to treat me as an international student," Perez said. "I needed proof of how I was going to pay. I needed a visa and financial assets, and I didn't have any of that."
Ave Maria University, a college in Florida Perez had been accepted to, provided full-ride scholarships to undocumented students, but the recession hit in 2010 and the college quit providing these scholarships.
Despite the closing doors, Perez continued to search for open ones. She moved to North Carolina and attended Blue Ridge Community College in East Flat Rock.
Joshua Bledsoe, a college educator and DACA mentor, said Perez was his student and inspiration. The former DACA and immigration subject has changed his life and views.
"From my experience, Hispanic DACA students prove their dream is not a dream denied and they're going to pursue it. It's something that has impressed me about them," he said. "Although I'm a teacher, there's always something I can learn about my students."
After paying out of state tuition for several semesters at BRCC as an undocumented student, Perez decided to transfer to Brevard College. She finished the application process and was accepted despite her legal status.  
Pat McClellan, the assistant provost for academic administration said like Brevard College, UNC Asheville admits undocumented students.
McClellan said UNCA charges undocumented students with out-of-state tuition and does not award state or federal aid as required by law.
As an undocumented student, Perez could only register for courses the first day of classes. She said this was the same situation at Blue Ridge. She applied for the education program and was denied the opportunity for the same reason.
"Everything was already booked. I was never able to enroll in a math or science class because all seats were closed," Perez said.
Tuition was $15,000 per year with monthly payments of about $2,000 each month. Perez said she received a few scholarships to help pay for some tuition, but it was not enough.
"I knew my parents would not support me financially," Perez said. "We didn't have money because my parents were getting divorced."
Due to the financial circumstances, Perez had to work two restaurant jobs. She worked as a cashier at a fast food restaurant and as a server at a Mexican restaurant.
Perez said she wanted to experience a normal college life and live on campus. Instead she was working more and more hours at a restaurant in order to be in class, spending more time working than time in school.
"My senior year, I thought of dropping out because I had so much stress from working too much. I was losing a lot of weight," she said. "I wanted to take a semester off."
Perez said the dean of Brevard College spoke to the president of financial aid to inform them about her situation. They granted her an additional scholarship and said her last semester would be paid for.
After graduating from Brevard College in the spring of 2014 with a degree in English, Perez had graduate school in mind, because a year before graduating she had obtained the Deferred Action for Childhood Arrivals permit.
This permit allows Perez to have a license and Social Security number. According to the Department of Homeland Security, DACA applies to certain people who came to the U.S. as children. The deferred action does not provide lawful status.
Perez said the graduate school she wanted to attend was a state-owned school. She had received a scholarship to attend but it was withdrawn because she was a DACA student.
"I was so mad and aggravated at the system because nothing that I had done mattered," Perez said.  
Perez felt her sacrifice didn't mean anything to anyone because no one was providing her the opportunity to pursue a master's degree.
"There are people that still struggle and need help. We need to help students and parents understand the factors of being a first generation immigrant and the importance of receiving a college education," Perez said.
Perez is grateful for DACA as it opened doors that could never have been opened. With her English degree and perseverance she has learned to seek out opportunities, knock on doors and connect with people. Her experiences helped her prepare to reach bigger goals and dreams.
Perez searched and obtained a governmental position as deputy for the Register of Deed's Office in Buncombe County. She used the money she saved for graduate school and opened a Mexican restaurant along with her partner.
"I have a job where I can use my experience and my degree to help people. I have a business that employs students with DACA," she said. "If you are determined and work hard for it, you can do it."
Perez always wanted to go to college and it was heartbreaking for her to know it was not going to be easy, but she overcame the obstacles and now wants to help other students prepare to reach their goals and dreams.
"Being undocumented gave me the experience, grit and strength to be where I am," Perez said. "The growth that it created in me, I wouldn't change it for anything. People ask 'What did you get a degree in' and my response is: I earned a degree in life."