We need to stop separating art from the artist
Samantha Savery
Opinion Editor
ssavery@unca.edu
Editor's note: If you are at all triggered by sexual assault, please use caution when reading this piece. In addition, opinions expressed in this article only represent those of the individual writer and not the editorial staff as a whole.
Hollywood is in the middle of a revolution of monumental proportions.
Slowly, women and men are coming forward to voice the sexual harassment and assault they have faced from Hollywood elite for decades. Aziz Ansari and James Franco are among the men toppling from their pedestals as victims make known the horrible crimes done upon them.
The best way for us outside of entertainment to help rock the boat? Stop separating the art from the artist.
"I feel as if it's almost impossible to separate the art from someone who has done the things to the degree Woody Allen and others have," said Allison Walter, a sophomore health and wellness student at UNC Asheville.
Yet there are still abusers succeeding in Hollywood with little sign of stopping.
Gary Oldman is well on his way to winning an Oscar for his role as Winston Churchill in The Darkest Hour after winning at the Golden Globes and Screen Actors Guild Awards. Oldman was reported for domestic abuse by his ex-wife in 2001 for allegedly beating her with a phone in front of their children.
Oldman's portrayal of Sirius Black in the Harry Potter series meant a lot to many people I know, myself included. But the airing of his dirty laundry recently has made me rethink everything, along with the attitude J.K. Rowling has taken when asked about defending the casting of Johnny Depp in her spin-off series, Fantastic Beasts and Where to Find Them.
Depp, a well-known actor who has a toe dipped in quite a few big film franchises, was accused of and admitted to abusing his wife Amber Heard. Heard later pledged to donate her $7 million settlement to a number of charities, including the American Civil Liberties Union, according to The Huffington Post.
Heard also used her platform to raise awareness of domestic and sexual assault with the organization Girl Gaze by creating a public service announcement on the epidemic many women — and men — face everyday.
Both Oldman and Depp were part of our childhoods, portraying film characters many of my friends found interesting and adventurous. The men who played Sirius Black and Jack Sparrow were not the suave heroes we saw on screen, but almost as bad as the villains they fought against.
Multiple men in Hollywood, including Casey Affleck, Chris Brown and Kevin Spacey, have been accused — or in Brown's case, found guilty — of sexual harassment and domestic abuse.
This topic has been debated on and off in recent years, something Walters said she herself noticed.
"I've seen debate about separating the art from the artist and a lot of debate about, you know, is that even possible? Do we have to do it? What do we do with this art that was made by these predators and awful people," Walter said. "I highly encourage people who care not to consume the art because these situations arose due to an unbalance of power."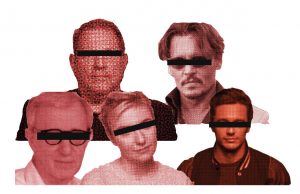 Walter said in consuming the art these predators made, you are keeping them in power. Luckily, powerful men are starting to get cracks in their picture perfect reputations and becoming exposed by their own victims or by journalists like Ronan Farrow, the man behind the exposure of Harvey Weinstein's abuse of power.
Critically and socially acclaimed work, such as projects done by director Woody Allen and actress and writer Lena Dunham, are often the works people find easier to justify.
"The debate comes up so much more in critically acclaimed work, like the talent of the person who made the art who's being accused makes it somewhat more acceptable to keep consuming their art if they're talented enough," Walter said.
Allen was accused of molesting his daughter Dylan Farrow — Ronan's sister — in 1992, Dylan writing a letter detailing her abuse in 2014. Dunham wrote in her memoir about inappropriately touching her younger sister when they were children. She also said Aurora Perrineau, an actress, was lying when she accused a writer of Dunham's show, Girls, of raping her.
Dunham is an important example in this because there are women in Hollywood who use their power over someone to cause sexual harm, even while branding themselves as feminists.
Other examples include Emma Roberts, who was arrested for domestic abuse against her boyfriend in 2013, and singer Melanie Martinez, who was recently accused of raping a former friend.
"It goes for women too, and Lena Dunham is a strong reason why we should still try our best not to consume a predator's work," Walter said. "If you look hard enough at those up-and-coming actresses, you can find a better role model and better representation."
Ginny Shafer, a senior health and wellness student, said it is tough to explain her feelings on separating the art from the artist.
"It's tough because, sometimes you can't. I think with Woody Allen's movies and how when you go back over and watch their art — their films, their art, their shows — you can see it, especially in things they've written. I don't think you can really separate that," Shafer said.
Shafer said her feelings varied on how much creative input and direction the predator had on a project. Walter said she has found people who agree.
"People have said in ending Louis C.K.'s movie, you're also effecting everyone else involved in it," Walter said. "But, I didn't make Louis C.K. commit sexual misconduct and not all of those people are responsible for his actions."
It may seem impossible for you to find something to watch without some predator attached to the project, but Walter said it is very possible.
"You can. It's not as hard as you would imagine. You'll have to look a little bit harder. I recommend looking into these groups that haven't been as privileged as these predators. Art made by women, by people of color or by those in the LGBTQ+ community," Walter said. "They haven't had the opportunities to be as successful as these awful humans."
Her recommendation for a Dunham replacement? Issa Rae and her show Insecure.
"She's a lot more realistic and a lot more, all the characters in Girls are so incredibly annoying, but Issa Rae is a lot more real. And in consuming more art from people who haven't had the same opportunities as the people we've seen who have done things that are really problematic, you're giving them a platform," Walter said. "With Insecure being so popular, you're telling these networks, 'People want to see a real show about a woman of color,' and there will be more of them and they will be less problematic — if problematic at all."