Despite adversity, women's basketball win championship again
Charlie Heard
Sports editor
cheard@unca.edu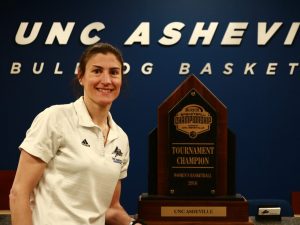 Entering the tournament as the seventh seed, last year's Big South champions were not expected to repeat themselves by anyone, except themselves.
KJ Weaver, a senior center for the Bulldogs, said despite the team's record, its struggles with injuries this season and the doubt surrounding the reigning champs, the team never considered itself out of the running.
"Entering the tournament, it wasn't a 'we can do it' attitude in the locker room," Weaver said. "For us, winning was the expectation."
In Big South history, no women's team has won as the seventh seed in the end of the year tournament. The tournament is four days long, with seeds one through six getting a bye through the first day, so the Bulldogs came into the tournament knowing they had to win four games in four days to defend their title.
Head Coach Brenda "Mock" Kirkpatrick said the team's high regard for themselves allowed them to reject self defeat by not identifying as a true seventh seed. She said the team's self confidence was really high going into the tournament.
"We felt like we were that number one team. We acted like we were the number one team like we were last year," Kirkpatrick said.
Kirkpatrick said though winning four games straight is an accomplishment, anyone who knows the team well knew the team was a true contender.
"We weren't a typical seventh seed," Kirkpatrick said. "It is remarkable that we won four games in four days but if you know our team, the talent we have, it's not as shocking as people think who don't know the whole story."
Coach Kirkpatrick said she has had many talks with the team throughout the season to redirect them through this season's hefty allotment of adversity.
"We had to reframe our season a couple of times. There was a rough moment when we lost two seniors in back-to-back weekends and then the day before a game with Gardner-Webb, we lost Khaila Webb, who was our top scorer at the time, to a pretty serious ankle injury," Kirkpatrick said. "I had talks with them after a lot of games, never the same talk though. After the win over Winthrop, we talked about how we could not settle for that level of play so late in the season and that we knew we could be better."
Weaver said during that talk after the Winthrop win, Kirkpatrick shocked the girls with a humbling outlook of the upcoming championship.
"What stuck in my mind from that conversation is that's when Coach Mock said 'I don't know if we are going to be able to win the championship this year if we keep playing this way,'" Weaver said. "We all still believed we could win so that was our chance to say 'Nah this is how it's going to be' and get more serious. We had gone through some things this season, but that's when it stopped being an excuse anymore."
After that Winthrop game, the team went on to play great basketball in its final three regular season games. They gave the top conference team, Radford, a run for their money in a double overtime loss, beat Liberty on their homecourt, a feat not accomplished by any other Big South team this season, and beat Gardner-Webb by 18 in the season closer.
Coach Kirkpatrick said she had never seen a competitive fire in her team like they showed in the tournament.
"During the tournament, this team had an extreme amount of resolve and confidence," Kirkpatrick said. "I had never seen that in them until we got into this tournament. I've seen glimpses of it at Radford and when we beat Liberty on the road, but not like this."
The Bulldogs run started versus tenth-seeded Longwood University. Weaver said the contest against the Lancers was their toughest of the tournament and the catalyst of the Bulldogs' run.
"Out of the whole tournament, the hardest game was the Longwood game. They were scrapping, hustling, hitting shots, they played one of their best games," Weaver said. "That game reminded us that we had to want it more than everyone else and prepared our performances for the next three games."
The Bulldogs struggled in the first half against Longwood but won the game 65-59. The team then went on to play Campbell, the second seed, and won handily, 64-55. The next two games were not set and the cram sessions and intensity ramped up.
"Imagine having four big tests, four days in a row and cramming for them all of those days. That's what this felt like," Weaver said. "It was a back and forth routine. Study film, practice, film, game, repeat. You know how tired you feel after a two and a half hour test? That's what it felt like after each game, except this was physical, too. It was super exhausting and super worth it."
The Bulldogs' third matchup was against sixth-seeded Presbyterian. The Bulldogs won its first of back-to-back one-point thrillers.
"I was on the bench in foul trouble for the last play and I was on the edge of our seat. We were down two and I knew the ball was going to Bronaza Fitzgerald. The play was messed up, but somehow she got the ball, made it and got the foul," Weaver said. "There was a tweet that night about her 47 percent free throw percentage, but in those clutch moments, we knew she had it."
The Bulldogs went on to play top-seeded Radford in the championship's final game, epitomizing their unwavering resolve in another one-point win, holding the lead for only the last five seconds of the game.
"Before the game, we talked about how no one had expected us to make it this far, so we were ready to go out and play our best and accept whatever result," Weaver said. "The chips were stacked against us, so our mindset was to chip away at them as much as we could and hope they'd get tired and slip up at some point. We didn't know if that point would ever come, but we were OK with that."
The last possession of the game was on defense for the Bulldogs, having just taken their one-point lead. Radford called a timeout and ran one more play.
"I was shocked and in amazement. It could have gone either way," Weaver said. "The Radford player who took the last layup had been making them all game. I wasn't on her, so when she shot, I just watched as it rolled off the rim, off by just inches. When the buzzer went off, I just thought, 'Did this just happen again, after all this?'"
Chatori Major, a senior guard for the Bulldogs, said she feels lucky to have won it all twice.
"Not many people experience the feeling of winning a championship but to feel that same feeling twice is unbelievable," Major said.
Weaver said the team's confidence was unwavering and allowed them to keep pushing when down.
"Even when we were down, in the Presbyterian, Longwood and Radford games, games where if you don't have the right mindset you might just crack at any moment, we always stayed calm and felt like we were good," Weaver said.
Coach Kirkpatrick said the girls' unwavering confidence throughout the tournament kept her calm and confident as well.
"In the Radford game, it was 48-41 with about 3 minutes to go and that's the number one team in the league and they also have a very good defense," Kirkpatrick said. "So even though to the outside it seemed very unlikely that we could win, the kids totally had confidence. They made us believe. And as the coach, I had a sense of peace throughout the whole tournament, not thinking that it was necessarily in the bag, but I knew that the kids were playing their best basketball and therefore we wouldn't have any regrets regardless of the outcome."
Weaver said the win is a story stranger than fiction.
"The fact that we were able to prove anybody and everybody else wrong, that being the seventh seed didn't matter to us, that our passion for the game and for each other showed on the court like it did, that story can't be made up."