Zambra maintains legacy, stays fresh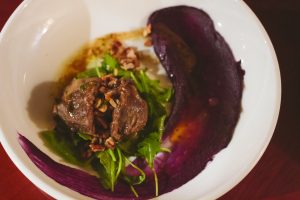 By Katelynn Watkins – kwatkins@unca.edu – Staff Writer | Feb. 4, 2015 |
Mark Reiford knows romance. At least, he knows how to ensure a restaurant keeps its title as the top romantic spot to dine in Asheville five years and counting, according to the Mountain Xpress's annual Best of WNC contest.
The champion of that honor? Zambra, home of tapas, wine and a well-stocked bar. To test its renowned atmosphere and eats, Makeda Sandford, sophomore mass communications student at UNC Asheville, Donald "Bobby" Watkins, local aspiring culinarian, and I ventured to the restaurant Thursday evening.
"I saw two wedding proposals in here last summer," said Reiford, manager at Zambra.  "It's actually pretty common for us."
But the comfortable and authentic Mediterranean ambience still isn't the main attraction for loyal locals, Reiford said. Although the name of the restaurant has carried over from previous ownership, the menu has had a makeover. Instead of only offering traditional Moroccan and Spanish dishes, as Zambra's former owners modeled it, the new owners shifted the restaurant's focus to preparing a greater variety of dishes while keeping the theme of tapas-style dining.
One of the first dishes to arrive at our table was a simple one: mixed-green salad topped with marcona almonds, goat cheese, apples and a maple-shallot mojo. The effect was instantaneous. All three of our jaws dropped.
"It's so fresh and light," Sandford said. "You can tell this goat cheese is nice and fresh by its texture."
According to Zambra's website, the menu changes nightly.
"You could come back in two weeks and have a completely different menu in front of you," Reiford said.
Tables were offered the specialized "5 for $30" menu created for Asheville Restaurant Week, which would no longer be available after that night.
Over the last few years of Reiford's career at Zambra, he said he's seen the menu evolve to accommodate the changing style of the restaurant as well as the traffic it experiences throughout the year.
"Well, we don't do paella any more," Reiford said as the patatas bravas, potatoes served in crispy wedges beneath a spicy tomato sauce, were hastily devoured. "It takes entirely too long to prepare, and if I can't deliver in a reasonable amount of time then it sets everyone back."
In October, dubbed "Rocktober" by Reiford, a dish that takes a while to perfect is simply not an option due to the influx of tourists, Reiford said.
As Watkins, the sole meat-eater of the party, gave a nod of approval at the teres major, cuts of beef tenderloin, served with red wine-braised shallots, truffled frites and creamed kale, Reiford said another cause for the ever-changing menu is the evolving kitchen staff.
The chefs are often given the option to revamp the menu based on picks from farmers markets or ideas they have floating around, Reiford said. Sometimes, they give one of the less experienced employees the chance to decide what should be done with certain ingredients for a periodic addition to the menu.
"That's their time to shine," Reiford said with a shrug.
As Sandford snapped photos, the others proceeded to analyze more dishes. House-made gnocchi, served with broccoli and piquillo peppers, was a first for the photographer. The gnocchi was doughy enough to feel dense and complex, and Sandford said she would have thought it contained a sort of filling if she had not been told any differently.
Meanwhile, Watkins had to admire the uniquity of a dish such as smoked pork cheeks served with purple candied yam, even if it wasn't his favorite dish that the table sampled. Many dishes were out of the ordinary, named so we might've had to ask what they contain. A basic understanding of Spanish, however, could be very helpful, Watkins said.
"I'm just going on what I can remember from high school," he said, "but some of the words I can recognize kind of help me place the gist of what's on the plate."
The word zambra refers to a flamenco dance similar to belly dancing. It is also known as the zambra mora, according to the translation by Merriam-Webster's online dictionary. Like any decent flamenco, the restaurant is anything but a quick, "get in and get out" experience.
"There's a time and place for that kind of experience," Reiford said, "but it's not downtown Asheville, so that's not how it is in here."
Part of its appeal is the slow and steady pace of the dining experience. Reiford said that was an important foundational element for the restaurant's previous owners and it carries over today. This is made possible by a diligent and trustworthy staff.
"That's the thing about this place," Reiford said. "It's a tight group. A lot of times we hire based on who the applicant knows. I'll ask if someone has served before and if the answer is yes and 'Jen said you're great,' I'll say 'come back and start tomorrow.'"
One other element of the restaurant's appeal is pride. Much like a passionate flamenco dance or a worthwhile romance, success in the restaurant business takes a lot of pride. In Reiford's experience, the last decade has brought a new wave of pride for those in various levels of the restaurant business, thanks in part to increased interest in shows like Anthony Bourdain's and the rise of the "average" foodie.
"Everyone here is proud and it shows," Reiford said. "We love the life."