By Maeve Callahan – [email protected] – Staff Writer
The rooftop of the Apple building in London became a stage for the Beatles one windy winter afternoon in January 1969. UNC Asheville's Beatles ensemble made their stage on the quad last Thursday afternoon and played Beatles songs for an hour for students and faculty.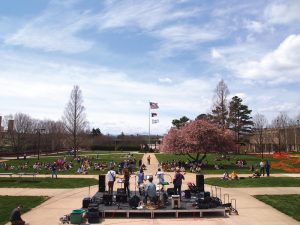 "The Beatles mean family. Not just because I grew up on them and everyone in my family loves them, but because everyone knows them and their music brings people together. You could see this on the quad. While we were performing, everyone in the audience was singing along," said Daniel Habib, senior music technology student and member of the Beatles ensemble.
People wearing T-shirts, shorts and dresses sprawled across the quad to listen to the ensemble's performance.
The Beatles have been called the greatest and most influential band of the rock era by AllMusic.
"I am obsessed with the Beatles. I know every one of their songs and can sing every single lyric. I feel like they were musical geniuses," said freshman Eowyn Lucas.
Lucas danced in front of the stage in a green tie-dyed dress with a handful of other barefoot audience members.
"Their music was revolutionary, and that went along with all of the radical movements taking place in that time," Lucas said.
In April 1964, the Beatles had the top five best-selling singles in the United States, an accomplishment no other musical group had before or since, according to AllMusic.
"I think the Beatles meant inspiration and the pinnacle of a music career. From a music standpoint, many artists were influenced by them but also wished they were a Beatle," Habib said.
The Beatles ensemble consists of students across various majors and is headed by assistant music professor Brian Felix.
Charles Holt, a junior music student, said he joined the ensemble because it sounded like something he wanted to be a part of.
"To me, the Beatles means being lazy, not doing work and listening to rock 'n' roll. It's the music you listen to when you're just enjoying yourself. Of course I have to actually put in the time to learn the songs for the ensemble, but I don't really see that as work. It's too much fun," Holt said.
Glenn Yoder, a senior international studies student, said he joined the ensemble simply because of his passion for music.
On the rooftop of the Apple building back in 1969, the Beatles faced bitter, cold winds and only stopped their performance under police order.
The warm winds last Thursday blew the ensemble's sheet music and cooled the audience sitting under the warming rays of sun.  No police officers showed up, and the ensemble performance did not clog streets with traffic as the Beatles did in 1969.
The Beatles played together for six years, and 43 years later their music continues to find fans and connect people.
"No, the Beatles will never fade away," Lucas said.