Women's basketball on comeback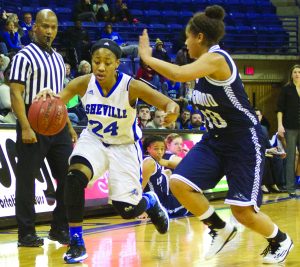 By Christopher Jones – cjones5@unca.edu – Staff Writer | Feb. 11, 2015 |
Down by 8, with little more than a minute remaining in regulation, the UNC Asheville women's basketball team went on an 11-3 run to force overtime against Longwood University. UNCA defeated Longwood 88-77 in double overtime.
Shonese Jones, UNCA senior guard, said it was a tough game and that she and her teammates all played hard to earn the win.
"We rebounded the ball really well on the offensive and defensive end tonight. I'm pretty sure we outrebounded Longwood by a lot, and I think that that was key for us tonight in winning," Jones said.
Longwood University collected 33 rebounds, but were outrebounded by UNCA by nearly double. UNCA collected 29 offensive rebounds and 36 defensive rebounds.
K.J. Weaver, UNCA sophomore center, was the game's leading rebounder with 8 offensive and 8 defensive rebounds, giving her 16 total rebounds for the game.
The first half of the game was a low-scoring affair, with UNCA leading at the half 29-28. Tacey Trammell, senior guard, and Khaila Webb, freshman guard, led UNCA in scoring at the half with 6 points each.
Longwood started off the second half with an 8-0 run and kept the lead for most of the second half.
With 1:20 left to go in the game, UNCA was down 51-59.
UNCA used their defense and hit key shots down the stretch to bring the game to 60-62 with 12 seconds remaining.
Ja'Da Brayboy, UNCA sophomore guard, hit the game-tying lay-up with 6 seconds left to take the game into overtime.
"I had the opening for the shot, so I took it and made it. That's what I'm here to do," Brayboy said.
The first overtime period saw UNCA take the lead. Longwood hit a three-pointer to tie the game at 70-70 at the 35 second mark to bring the game into a second overtime.
UNCA outscored Longwood 18-7 in the second overtime, capturing victory 88-77.
Bill Reinson, Longwood University head coach, said "They played a great game and so did we, but they played better towards the end of the game than us and deserved this win. Hats off to UNCA for their play, but I'm proud of my team tonight, even in the loss."