All that grace: pole fitness provides exercise and expression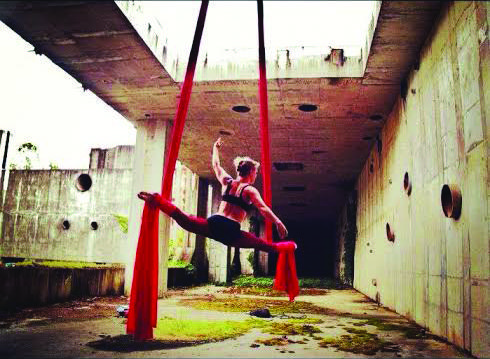 By Erika Williams, contributor
9/10/2015
The room glows with a bright but unobtrusive light that reflects from mirrored walls, illuminating the darkness of nightfall behind a small glass door. The artists climb up red silk ribbons and glide from one to another, weaving shapes in the air like spiders spinning a glimmering web.
"Aerial arts are a way to explore movement and fitness off of the ground," said Waverly Jones, aerial arts instructor and performer.
Massive crash pads clutter the floor as a reminder of the dangerous components this art form entails. The aerialists and participants at the Aerial Space studio are some of many in North Carolina.
"I teach and perform on apparatuses such as aerial silks, aerial hammock, aerial hoop (also referred to as lyra or cerceau), aerial trapeze and Spanish web at Aerial Space in West Asheville," Jones said.
Jones said she works with pole fitness at other studios and teaches aerial lessons at Warren Wilson College.
From High Point, North Carolina, Jones said she moved to Asheville when she was 19.
The single-room studio appears small until the walls stretch vastly upward. Where the mirrors end, a pastel purple pigment begins to run up the surface. From the extended ceiling hangs two large hoops, eight long ribbons and two trapeze swings.
"My home life growing up wasn't the greatest, and that leaked into my teen years, " Jones said.
She said she dropped out of high school when she was 16. While Jones got her GED and attended community college for a couple of years, she skipped a semester when she was 19 and never finished.
"To put it lightly, life has been extremely tough at times," she said. "Aerial arts have helped me heal from traumatic past events and have also helped me to discover what it means to be truly happy. My life is currently better than it has ever been, and I credit that largely to my aerial arts and pole fitness career."
Jones, whose upper arm blooms with pink petals of ink, appears to epitomize physical fitness and creativity as she shares the turn her life took after she became a part of these art forms.
"Aside from the physical benefits, aerial arts and pole fitness have given me purpose, self-worth, positive body image and self-esteem for the first time ever. I actually felt what it was to be proud of myself as if I had really achieved something incredible," Jones said.
The participants of the basic silks class joke among themselves that aerialists are only pretty from far away, referring to the many bruises acquired from aerial activities.
Jones said there are misconceptions and stigmas associated with both pole fitness and aerial arts that are now beginning to change for the better.
She said these communities seem to be growing exponentially, and events such as international pole sport competitions are helping break the negative stigma associated with pole dancing.
"Do I think pole is inherently sexy? Of course. I also think strength training is sexy; and ballet, and rhythmic gymnastics and aerial circus arts and so on. Passion for movement is sexy," said Jones. "I think these arts are a great way to declare feminine power, especially if you've experienced oppression or inequality due to being a woman."
These art forms, however, prove quite the contrary to a strictly feminine field, Jones said.
"When you work in this field, it's easy to see how many men are absolutely incredible performers and athletes of these arts. Men, as much as women, are shaping these communities drastically with their own set of skills," Jones said.
Heather Poole, an instructor of basic silks classes, said she only uncovered one or two journals that focused on aerial arts.
"It is an extremely under-recorded practice," said Poole, who has been involved with Aerial Space for about six years. She admitted uncertainty if this lack of record was unintentional.
Some aerialists are now practicing the lyra, a large hoop that hangs from the ceiling made of the same rough material as the trapeze; solid metal bound tightly with black tape. It has become sticky from the hand salt of previous aerialists, and is very easy to grasp. They sit gracefully in the elevated hoop as if balancing on a crescent moon and contort into several poses.
"Maybe they want aerials to be kind of secretive," Poole said. "It is a very unique culture, and it tends to carry a mysterious vibe about it."
Lindsay Edwards, a friend of Jones from Brevard, North Carolina, said she saw Jones grow as a person over the years through her training.
"She has used this to build herself as a person and an athlete," Edwards said. "Waverly has overcome some crazy stuff."