Get involved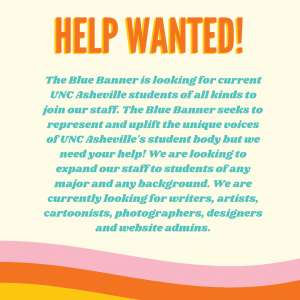 Help Wanted!
The Blue Banner is looking for current UNC Asheville students of all kinds to join our staff. The Blue Banner seeks to represent and uplift the unique voices of UNC Asheville's student body but we need your help! We are looking to expand our staff to students of any major and any background. We are currently looking for writers, artists, cartoonists, photographers, designers and website admins.
What's in it for you?
Get your work published in our weekly newspaper and our daily-updated website, get free passes to great local events and concerts, build your resume and earn lifetime contacts.
To apply, send an email to our Spring 2023 Co-Editors-in-Chief, Jake Wilson ([email protected]) or Joshua Staley (jstale[email protected]) with your name, background skills and availability.