Noble Kava: A New Beginning
By Wyatt Manlove
Contributor
wmanlove@unca.edu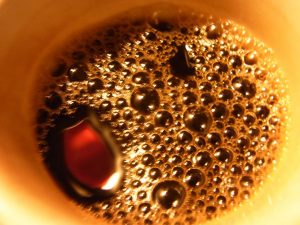 Poets and artists alike spent one of their last times performing at Noble Kava, Asheville's local kava bar.
Every Wednesday night, the bar held an open mic night, hosted by Caleb Beissert, a local poet and bartender at the Kava bar. Attendees hear poetry, and all other forms of artistic expression.
Unfortunately, this past November was the bar's last month  tucked away on Eagle Street in downtown Asheville. The owners of Noble Kava plan to move to a location on Haywood Street in West Asheville, a place they purchased as a result of the progress they made.
Justin Blackburn, a local artist, said he feels the atmosphere at Noble Kava aids to the flow of creativity and performance.
"It's a great place. I love Caleb," Blackburn said. " The audience is usually great."
Blackburn said he began to attend the open-mic events six years ago, even though he hasn't lived in Asheville that long. He made the trip on Wednesday evenings even when he was living elsewhere in North Carolina such as Charlotte, Winston Salem and the Coastal regions of the Carolinas.
"I am worried about them moving. I think that I probably won't come here if it's somewhere else," said Elena Borne, a patron attending the performances. "Eagle Street is just kinda perfect for the kava bar. There is a smoke shop right across the street and pizza around the corner. It couldn't get better."
People like Borne, as well as the artists, said they worry the new establishment will not have the same atmosphere as the old one, an aspect they value.
Despite these concerns, Tom Scheve, a bartender at Noble Kava, said that the kava bar currently hosts their open-mics at the Altamont Theatre. With a capacity of 150 people, this venue holds a far bigger crowd than the location on Eagle Street.
"Caleb Beissert has been doing fantastic with the new venue. We've been doing it since the start of December, and it's been growing every week," Scheve said. "It's a beautiful theatre, the acoustics are great, and the performance space is wonderful."