Student receives Newman Civic Fellows Award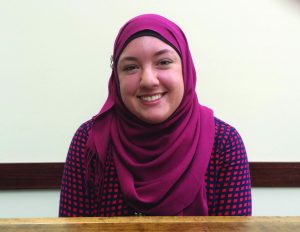 By Daniel Hall – dhall1@unca.edu – Staff Writer | April 15, 2015 |
Awards can serve as more than recognition of progress – they can catalyze it.
Campus Compact, a coalition of higher-education institutions from across the nation, aims to promote citizenship with its Newman Civic Fellows Award, not only through public recognition, but by connecting students from across the nation.
"It is to recognize student leaders who are very involved in campus-based community engagement," said Emily Wood, director of communications for the coalition, "and other civic engagement work."
The coalition recognizes students who exhibit this engagement. It also opens other avenues for its honorees, by linking honorees together through an online network, which they can use to collaborate and communicate with each other in future endeavors.
"They're entered into a private online networking group that is run by the national Campus Compact office," Wood said, "where they get to connect with each other. We have it on Facebook, we have it on LinkedIn. And so, they just can learn from each other and build their professional network as they go through school."
Wood said students share job and grant opportunities over the network, and discuss life at their respective campuses. Similar to many online communities, there are those who are very involved in the discussion, and others who prefer to sit back and read rather than participate.
The Newman Civic Fellows Award is a recent initiative, established by Campus Compact in 2011 and awarded annually since then.
The coalition has awarded it twice to UNC Asheville students, according to Campus Compact officials. The first student was James Whalen, former president of the Student Government Association, in 2014. The second is Runda Alamour, though she has yet to physically hold the certificate. That part is still to come, as is her invitation to the online group of honorees.
Wood said students are nominated, and then evaluated on the basis of their involvement in the community, along with other criteria listed on the Campus Compact website.
According to Campus Compact's mission statement, the coalition is committed to "fulfilling the public purpose of higher education." The Newman Civic Fellows Award, specifically, honors students who inspire through their service and leadership, and their investment in finding solutions to social issues.
Alamour, a senior studying literature and 6-12 education, said she was nominated by Kim Kessaris, coordinator for the Advancement Via Individual Determination program at UNCA, and Reid Chapman, a professor in the education department.
According to their submitted statements, the fellows for 2015 have a wide variety of civic issues to which they are devoted. Water conservation for one honoree, women's rights for another – human trafficking prevention, interfaith work, addiction counseling, and more. Alamour's cause, according to her own statement, is improvement in education in North Carolina.
"We really have to step it up," Alamour said. "We have to take these leadership roles. And we have to start learning about some of the challenges we're going to face in the classroom, so that we can be prepared to meet those challenges and be prepared to make our profession better."
Alamour said she aspires to be a teacher one day, either middle or high school – she does not know which at this point. She has tutored students at both. She has also tutored at AVID, and coached her peers in tutoring there.
In 2014 she worked to organize a rally where important figures in the North Carolina education system spoke about the state's public schools. Alamour said she wanted the rally to focus on possible solutions, rather than solely observing the problems.
"I'm definitely a solutions-based person," Alamour said. "We're here to talk about the problems, but we also have to talk about how we're going to move forward."
Alamour is president of the Student North Carolina Association of Educators, an organization for students interested in future teaching careers, she said. On March 28, the organization conducted the annual "Extreme School Makeover" project, in which the future teachers select a school in need and do what they can to spruce the place up, painting walls, providing new books, and refurbishing, she said. This year they selected North Hills Elementary School in Winston-Salem for the project.
After the student deaths at UNC Chapel Hill, Alamour said she helped plan a vigil dedicated to the tragedy, along with a public forum where students could discuss the issue openly.
Alamour said she was surprised to learn she had been selected for the award. She had not been aware of its existence, but she said it is an honor to be recognized in this fashion. And the ability to communicate with other fellows across the country is a promising opportunity.
"It's a way to be in contact with students throughout the nation," Alamour said, "and perhaps collaborate on future activities."