Starting Fresh: young artists take on world
By Cory A. Thompson – coryetc@gmail.com – Features Editor | Aug. 27, 2014 |
Tall and lanky, former UNC Asheville student David Garrett towers over a refrigerated shelf. He holds a shopping list in one hand. His other hand clutches a meager sum of money, tips from his job as a barback. A shopping cart rests beside him with bottles of cheap wine poking past the rim.
Several hundred miles away, a small blue tour van putters towards Asheville. The Da Mafia 6ix, the men inside, expected a very specific set of alcoholic beverages to be waiting for them in Asheville. Fruity drinks, girly wines, cranberry juice and cinnamon whisky.
David wouldn't meet Da Mafia 6ix for several hours but the boss of his internship still needed him to pick up their rider. Garrett thumped the top of an uncooperative self-checkout machine as he dropped his last quarter in the cash deposit. He neglected to buy the cranberry juice. He couldn't afford it.
What does it take to break into the music industry?
According to UNC Asheville music professor Wayne Kirby, the establishment crushes the weak.
"I wouldn't recommend our new music business program to everyone," Kirby said. "You have to be bright, tenacious and highly competitive."
Everyone shoots for superstar status. Some make it, but most don't.
Garrett sighs and eyes the shopping cart full of booze. "'l'll drink this all at the after party," he said and ducks into a cramped car of his own. The stereo cuts on and Garrett's owns hip-hop album fills the sedan.
Garrett worked double duty that night. In addition to performing his role as the venue's intern, a position that had him emptying his wallet at the grocery, Garrett took stage that night as an opening act under the guise of his hip-hop alter ego, Davie G.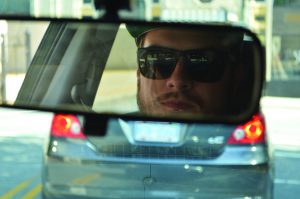 Garrett, 21, hails from Plano, Texas. He enjoyed a peaceful childhood. At 7, he began studying piano and classical singing. In high school, a trip to Italy exposed Garrett to electronic dance music, hip-hop and club culture. Several years later, in the fall of 2012, the union of circumstance and boredom conceived the artist "Davie G" somewhere in the anonymous halls of UNCA's seven-story freshman tower.
"I think it was room 302," Garrett said. "Randomly I met a wild character named Nathan Kairis who produced heavy-metal and music. At that time, he had produced a lot of music but never a hip-hop album. For some reason we started making music together."
Kairis, 22, from Raleigh since moved on from UNCA and now lives in Mars Hill. He plays in the Asheville heavy metal band "Niah" and produces music for a local studio. At the time, Kairis said he never expected the Davie G to project take off.
"David bought me beer to produce his music," Kairis said. "Sometimes we drank the six pack and I told him I wasn't drunk enough to produce music. I'd send him out for another."
Kairis's room, his "studio," in the Founder's residence hall looked like the hundreds of others in the building: bunk beds, dressers, one window and a door to the bathroom.

"It was makeshift," Garrett said. "Every night we had to tear down the bunk beds just to make room for the microphone stand. Some nights we were there until 4 or 6 and in the morning and I would just sleep on the floor. I didn't live on campus and I was in the studio four nights a week. I spent 40 to 50 hours a week in the studio, sometimes I'd be working on my music. Other times I would be working on other stuff just to the craft. Get my hands dirty. See what I could do."
Nine months later the pair held an album. They called it Fresh Start. They "dropped" it, which is hip-hop slang for putting it online. There were conversations with Def Jam. Then Kairis dropped out.
"I could never be a hip-hop producer," Kairis said. "It's not my passion."
"Nathan's taken his own path since our album," Garrett said as he maneuvered his black Mazda through the streets of downtown Asheville. "I really think the album was a fresh start." From the stereo, Garrett's recorded voice crooned the chorus of the album's title track. "I don't know your place. But I can give you a fresh start."
"Listening to my music before shows helps me prepare myself," Garrett said. "Besides, I only make music that I would enjoy."
The car whips into the parking lot and David throws the shifter into park. "I've experienced so much in life since I wrote this," he said. "I might say that on stage."
Since his album dropped, Garrett performed at a hodge podge of local venues. Chris Tyrell, another soldier in the army of young adults grinding their way to a living in music buisness, thinks David's real talent lies in promotions.
"David is so friendly," said Tyrell, a 26-year-old former Appalachian State student who runs a booking agency called Flight Deck Productions. "He can go out and charm people like I can't."
Garrett breezes through the doors of the small downtown venue New Mountain Ashevilleat 6 p.m. and meets Tyrell in the lobby. David snickers over Da mafia 6ix's taste in liquor. They stash the senior rap group's cinnamon whisky and wine in a back room, cranberry juice be damned. The senior rap group wouldn't arrive for three more hours. Slowly the venue fills.
By the time Garrett takes the stage, the sunlight that spilled through large barn doors through the side of the venue has all but faded. His backup singer bailed. Left alone, he sings the choruses as well as rap the verses. He's out of breath by the time finishes. Kairis sits in the corner nursing the cheapest beer the bar has to offer.
A small crowd of Garrett's friends and coworkers from Wicked Weed chant his name as he performs. Three songs, and as soon as it begins, it's over.
Three hours later, the opening acts die down and Da Mafia 6ix leaps into the limelight. Their first song is a classic number, "Break the Law." There's screaming, then rapping followed by flying panties. DJ Paul invites "all the little white women to twerk on the stage."
Garrett steps outside. It's getting late.
He doesn't have school in the morning. He's taking a break from university, but he knows it's worth his while to return, now more than ever.
"I felt like a poser when I started rapping," David said. "As I kept going, I found out more about who I am which is a process that continues to this day. Now I'm not even sure if I want to be considered a rapper. I appreciate music with a redeeming message and so much of hip-hop is so negative. I don't mean to hate on anyone but I consider myself more of a feminist than a lot of rappers today."
Professor Kirby said the liberal arts core separates UNCA's music business students from industry insiders.
"We're going to have music business internships with a liberal arts core. Our music business students will stand where others will fall," Kirby said. "They will be able to think critically, express themselves and problem solve like liberal arts students should."
On the dimly lit patio, Garrett said he feels too tired to consider anything but the route back to his house. He's done with the noise inside.
"I try to be positive," David said. "Even when I'm talking about sensitive subjects I want to show the light at the end of the tunnel."
In his hand he holds firmly onto a well drink – whisky mixed with ginger ale. He purchased the drink with one of the two drink vouchers he received for performing tonight. A $10 value. His eyes hang heavy.
"F**k the afterparty," he said, smiling into the bottom of his free drink. "I've had enough to drink tonight."