An unsolved campus murder, sexual assault revisited 44 years later
By Emily Henderson
Managing Editor
ehender1@unca.edu
The downtown Asheville Police Department dedicates a shelf to six three-ring binders overflowing with intimate information about Virginia "Ginger" Olson's life and death. This information, closed to the public, leaves the Asheville community with questions unanswered by the yellowing newspaper clippings from 1973 detailing her gruesome murder and sexual assault.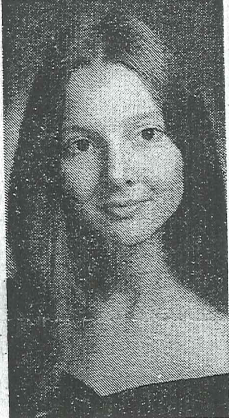 Local newspapers reprinted the same detailed account from the Complaint Report filed through the Asheville Police Department.
A 19-year-old sophomore drama student found slain across the street from the botanical gardens, body bound and gagged. The autopsy disclosed sexual assault and a stabbing to the heart and jugular vein.  
Today, the Complaint Report provided to the public stands out for the thick lines of black ink overlaying previously published information.
Retired APD Detective Kevin Taylor was asked to return after 30 years of service to investigate local unsolved homicides.
"At some point while she was in the woods studying, she was attacked. Brutally assaulted, sexually assaulted," Taylor said. "That's when the investigation began."
According to the Complaint Report, Olson's assailant perpetrated her murder between noon and 1 p.m. and her body was stumbled upon by two teenage boys at 3:30 p.m.
Women's dormitory proctor at the time, Deborah "Dee" James, said it was not until evening when the residential community heard of Olson's death.
"Nobody thought much about that she didn't show up for lunch. People asked about that, but you know, not everybody came to lunch on Sundays," said James, UNC Asheville alumna and professor in the literature and language department.
UNCA Title IX Administrator Jill Moffitt said Title IX in the early '70s did not address sexual misconduct. It addressed equal access to education and sports for women.
"Title IX isn't going to do anything in that situation until after law enforcement. We don't get in the way of law enforcement's cases," Moffitt said.
Evolving throughout the years to include the reporting of sexual misconduct, university Title IX offices are encouraged to provide appropriate services in remedy of the effects of sexual misconduct.
The APD came to campus to question students, faculty and staff.
"In 1972, we didn't have a fully accredited police department, so that's why APD came in," Moffitt said.
Today, jurisdiction would go to UNCA Police.
Taylor said countless interviews are included in the case file from students, faculty and staff to local residents tracked down from the botanical gardens around the time of Olson's death.
James, 22 years old at the time, said the detective assigned to the on-campus portion of interviews suggested the assailant was likely a fellow residential student.
"There are only 200 of us," James said of 1973. "So now you're looking at everybody like, 'OK, is it you?'"
In Olson's case, procedures were not in place to deal with campus-wide reactions regarding safety protocols and counseling services.
"It was hard because you're trying to finish work and it's scary. And you don't know — there are no answers," 66-year-old James said. "It's still unbelievable to me that it could happen and that we still don't know who killed her."
Student Affairs Administrator Moffitt said university administrators provide counseling and resources for the community as well as hosting a vigil and honoring the memory of the victim.
Olson's case, labeled cold due to a lack of investigative leads, will remain open until solved, according to Taylor, the longest serving APD investigator.
"We're not going to stop working it until it is solved, whether it's me or the next person that comes along and picks it up after I'm gone," Taylor said.
With advancements in DNA analysis, hope remains for the resolution of Olson's homicide case.
"There was a lot of evidence collected in this case," Taylor said. "Remarkably for 1973 and we've still got it all in evidence."
Olson was wearing her only pair of denim jeans and a blue T-shirt, which was later shredded and used to bound her arms, legs and gag her mouth.
"I've got stuff at a lab now to be analyzed, but I can't really comment on what those articles are or what the status is of any results that were done," Taylor said.
Where her octagonal wire-rimmed glasses sat neatly on her Spanish notebook that tragic afternoon, they now sit in APD's property and evidence room, along with her private diary, collected by the detectives from her dorm room.
Richard Beard, a UNCA student from 1971-73, memorialized Olson through a campus garden in 2013, when it was brought to his attention a memorial was never erected in her honor.
"While it is a travesty that it took so long to happen, it is also a lasting testament to the person we so loved and cared for, and the immense loss that we suffered and continue to suffer," former boyfriend Beard said via email.
Beard said a lot of thought, preparation, effort and love went into the memorial. He spent the day touring the university, finding the area between the art and drama buildings, Olson's two main areas of study, to be fitting of a memorial garden.
Jeffrey Doyle, a biology professor at Cornell University, said as time passes memories fade, even involving those closest to our hearts.
"I imagine that Ginger is mostly a mythical figure at UNCA at this point, 44 years after her murder — more like a ghost than like the wonderful, warm human being she was," said Doyle via email.
Olson and her high school sweetheart and boyfriend at the time communicated through handwritten letters, the last of which Doyle received a few days after her death.
"I am lucky to have loved, and to have been loved by Ginger, and then to have built on the foundation of her love and the tragedy of her death, a good and fulfilling life," Doyle said.
Taylor said although the APD is weighed down with unsolved cases, Olson's story continues to stick out in people's minds because she was truly an innocent victim.
"She was obviously a well-liked girl," Taylor said. "You know, it's tragic what happened. We'd love more than anything to find some resolution in this."
If you have any information relating to Virginia Olson's life or death in 1973, please contact Emily Henderson at ehender1@unca.edu