Former UNCA student Leslie Newman refuses to let painful disease bring her down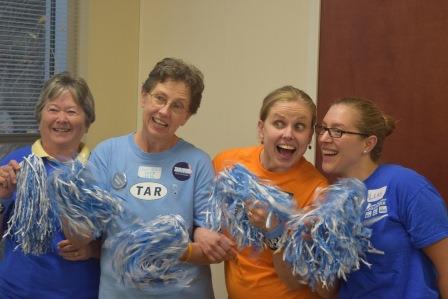 By Becca Andrews, News Staff Writer – randrew1@unca.edu
10/21/2015
During her first semester at UNC Asheville, Leslie Newman went head over handlebars while mountain biking, smacking her chin to the ground, causing two compression fractures in her spine.
She was fitted with a back brace but the problems didn't go away, even after the fractures healed. At night, she would feel tingling and numbness in her hands. One morning she woke up and the sensation was in her right leg.
Finally, she called her neurosurgeon and he told her to go to the ER. After a two and a half hour MRI, Newman was diagnosed with multiple sclerosis.
"So, at 18, I walk into a neurologist's office, sit down, and he just throws all of this out at me, 'You can have this and this and this.' I was in tears and I called my mom," Newman said. "I started to look it up on the Internet and read about it and it was horrible."
Multiple sclerosis is a chronic central nervous system disease that damages the myelin sheaths which protect nerves. The damage interrupts signals between the brain and the body. Some of the most common symptoms are fatigue, mobility issues, bladder issues, numbness or tingling and vision problems, according to MS Society data. MS is very unpredictable and affects each person differently. There are treatments but currently no cure.
Newman was diagnosed 12 years ago, and said she has since learned how to combat her symptoms by staying healthy, active and positive. She swims every morning and does weight training to build up her leg muscles. Newman also runs multiple local MS service and awareness events as well as an awareness group.
Newman organizes service days, during which volunteers go to the homes of those with MS to help with house and yard work that is too difficult. She has also been in charge of the Wellness Fair, which gathers together healthcare professionals and vendors, held at the MS Walk for the past four years. In 2013, she won the Order of Pisgah Award for Alumni Achievement from UNCA for founding the only volunteer-based Multiple Sclerosis Chapter in North Carolina.
Her former college roommate Leah McDowell, assistant director of campus recreation at UNCA, said she admires her uplifting outlook and the community she's created.
"She has really helped make a positive community which I think helps her cope with it," then McDowell laughs, "I think her license plate might say 'smile.'"
When she was first diagnosed her symptoms were mild. The numbness in her limbs did not hinder her graduating with a degree in art education in 2007. However, Newman said she could remember the preliminary symptoms of MS, such as double vision and tingling, from as far back as middle school, but she thought nothing of it.
Since then, Newman said her symptoms have changed, although she has gotten better at handling them. Her most prominent and life altering symptoms are bladder issues and a foot drop in her right foot.
"When you walk you step forward to clear the floor, you have to flex your foot. A common symptom of MS is that you can't flex your foot so it drags," said Newman, taking off her shoe to show the drag more clearly. "For about four years I used a cane. My legs just always feel so heavy. It affects my daily life a lot."
Now she uses an ankle foot orthotic, to keep her foot from dragging, a common orthotic for MS patients. Most AFOs are set, but hers, made by Skyland orthotics, has a drain joint that allows for some flexibility and enables her to drive. Many people with MS have a walker due to loss of flexibility and movement, Newman said.
It surprises some people to see Newman with an ankle brace. She is young and athletic, not the type you would expect to be handicapped, she said. But sometimes that makes it more difficult because the invisible symptoms cause the most discrimination.
"It's really hard for people to understand, people with MS can be misinterpreted because every person is different," McDowell said. "A lot of times people will think, 'What is wrong with that person? Do they have a mental disability? They're slurring their speech, are they drunk? Did they have a stroke?' People just don't know enough about it."
One of the most common symptoms of MS is fatigue, something that people cannot see, she said. Most people are simply not aware of the things they take for granted. Newman uses the example of people who park in handicapped parking spaces who do not need to. It may seem like a little thing to someone but for her it means not being able to go to the store.
"Walking to the door is hard, me walking across the parking lot to that door is impossible," Newman said. "So things like that where people just aren't aware or they don't really care, that's when I feel discriminated against. It's these invisible symptoms cause people to get discriminated against."
These moments motivate her to create awareness in Western North Carolina. After graduating, Newman taught in Charlotte for two years before her symptoms made her unable to keep a job. When she moved back to Asheville there was very little awareness, she said. The MS society here needed to grow.
She started volunteering and offering to help run some of the events. It couldn't have come at a better time. The first summer she spent back in Asheville was difficult. That summer, Newman said, she was feeling sorry for herself, her symptoms were aggravated by the heat and she was trying to get disability.
"Disability is an extremely difficult process." Newman said. "It's almost a guarantee that you will get denied the first time. And if you get denied the second time you have to go through a court appeal. It's highly reminded to get a lawyer. I was denied the first time."
After being denied once, Newman said she did a three-hour test at a rehab hospital where they evaluated her abilities to determine if she qualified for disability. She had to walk on a treadmill, do memory tests and lift things. Two weeks later she received disability.
"It was hard when all the symptoms were piling up I couldn't do all the things I loved to do," Newman said. "That was when I organized the first service day and that was really a turning point."
Shannon Hinson, vice president of the Greater Carolinas Chapter of the MS society, said she feels lucky to have Newman in the community.
"Other communities don't have a Leslie Newman," Hinson said. "We are so incredibly blessed to have someone who can pull all of these organizations together."
Although her life did not turn out the way she expected, Newman continues to work hard with a smile.
"I don't teach in the schools, I don't teach in the way I thought I was going to," Newman said, "but it's different way of teaching and connecting with people, and I think I'm good at it and I enjoy it."