Asheville looks to regroup after loss to High Point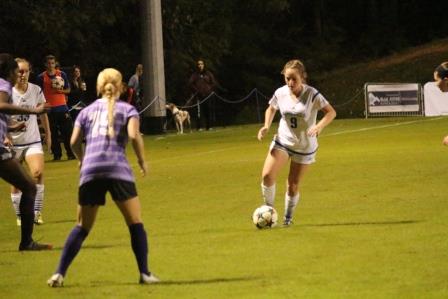 By Chris Jones, Sports Staff Writer – cjones5@unca.edu
10/21/2015
The UNC Asheville women's soccer team was shut out Wednesday night at Greenwood Field against the Panthers of High Point University, falling by the score of 3-0. UNCA's two-game conference winning streak was snapped by the loss, and High Point posted their ninth shutout of the season, setting a Division 1 program record.
"I am a very proud coach tonight, very satisfied on the team's play on every side of the ball," said Marty Beall, High Point women's soccer coach. "A lot of our girls on the team are fighting through injuries and they are playing great and showing a great commitment by pushing through the pain and trying to continue playing, winning games and competing at the highest level."
High Point improved to 8-3-4 overall on the season and 3-2-1 in the Big South with the win on Wednesday night. Asheville drops to 10-5-0 overall on the season and 4-3-0 in the Big South.
"We came out flat tonight as a team. It was something that we couldn't afford to do in the game tonight, because when you play a really good team as the Panthers are, those teams will punish you, and that's what happened tonight; especially a conference rival," said Michelle Demko, UNCA women's soccer coach. "We have to go back, reset, fix some things and get ready for the next game."
The Panthers started the game off hot right away when junior Jenny Marshall headed in a goal off a cross from sophomore Paige Lloyd in the fifth minute of the match. The goal was Marshall's first of the season.
The Bulldogs went to halftime trailing 0-1 to the Panthers.
High Point went right back on the attack, when in the 63rd minute, sophomore Bri Jean-Charles netted a ball into the right side of the net past UNCA goalkeeper Lily Brown to bring the score to 2-0.
The Panthers scored once more in the 87th minute to put a stamp on the match. Freshman Tyler Gordon netted a goal from 25 yards away to score the third and final goal for the Panthers.
UNCA and High Point both had 12 shots and seven shots on goal. This was just the third time UNCA has been shut out compared to shutting out opponents six times during the season.
High Point kept a closed lid on the goal throughout the match and saved 12 shots, and seven shots on goal from the Bulldogs. High Point sophomore goalkeeper Alex Persiani earned her seventh clean sheet of the season. She needs one more shutout to tie the High Point University single-season mark.
"Our defense and goalkeeping was amazing tonight, nothing to say bad about in this match tonight. We played together as a team tonight and that was the key to our success," said Brandi Fontaine, High Point associate head coach.