Building blaze on Merrimon leaves two students homeless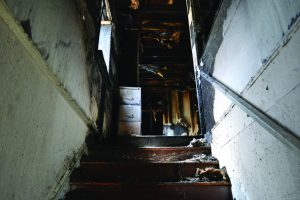 At 3:15 a.m.  Monday morning Asheville emergency dispatchers received an urgent distress call from North Asheville according to the Asheville-Buncombe arson task force.
"The girl on the phone said she saw a roof on fire," said Breena Williams, an arson investigator. 
Ten minutes later, resident Cory Thompson burst out of the street level entrance to the N. Asheville apartment above R3mix, a vintage clothing store.  Firefighters were already on the scene. Resident Garrett Ring remained inside for several more moments.
"When I woke up, the smoke was so thick I could hardly breathe," said Ring, a junior environmental science student at UNC Asheville. "I rushed down the fire escape stairwell, but I was unable to get the door to the street open."
Firefighters knocked open the door and retrieved Ring before reentering the apartment to battle the blaze. The fire raged for several hours and resulted in the total destruction of the structure.
"We think the fire started somewhere in the back storage area of R3mix clothing," Williams said. "Somewhere under the study and porch area of the upstairs apartment."
Wendy Owens, the proprietor of the clothing store, used the storage area for excess clothing, according to property owner Robert Johnson.
"I could get to my computer and the chair to sit in front of it, but the rest of the back area was filled with clothes," Johnson said. "This whole area went up like a match."