Bulldogs remove Winthrop from first place tie in Big South Conference
Charles Heard
Sports Editor
cheard@unca.edu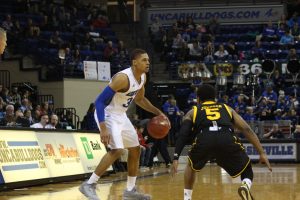 The Winthrop Eagles and UNC Asheville Bulldogs provided fans with 50 minutes of exhilarating basketball. Any first time attendees to Bulldog basketball were spoiled by this double overtime instant classic.
Head coach Nick McDevitt said the intensity and excitement of the fans surpassed anything he's witnessed in his career as a Bulldog.
"I've been here 20 years and that's as loud as I've heard our home court ever," McDevitt said. "Off the top of my head, I can't recall a better Big South game than this one was."
Coming into Thursday night, the Bulldogs, the Winthrop University Eagles and the Liberty University Flames were all tied for first in the Big South Conference. Finishing the regular season in the top spot is lucrative because the team to do so is guaranteed home court advantage throughout the conference championships.
There was a lot riding on a win. Prior to the game, the Bulldogs held the best home record in the conference at 10-1. However, Winthrop happened to hold the best away record at 10-2. The scene was set for a game beaming with competitive spirit and nobody on the court shorted that expectation.
Both teams played unbelievable basketball, filled with grit and finesse in a glorious oxymoronic spectacle. Players were slamming into one another, sending opponents to the ground, allowing nothing for free from the opening whistle until the end of a double overtime. Despite the intense physicality, it would be unjust for any viewer to assess the team's performances as sloppy. Right from the start, both squads kept their passes precise and their handles crisp and smooth. High arcing threes were sending the crowd into a frenzy only three minutes in.
Bulldog guard and hero of the game MaCio Teague said the Eagles offense had a couple of formidable players with a strong supporting cast.
"They had a very good two man band, Keon Johnson and Xavier Cooks. Those two combined for 60 points," Teague said. "And those Broman brothers made big, timely shots throughout the whole game."
Winthrop's "Broman brothers" Bjorn and Anders Broman played the role of three point specialists, combining for 7-13 from behind the ark.
A "two man band" characterizes the situation well. Winthrop's Johnson and Cooks both played extremely impressive games. Cooks scored 20 by dominating down low, making eight of his 11 takes before fouling out, but it was Johnson's performance which kept the Winthrop section in an excited frenzy chanting "you can't guard him" and the Bulldog fans fearful of a home court defeat.
Johnson, a full 5'7", scored 40 points on 29 shots, thus shooting 48 percent from the field. Nimble and able to pull up from anywhere, Winthrop's point guard drove in consistently, weaving between Bulldogs and causing problems for the home team from behind the ark late in the game.
McDevitt said they just could not figure out how to stop Johnson.
"We were trying to throw all kinds of different looks at him to break his rhythm," McDevitt said. "We were switching from man to zone back to man back to a different zone, putting different guys on him whether it was Ahmad or MaCio or Kevin and it didn't seem to affect him too much. No matter what we did, he had an answer."
However, despite Johnson's success, the Bulldogs fought on.
"Basketball is a game of runs and we continued to play hard even when they went on big ones," Teague said. "We kept believing in ourselves."
UNCA guard Ahmad Thomas, who finished with 26 points and 10 rebounds, said they were able to overcome the two man band by playing as a team.
"Our togetherness, if that's a word, allowed us to push through," Thomas said. "There were moments when they'd go on runs but we stuck together and stayed tough and then would go on one of our own."
McDevitt said the team showed their mental toughness by never considering themselves out.
"When you go down a couple times, like in the second half we got down seven or eight points and late in the game we were down three with only a few seconds to go, if you're not mentally tough out there and your head hangs down, you're in big trouble," McDevitt said.
That three point deficit with six seconds left in regulation certainly took toughness to overcome and Teague showed it by nailing the three point shot to keep the team alive into overtime. Teague said making the shot felt great but the team's confidence in him to do so was more special.
"When you have the coaching staff believing in you, fellow players hitting you on the chest saying, 'Mace knock it down' and then you go out and make the shot, that's a great feeling," Teague said. "It was great because earlier this year I missed the one against Greensboro, but the guys never stopped believing in me and I thank them for that."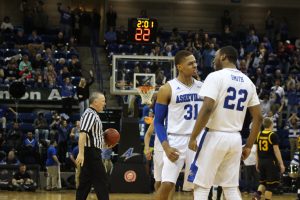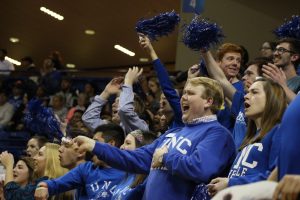 The first overtime was as back and forth as the game was in regular time, with the Bulldogs scoring consistently down low but the Eagles still draining threes. With seconds left, the Bulldogs were down two, until Teague drove in. Though he missed, Thomas was there to put it back and send the game into the second period of over time.
The student section erupted. The Bulldogs won in the second period of overtime, 104-101, Teague sealed it with a block on Johnson's final three point attempt.
"Even on our own court we had to fight the entire game, but we came out victorious," Teague said. "The crowd kept us going the entire game."
"It's great to have the community, students and fellow athletes here to support you," Thomas said. "It's great that they took the time to come out, they could've been doing homework or studying for class tomorrow so for them to be here to show support is great."
The Bulldogs traveled to Longwood university saturday and won by a sizeable margin, 91-69. Teague scored a season high 30 points in the win, and Thomas scored 22. Liberty also won their saturday matchup, so both teams remain tied for first in the Big South with matching 12-2 conference records.