Campus community reflects on party culture at UNCA
Daniel Secor
Contributor
dsecor@unca.edu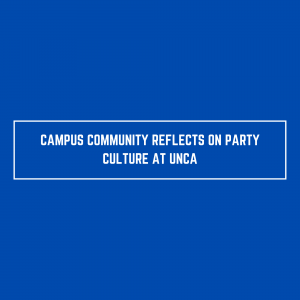 Members of the campus community recognize the lack of party culture at UNC Asheville and said this can be beneficial to students. 
"UNCA students tend to enjoy socializing in smaller, more intimate groups," said Jackie McHargue, dean of students. "They seem to appreciate more meaningful connections and I think that's pretty awesome."
According to faculty, UNCA party culture is minimal.
"We don't have the party culture that's associated with other college campuses," said Blair Jenkins, associate director of residential education. "In fact, the party scene is very low at UNC Asheville."
Faculty say the number of alcohol-related incidents has remained fairly low over the past few years.  There were only 29 liquor law violations on campus in 2018, according to the UNCA crime log.
Some transfer students coming from bigger universities say there is a huge shift in party culture after coming to UNCA, and this can be quite a positive shift. 
"If anything, I was pleasantly surprised. I found the culture at my old school to be really toxic, dangerous and overly anonymous. This all kind of came with the size of the school," said Emily Weatherspoon, a 21-year-old transfer student from UNC Chapel Hill. 
Party cultures vary across all college campuses. The popularity surrounding Greek life is a major factor, students and faculty say.
UNCA is not a party school in the traditional sense, which has to do with our lack of Greek life, McHargue said. 
"At Carolina, party culture was mostly centered around fraternities, especially for underclassmen who may not have had access to alcohol on their own," Weatherspoon said. "If someone wanted to go to a party, they could go to frat court any weekend and find one."
Another difference in party culture transfer students say they notice is the increase in genuine conversations that takes place.
"People actually want to communicate with each other," Weatherspoon said. "Parties here feel a lot less performative and more genuine." 
According to Collegiate Statistics officials, more than 1,800 college students die per year due to alcohol-related accidents. 
A major risk that comes with excessive alcohol consumption is sexual assault, according to faculty. 
"The most common drug in a sexual assault is alcohol," McHargue said. "It impacts decision making and can incapacitate a person."
The majority of on campus sexualt assault reports involve alcohol consumption, Jenkins said.  
The inability to balance social life and academics causes 159,000 of the nation's current freshmen to drop out, California Polytechnic State University officials say.
"Alcohol is a drug that impacts the body in many ways," McHargue said. "Excessive consumption can definitely impact a student's academic progress."
This issue presents itself heavily at many rural universities, such as Western Carolina University in Cullowhee, according to American Addiction Centers resource officials.
"Western is a pretty outdoorsy school. If you aren't hiking or fishing, you're probably out partying somewhere," said Colin McCormac, 24-year-old former WCU student.
Lack of access to public transportation greatly affects the safety of students, McCormac said. 
"We didn't have Uber or Lyft," he said. "Our best bet was the church bus that took kids home from the bar every weekend."
Unfortunately, some students at schools like WCU say lack of safe transportation hinders social life.    
"There was one taxi that went from Sylva to Cullowhee, but it was outrageously expensive," McCormac said. "We either had to have a designated driver for the night or just drunk drive."
Recent UNCA graduates say having ride services such as Uber and Lyft available helped them avoid drunken driving.
"Uber was always our go-to move after a night of partying," said Jacob Secor, 23-year-old UNCA graduate. "They were always pretty cheap, especially after splitting it with two or three other people."
Some students who attend more rural universities say having access to services like Uber and Lyft would make party culture much safer.
"I think there should be Uber in every town where there's a college," McCormac said. "I know from experience that we'd all be safer."  
Partying in college exists as common knowledge to society. According to the Washington Post, 60 percent of college students in the U.S. go to at least one party per month. 
A student's academic progress is more likely to be negatively impacted when they engage in drinking behaviors on a regular basis, according to Jenkins. 
"Partying absolutely affected my academic progress. I didn't have an off switch and neither did the people I surrounded myself with," McCormac said. "There are people who did have an off switch though, and those are the ones who pushed through and earned a degree."