Chancellor Mary K. Grant announces resignation
Maggie Haddock
News Editor
mhaddock@unca.edu
After just five semesters in her position as chancellor at UNC Asheville, Chancellor Mary K. Grant announced her decision to resign on Wednesday. Chancellor Grant will leave the university at the close of the fall semester to pursue the role of president at the Edward M. Kennedy Institute of the United States Senate.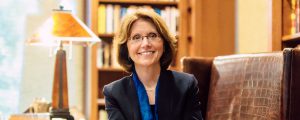 "The work at UNC Asheville has been my dream opportunity and I never thought that there would be something that would pull me. To do this work on these national issues is just so important right now," Grant said.
The Edward M. Kennedy Institute for the United States Senate, located in Boston, serves as a museum specializing in the education of the U.S. Senate and the importance of participatory democracy. Current and former members of Congress compose the board of directors, as well as those involved in higher education much like Grant.
"We're in a time in the country where we're not doing our best at speaking with one another very well, or listening or hearing," Grant said. "The institute was designed to do that work and to think about the processes of government and how the processes of government make a difference in solving public policy problems. It's such important work in our country and so to have this opportunity to do this work is just so meaningful."
Although her departure will end her administration at UNCA, Grant assures her relationship with the university and schools like UNCA will not be terminated.
"One of the things that I have been involved with for years and continue to be with here at UNC Asheville is the worker's Campus Compact which is a national organization which connects higher ed institutions and nonprofits on civic engagement," Grant said. "I will continue to be involved in that work on a national level, so to be able to connect here with the work that UNC Asheville does in the world of civic engagement is really tremendous."
Grant said she hopes to extend relationships with liberal arts institutions such as UNCA on a national level once she takes on her position as president at the institute.
"I look at the work that happens at schools like UNC Asheville, the public liberal arts schools, and I think that the finest education, the students that I have met have just been so profound," Grant said. "One of the things that we would be looking to do at the institute is to build partnerships and collaborations, and some natural places to do that is colleges and universities across the country."
Micheal Stratton, chair and associate professor of management, said Grant's leadership and presence on campus will be missed deeply by students, faculty and staff.
"We will definitely, as we have already, experience a sense of loss with Chancellor Grant's departure. All of us have come to not only respect and admire her, but have been witness to a compassionate, empathic, and genuinely skilled leader," Stratton said. "Whether it has been her support for the arts or our student athletes, or her work to craft and maintain a superb leadership team, Chancellor Grant has accomplished more in three years than many leaders might be able to do in a decade."
During the five semesters as chancellor at UNCA, Grant established multiple partnerships with organizations including the Andrew W. Mellon Foundation and the North Carolina GlaxoSmithKline Foundation. Additionally, projects such as the STEAM studio, unveiled last year, were completed under her administration, according to a public statement released by Chairman Kennon Briggs on Wednesday.
Michael Davis, a junior business student who serves as a student aid to Grant, considers her time at UNCA to have a positive impact on the campus community as a whole.
"I think Heaven sent us their best gift. I can't speak for her predecessors, but when I see who she is and what she's done for UNC Asheville, she has impacted it in ways that I don't think anyone has. So, I think Heaven sent us its very best, absolute gift," Davis said.
After Grant's resignation, a search committee will convene to find her successor, and a temporary replacement will fill her position until the search committee elects a new chancellor.
"An interim chancellor will be appointed during the time in which the search process is implemented. Our board of trustees, vice chancellors, and our faculty, staff and student leaders will have our strategic plan to guide us during the spring semester while the search is conducted," Stratton said.
Grant's administration will not leave the campus unprepared for her departure. While the announcement came to the campus abruptly, Davis assures her work will support the campus through the transitional period between her resignation and the appointment of a new chancellor.
"With the initiative she has set forth as far as a strategic plan, I hope whoever is next carries on the vision. The vision never changes, it just changes leaders, as well as the method of how the vision is carried on," Davis said. "I hope, I pray, I really trust that whatever happens, we stick with what tools have been given to us and that we implement the tools that we have been equipped with under her great tutelage and leadership at the university."
While the decision to resign from her position so abruptly will cause the campus community to go through a transitional period, Grant assures her departure in December will not hinder her role as chancellor for the remaining months at the university.
"I'm not done yet. I'm here until December, and I am going to proudly be part of that graduation. We have a lot of work to do this semester and we are going keep at it," Grant said. "The work of the university here is going to be my priority for the fall, and then I look ahead. I'm the chancellor of UNC Asheville and it's a joy to be in that role until the day that I wrap up."