College students struggle to balance school and work
Lillie Boudreaux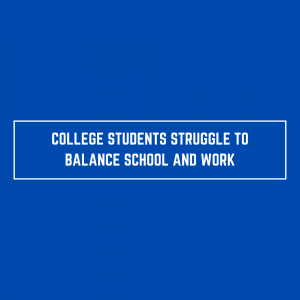 Contributor
lboudrea@unca.edu
Many UNC Asheville students struggle to balance work and school. 
"Education should be a human right, it shouldn't be something for people with money," said Christina Rizleris, a UNC Asheville academic and international student adviser. 
According to advisers, many students at UNCA must hold jobs during the academic year in order to afford tuition. 
"I have a lot of students who have to choose between school or working full-time," Rizleris said. "A lot of time students during the withdrawal period figure out, 'Should I stay in school or take a break?' We do a lot of counseling situations to see what works best for you." 
According to university numbers, students older than  25 years old make up 15 percent of the student body and 11.8 percent take less than 12 credit hours. These numbers have consistently decreased in recent years. 
"We don't have any online classes, we don't have a lot of night classes. I think we can be more competitive and more assisting to students by just offering night classes and online classes. I really think that's a simple solution right there," the adviser said. 
Cheaper higher education in Asheville can be found at Asheville-Buncombe Technical Community College. Attending AB-Tech costs roughly $1,300 a year for North Carolina residents taking 16 or more credit hours, while UNCA's cost of attendance is more than $16,000. 
"At UNCA, every Tuesday and Thursday admissions and one of the advisors are there to help students kind of figure out how to best transfer into here," Rizleris said, "If AB-Tech is a better, cheaper option, go to AB-tech for two years, save the money and then come here." 
The cost of attendance can be a determining factor for students when choosing which college to attend. 
"Cost was one of the most important things to look at," said Christopher Ferriell, a 19-year-old engineering major from Statesville. "I was looking at other schools like NC State and Greensboro. I was looking at what I was getting offered from the schools for my academics and weighing out the costs. UNC Asheville ended up being my best choice." 
Students are not only required to pay for tuition, but also books, supplies, transportation and other miscellaneous expenses. According to the Department of Financial Aid, the estimated annual cost for these expenses adds up to $3,664. 
"The amount we pay for school is ridiculous and then it doesn't stop there. If you go to a class, there's always something else additional that you have to purchase. In my calculus class, I paid $104 for a software that I have to do my homework on. So either you buy it, you spend more money that you don't have, or you fail the class and you waste money that you don't have," Ferriell said. 
According to the U.S. Department of Education, 47 percent of UNCA students receive federal loans. The median total debt after graduation is $16,402-$26,271 depending on their field of study. 
"Loans can become an issue. You get the money and you can pay for your school and you can pay the loans back later but that interest collects and I don't like owing people money. Debt is a bitch," he said. 
Ferriell works at U-Haul Moving & Storage of South Asheville part-time while also being enrolled as a full-time student at UNCA. 
"It's definitely a lot more stressful. Last semester I felt like I didn't have any time. I had 17 credit hours. On the weekends I was working Saturdays from 7 a.m. to 2 p.m. and Sundays from 9 a.m. to 5 p.m., I was going to classes five days a week and didn't have any rest so I was feeling kind of burnt out," Ferriell said. 
Balancing busy work and school schedules can be damaging toward mental health, students say. 
"It affects my happiness. It's definitely detrimental to how I feel," the 19-year-old said. "Always being busy, I never had any time for myself." 
UNCA uses Handshake, a job and internship networking system, in order to post jobs available on campus. On-campus jobs are open to all students regardless of their financial aid status. Available positions include lifeguarding, front desk associates, resident assistants and more. 
According to the UNCA Career Center, more than 1,000 students are employed on-campus every semester, but some students prefer to work off-campus for higher wages. 
"The on-campus jobs do not pay enough money. The most I've heard is maybe $8.50 or $9 an hour but I have not heard much after that," Ferriell said. "Where I'm working I'm getting $13 an hour, so it's more beneficial for me to travel a bit. I can get to work and get paid a lot." 
Chelsey Augustyniak, the associate director for career education, said the benefits of on-campus employment are more than fiscal. 
"I assume, or I would hope, that a lot of managers or supervisors on campus are taking kind of an educational standpoint when they're supervising, and not just having a task done but wanting a student to be educated on things and really develop as a person and a professional outside of just doing regular tasks," Augustyniak said. 
According to the Career Center, on-campus jobs can be better for fitting into tight class schedules. 
"One of the logistic benefits is that people on-campus understand that y'all are students first," she said. "So they're very flexible with your schedule."