Democracy North Carolina trains lobbyists for upcoming lobby day against gerrymandering
Maggie Haddock
News Writer
mhaddock@unca.edu
On a Wednesday night around 6 p.m., the sun sets over the steeple as the Hill Street Baptist Church fills with eager participants, some seasoned veterans in the trade, others just beginners who took their own initiative at the last straw of intolerance. Hosted by the non-profit organization Democracy North Carolina, the event serves as a training session for citizen lobbyists, gathering political activists of all intensities to discuss the precise and strategic language lobbyists must use to speak to their state representatives.
"Lobbying is, in a really heavy way, about relationship building to advance a cause which typically comes from citizens communicating to representatives," said Darlene Azarmi, Western North Carolina organizer of Democracy North Carolina.
On March 1, citizen lobbyists will talk to their representatives in Raleigh, North Carolina, about gerrymandering, the redrawing of districts in order to skew election results in a party's favor. The redrawing of districts often becomes so specific to the point where houses in the same neighborhood may be in separate precincts.
"Gerrymandering has been litigated by both parties for a long time and they have taken turns doing themselves favors and ignoring us," said Democratic National Committee member Jake Quinn.
The district design carried out by congressional members proves to be much more than polarized dominance. Often racially fueled, gerrymandering becomes much more personal for some than just a politician's majority vote.
"We currently have three redistricting cases that are based on illegal racial gerrymandering. We know that our congressional districts were thrown out and had to be redrawn and we are aware on a court case that was decided on in the fourth district last year that threw out a lot of our state House history as well as state Senate districts," Quinn said.
The church held an atmosphere of unadulterated American dignity from its participants. Eager students of the trade took notes and watched tutorials on how to lobby, given pieces of information from cartoon characters and watching organizers act out skits portraying a prepared lobbyist and a well-receiving politician. At times, the political pride switched to a more personal conversation about citizenry, grasping the excitement and power held in the work of lobbying.
"We hear about paid lobbyists all the time. Those are folks who do that as their livelihood. They are in there every single day getting paid by their organization to advocate for a certain position on a certain issue," Quinn said. "That's what makes our voice as citizen lobbyists so much more valuable to our elected leaders. They know when they hear from citizen lobbyists, they hear it from the heart and not from the wallet."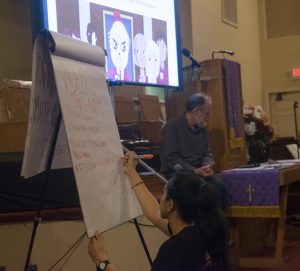 The participants listened intently and learned together, but they all come in at different levels of experience. Tom Coulson, a seasoned lobbyist of 18 years and a participant of the event, will lobby with his wife Barbara once more to fight gerrymandering.
"I became associated with Common Cause early in the 1980s. I worked for reform in the government, such as lobby reform, and trying to get money out of politics," Coulson said. "I recognized many years ago that gerrymandering was hurting us."
Coulson shared his hypotheses about gerrymandering and the long-term effects it would have on the future of politics and polarization.
"I think it's why we have such polarization. If you are in a district where you know your side is going to win, the only thing you have to worry about is someone more extreme than you," Coulson said. "Pretty soon, we're just going to have the fringe people from each party. Fringe people are not good at compromise so we really need to correct this situation."
First-time lobbyists such as Beverly Hill from Burnsville, North Carolina, joined the lobbying training out of pure disdain of the practice.
"I am certainly out of my comfort zone by being here, but my country is also out of my comfort zone," Hill said.
The participants learned throughout the night sitting in the red, velvet pews about exactly how to lobby, grasping the clarity, efficiency and charisma which each individual must obtain in order to lobby for their cause to professionals in opposing fields; politics a science, lobbying an art.
"It's all about looking at lobbying as a tool for building political power," Azarmi said. "As a part of our democracy, we have to play an active role and lobbying is one of the strongest roles that we as citizens can play."