Gig economy: Asheville resident turns his side job into a full time business
Jennifer Floyd
Contributor
jfloyd@unca.edu
Jasper Adams spent hours playing with Legos when he was growing up. It was this drive to build and create that led him to pursue his bachelor's degree in architecture. When it came time for him to join the field, he started second guessing his choice.
"I did some internships," he said. "It was extremely anti-social and that didn't jive with who I am."
Adams, 29, graduated from the University of Virginia and upon leaving Charlottesville in 2011 he returned to Asheville.
"I didn't know what I wanted to do at all and I wasn't excited to be back in my hometown," he said.
He had worked in the service industry while in college and took up waiting tables while he tried to figure out what path he wanted to take.
"About a year after moving back, through my girlfriend at the time, I met two guys Nic Goodman and Robert Yeager  St. John, who goes by Yeager," he said.
Both graduated from UNC Asheville with degrees in New Media. The friends would meet for $2 pints at French Broad Brewing and it was over beers that a business plan hatched.
The three discussed freelance work they were doing on the side and decided to take a leap.
"We were like 'it would be kind of cool to start a company.' We were all 25 at the time," Adams said.
So, they started Ninebar Creative, a company that specializes in graphic and web design.
"We got a couple of small projects through word of mouth, friends and family and got an office space downtown in the flatiron building," he said.
The trio hoped to take their side projects and turn them into their main revenue stream. Jeff Kaplan, Director of Entrepreneurship at Venture Asheville specializes in doing just that.
"I like to help people turn their side hustles into bigger projects," Kaplan said.
Adams, Goodman and Yeager decided to forge ahead on their own. It started slow, since they were all working other jobs.
"We were only working 10 hours a week a Ninebar. It just felt cool to own a company. We weren't advancing or professionalizing. We were basically making enough money to pay the rent for the office, our software subscriptions and pay ourselves a couple hundred of dollars every couple of months," Adams said.
For Goodman the idea of going into business with Adams, who had no formal training in either graphic or web design, was exciting.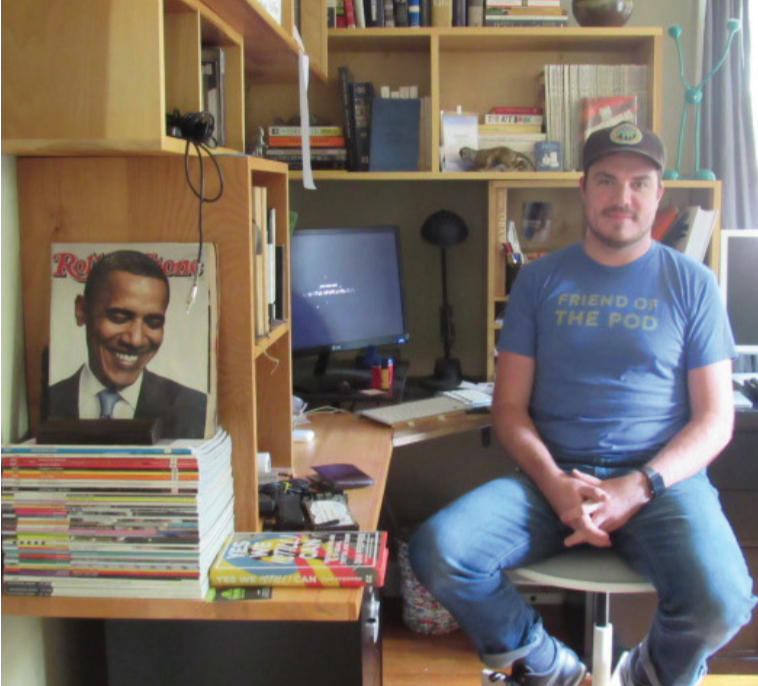 "It was really fun," Goodman said. "While architecture isn't the same as graphic design, the basics of good design are pretty universal. So we can speak the same language when working on problems."
Then the third year came.
"A few things happened in year three. We decided it didn't make sense to have the office space. We were doing something we could very easily do from home or a coffeeshop. It's cool to have an office, but it's totally unnecessary. We could use that money to pay ourselves," Adams said.  "So, we left the office and around the same time Yeager and his girlfriend decided to move to California."
Goodman wanted to leave his job at a print shop downtown and Adams decided to cut back on shifts and leave his other side gig, a marketing job with the restaurant Rhubarb. The duo decided to take their business venture more seriously.
In a city where, according to the Asheville Area Chamber of Commerce, the cost of living is higher than the US average, this was a risky move. Kaplan thinks this atmosphere breeds innovation. "Turbulence in external environments creates opportunities for entrepreneurs to take advantage of," he said.
In the past two years Adams and Goodman have built their clientele base. They also decided to make the business more legitimate on the financial side.
"Instead of making money and just putting it all into a bank account and taking disbursements for pay, we run things through payroll now. We're making enough money where that makes sense," Adams said.
Three years later Adams is still wary of relying solely on Ninebar to make ends meet. He bartends two shifts a week at Buxton, a barbecue restaurant in downtown Asheville. But Adams and Goodman are invested and now work full-time hours out of Adams' small bungalow in the Oakley neighborhood, which he bought last year with his girlfriend.
"I could eke out a living without having to bartend" he said. But he openly admits his biggest fault is his lack of confidence in his ability to build a strong business.
"I could have left my full-time job earlier and I chose not to because I didn't feel comfortable" he said.  "When we began we didn't have much confidence, we set out prices super low. We were tentative in saying this is the design we advocate for and this is why."
While that lack of confidence still presents itself, it's showing up less and less.
"Our greatest success is that we've learned to be confident in ourselves and our work. Realizing that we've never gotten feedback that our prices are too expensive. That tells me that all the times I've been worried, I've been wrong" he said. "I need to trust what demand in the market is telling me, not my own fear."
Adams sees the future of Ninebar Creative as a bright one.
"We don't do any marketing. It's awesome that so many people like our work enough that they are recommending it to friends. But we want more of our work coming from people seeking us out," he said. "Since it's just the two of us, there's a ceiling in terms of the amount of work we can do. Our goal by 2019 would be to be turning clients away. That would be proof of concept."
At that point the pair would be making as much as they would be working for a creative agency. From there they will weigh the idea of expansion.
"Do we want to hire a person part-time? Do we want to just keep making more money ourselves or do we want to cap that and look at getting an office somewhere?" he said.
For those who are looking to go into business for themselves, Adams advises them to pace themselves.
"The first thing to do is to be honest with yourself about how much money you need to make. I think people get so excited about the thought of it that they don't think honestly think about it," he said.
"You may not want to, but you may need to get a part-time job waiting tables or keep your 10 hours at the bookstore. I think the mistake that a lot of people make is that they jump out of what they want to stop doing to start the thing that they really want to do sooner than they should," he said.
"I'm not saying don't do it, but it would be smarter, maybe less satisfying, but smarter to wait six months, make more money and finish getting the skill set you need. Set your framework up nicely."