Grace Potter's Magical Midnight Road Show makes time for Asheville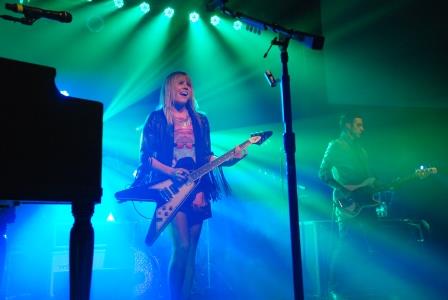 By Ashley Elder, News Staff Writer – aelder@unca.edu
10/21/2o15
Not often does a band perform at the Orange Peel two nights in a row, but Grace Potter took the stage on both Oct. 13 and 14.
With blond hair in her face and a flying V guitar in hand, Potter's electric energy could be felt throughout the entire room Wednesday night.
"I like her bluesier songs. The new album is a little different," said Joe Avento, who plays guitar for the Lauren Cole Band in Johnson City, Tennessee.
Avento said he saw her play back in December 2013 at the Warren Haynes Christmas Jam in Asheville.
"It was at the U.S. Cellular Center, and she stole the show," he said. "She was great, the band was great."
Avento said one of his favorite songs is "Medicine," which happened to be the first one Potter sang that night.
"'She's got the medicine that everybody wants,'" said Avento, quoting a lyric from the song. "She proves that every night."
Matt Welborn said he has been part of the Grace fandom for about five years.
"If Janis Joplin grew up in the '80s, this is how she would sing," he said.
After opening for the Rolling Stones in Minneapolis recently and singing on stage with Mick Jagger himself, Potter posted on her Instagram, "Dreams come true."
"It shows her talent that everybody is into her," Welborn said.
Potter's debut solo LP, Midnight, sounds a little more like pop without her band, the Nocturnals. However, members of the Nocturnals still tour with her, including guitarist Benny Yurco and her husband and drummer Matt Burr.
"This record is even different than the previous one so she is growing as an artist. It's excellent to watch that," Welborn said.
For her second night in Asheville, she mixed songs from her new album with ones from past albums to introduce the audience to her newer sound, while still playing the crowd favorites.
About halfway through the show, Asheville native Warren Haynes joined Potter on stage to perform "Gimme Shelter" by the Rolling Stones and "Gold Dust Woman" by Fleetwood Mac.
The crowd came alive, clapping and singing along as loud as possible.
"If people like him come out of Asheville, then Asheville is the coolest place in the whole world," said Potter as Haynes exited the stage to raucous applause.
Potter ended the show with the lead single off her previous album of the same name, "The Lion, the Beast, the Beat."
After taking a bow with the band, Burr surprised everyone when he suggested they play one more song. His idea was more than well-received.
"Stop the Bus," an older song, made the perfect lasting impression before the band made a final bow and disappeared backstage to loud applause.
Nijona Williams said she traveled from Whittier, North Carolina, to see Potter perform.
"It was amazing. I didn't expect anything less from her," Williams said. "She's just out there, spunky, rock. You can feel it in her heart; you can feel it in her soul when she sings."
Williams said her favorite song is "Stars," but it was not part of the show that night.
"She has a beautiful, raspy voice," she said. "Her lyrics are amazing, and she's amazing."